Hey meat-eaters! Invited a hapless vegetarian over to your barbecue? Why not forego the meat-free delights of (Sp)Asda and surprise them by serving up something which is actually tasty for once – fr'instance, this hearty succulent and colourful burger packed with thought-provoking flavours and textural anomalies!
Preparation time: 20 minutes plus at least 30 minutes standing. In reality you'll need to allow a couple of hours to prepare this, so best not leave it until you've got back from the pub.

Cooking time: 15 minutes

Serves: 4 people (although we managed 3 between 2 of us, and finished the remainder for lunch the following day)

Skill level: Easy
Ingredients
For the pickled cucumber:
half a cucumber – sliced very thinly lengthwise with a potato peeler
caster sugar – 50g
white wine vinegar – 100ml
black peppercorns – 7 (not 6 or 8, but 7)
salt
For the burgers:
4 small (or 2 large) raw beetroot – peeled and grated
400g can of haricot beans – drained and rinsed
fresh breadcrumbs – 100g
1 small onion – finely chopped
3 cloves garlic – crushed
sesame seeds – 1tbsp
1 egg – free range – beaten
handful of fresh herbs such as oregano, parsley and thyme – finely chopped
olive oil
s and p
For the horseradish cream:
small 170ml tub of soured cream
horseradish sauce – to taste (at least 1 tsp)
s and p
To serve:
4 burger buns – halved – lightly toasted
lettuce – shredded
red onion – sliced into thin rings
1: Start by making the burgers as these need at least half an hour to set into a fryable form.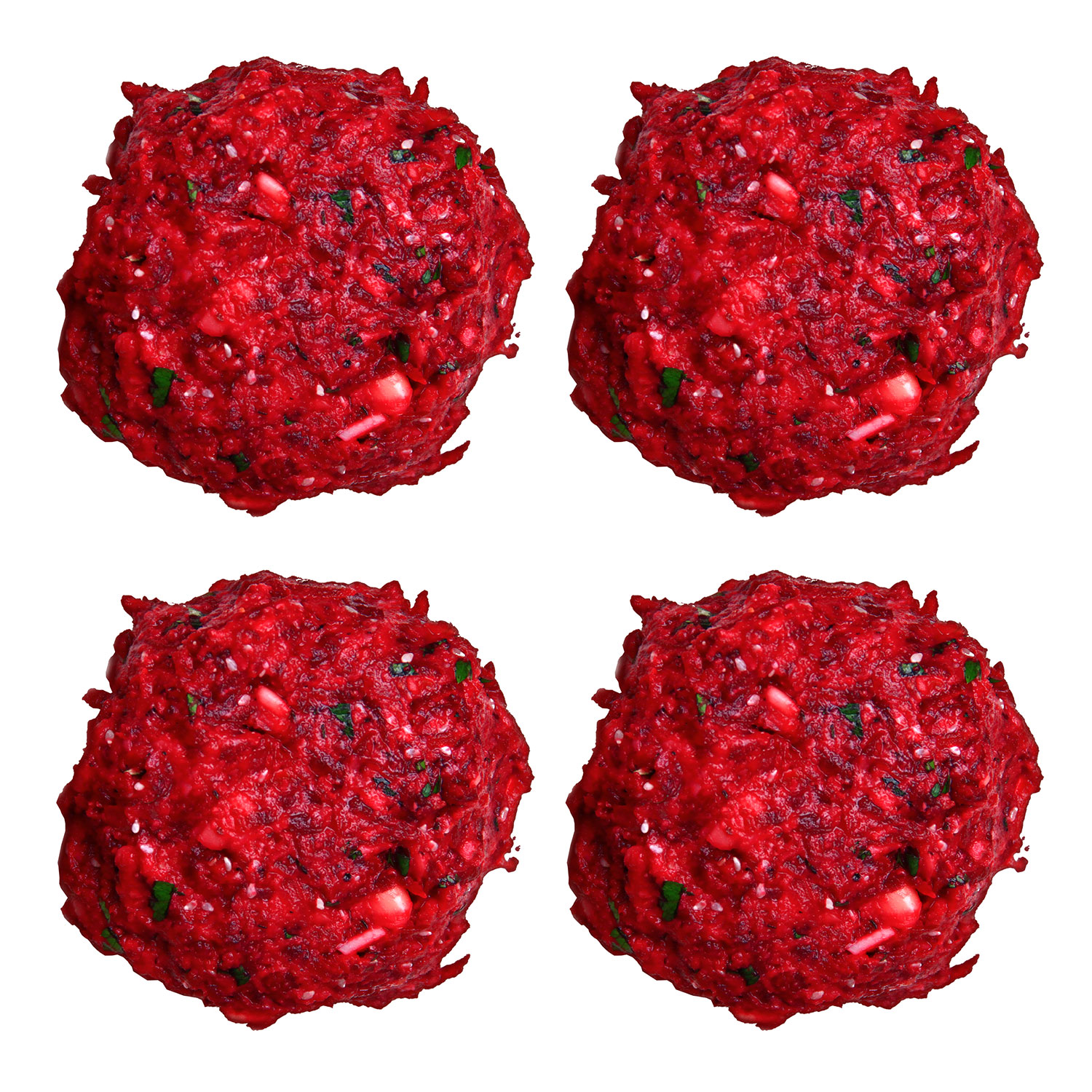 Four remarkably identical burgers waiting to be fried
Heat some olive oil in a small frying pan and gently fry the onions for 5 minutes until softened and lightly golden.
Add the crushed garlic and sesame seeds and continue to cook for another minute or two.
Remove from the heat and set aside to cool.
Put the beans into a food processor and blitz to a smooth paste.
Scrape into large bowl and add the beaten egg, breadcrumbs, grated beetroot, chopped herbs and the cooled onion mixture.
Mix everything together and season generously with salt and pepper.
Using damp hands, divide the mixture into 4 equal pieces and craft into burgers.
Put on a plate and place in the fridge for at least 30 minutes to set slightly.
2: Next the cucumber as this needs a little time to pickle.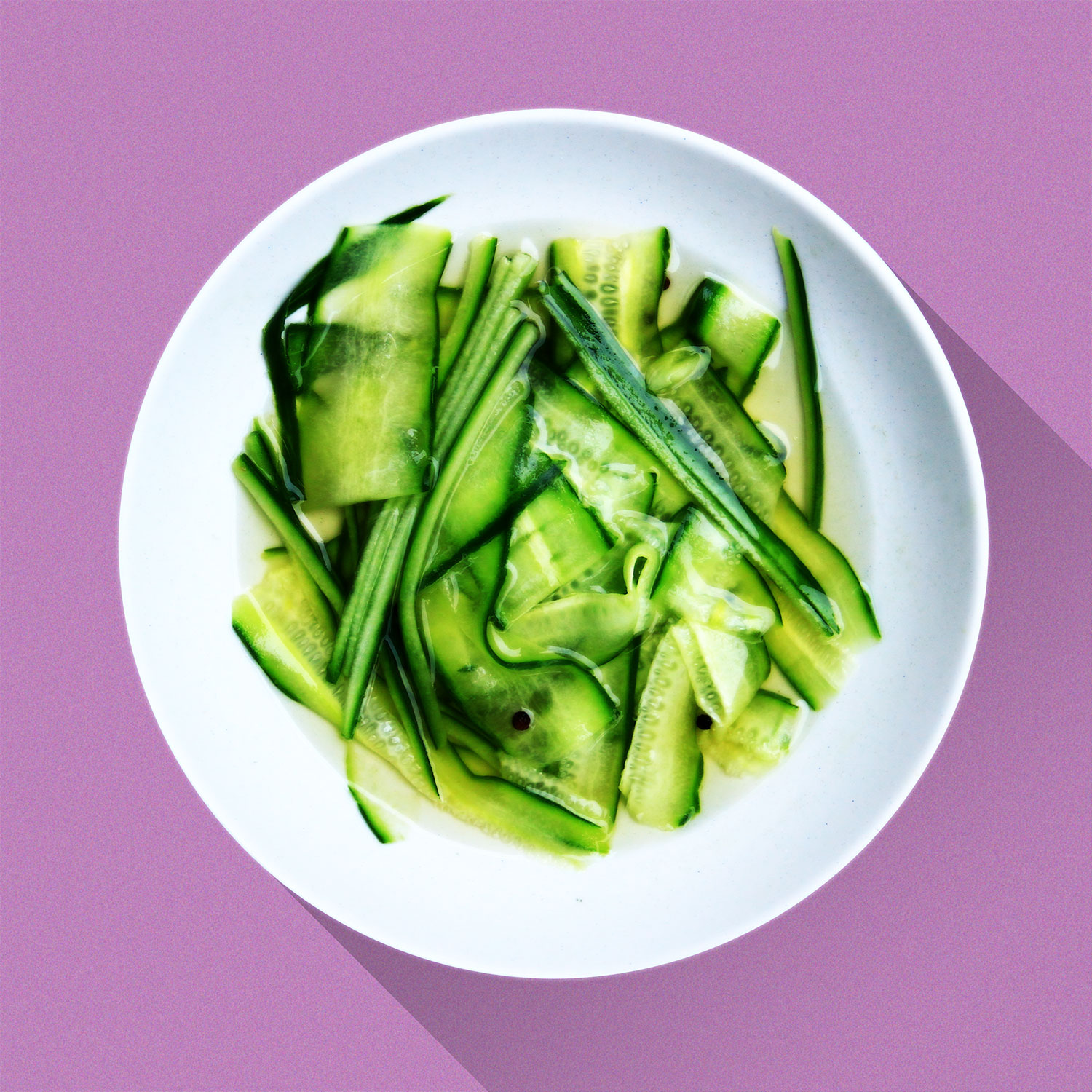 Put the vinegar and sugar into a small pan and gently heat for 2 – 3 minutes until the sugar is dissolved.
Meanwhile thinly slice the cucumber lengthwise into ribbons using a potato peeler and put into a suitably sized bowl.
Drop  the 7 peppercorns into the vinegar mixture and pour over the cucumber.
Set aside for at least 30 minutes to pickle.
3: For the horseradish cream, simply mix together the soured cream and horseradish sauce in whatever proportion suits your palate and season.
4: Shred some lettuce and thinly slice a small red onion.
5: To cook, pour a little oil into a large heavy frying pan or griddle and fry/griddle the burgers on a high heat for 3 minutes on each side. The burgers can be a little fragile, so take care when turning.
6: Lightly toast your buns and construct your burger as shown in the diagram above.
Enjoy.
Verdict: A purple patty of loveliness. The pickled cucumber is a winner so don't even consider leaving it out. Vegans could omit the cream or substitute with their soya-based coagulate of choice. Devoted carnivores can add a porcine rasher or two.

If you don't fancy burgering your beetroot, you could always consommé, or even gravalax.

Drink: A chilly crisp Albariño.

Entertainment: Mopped up the final two episodes of Babylon.