Middle-class dilemma #23: Lovely things beetroot, but what to do with them when they turn up for a fourth time in your Abel & Cole veg box? In the past we have roasted them, pickled them, rosti'd them, risotto'd them, borsch'd them, and even brownied them – all delicious in their individual ways you understand, but we here at Yumblog feel it is our mission to bring you, dear reader, new and unusual eating experiences. A&C are clearly wise to this conundrum as their website offers this consommé as a novel option.
Preparation time: 10–15 minutes
Cooking time: about 70 minutes
Makes: about 750 ml
Skill level: easy
Ingredients
raw beetroot – peeled and chopped – 700 g
10 spring onions – chopped
1 cucumber – peeled and diced
red wine vinegar – 1tbsp
lemon juice – 1tbsp
sprig of thyme
1 clove of garlic – crushed
a few parsley stalks
1 bay leaf
a few strips of orange zest
water – 1.4 litres
s & p
yoghurt to garnish
Put the peeled, chopped beetroot into a large saucepan along with the chopped spring onions, thyme, garlic, parsley, bay leaf, orange zest and water.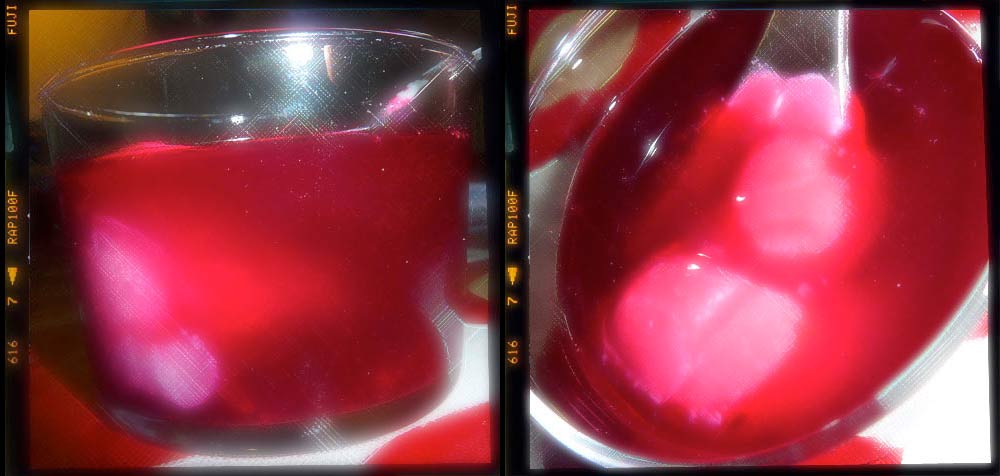 Bring to the boil and simmer gently, uncovered, for about 1 hour… by which time the beetroot will have given up much of its redness to the water.
Next add the cucumber and simmer for a further 10 minutes.
Pour the soup through a fine sieve and leave to drain thoroughly… the soup becomes quite clear.
Season to taste and add the vinegar and lemon juice to sharpen the flavour.
Chill well and serve with a generous dollop of yoghurt.
Verdict: Sharper than Sharp Jack McSharp from Sharpsville, Arizona – who as you know was Sean Bean's personal sword sharper when filming 'Sharpe'. Tasty though. Yoghurt essential as it provides the ying to the tang.

Sharp Jack McSharp (centre) shares a joke with Pete Postlethwaite and Sean Bean on the set of 'Sharpe'

Drink: …or use a spoon.

Entertainment: 'Floyd's Fjord Fiesta' on DVD. Rented it mainly on the strength of the title. Only Keith floyd could travel to Finland, set up kitchen on a glacier and then cook a faux Thai curry using tinned pineapple. Questionable food cooked with style and panache (and tinned pineapple).