This is number seven in our occasional series 'In search of the perfect pasta sauce', and once again we have turned to our adopted Italian granny Marcella Hazan for inspiration. Thus far she's rarely let us down.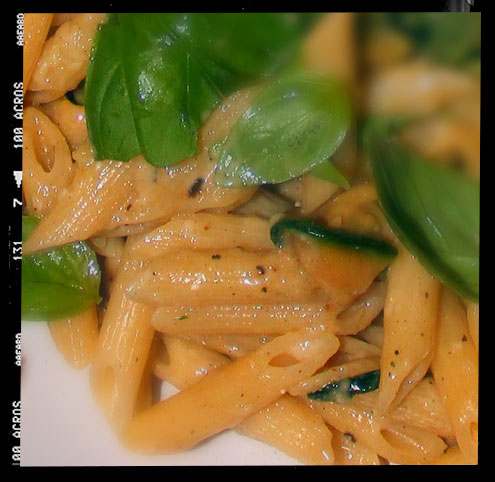 Preparation time: 10 minutes
Cooking time: roughly 45 minutes depending on the number of batches needed to cook the courgette
Serves: 2 people
Skill level: Easy
Ingredients
2 large or 3 medium courgettes – about 450g
plain flour – 1 tsp
milk – 6 tbsp
1 egg yolk – lightly beaten
butter – a big knob
parmesan – finely grated – 70g
pasta – such as fusilli or penne – 220g
basil leaves – handful – torn
olive oil
salt and pepper
Cut the courgette lengthways into strips about 3 mm thick (a potato peeler is ideal for this) and then cut these strips into lengths of roughly 15 cm.
Heat some olive oil in a large heavy bottomed frying pan and fry the courgette strips until soft and golden. (Unless you have a frying pan the size of a manhole cover, you'll need to do this in several batches)
Set aside on kitchen towel to soak up any excess oil.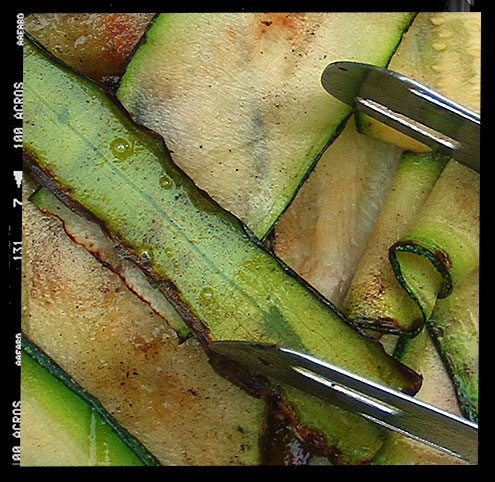 Meanwhile bring a large pan of salted water to boil and cook your pasta.
In a jug, mix together the flour and milk.
Melt some butter in the same large heavy bottomed frying pan and add the flour/milk mixture. Stir and cook for a couple of minutes, by which time you should have a thick sauce.
Season with salt and pepper.
Add the courgette strips and cook for a minute to warm through.
Remove from the heat, and quickly beat through the egg yolk.
Add the drained pasta (having set aside a little of the pasta water)
Add the cheese and basil and toss everything together.
Taste and season if necessary.
(If the sauce is too thick, add a little of the pasta water)
Serve immediately.
Verdict: As close to perfection you'll get in this imperfect world. Rich and creamy, yet still fresh and light. Delicious, unusual and 'authentic'.

Other perfect pasta sauces include this: Aubergine Sauce (with tomato and chilli) or this: Butter & Rosemary Sauce.

Drink: Thursday night represents the transition from the reluctant abstinence which begins the week to the enthusiastic intemperance which ends it. So eased into the weekend with a few post work sharpeners at the Geese followed by a bottle of fruity red.

Entertainment: Masterchef is back!!!!!