One of the (myriad) advantages of leaving Hebden Bridge is we are no longer hostage to the weekly visit of 'Paul the Fish' with his stall of filleted fish and erratic Welsh mussels. Living in sunny Brighton we now have access to the full aquatic range of anything with scale, shell or tentacle which swims, crawls, drifts or slithers in the neighbouring ocean.
Along with cod cheeks, squid is now back on the menu.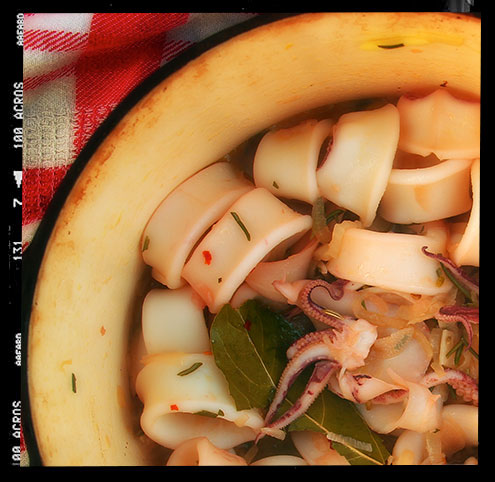 Preparation time: 10 minutes (if you let the fishmonger prepare the squid)
Cooking time: about 1 hour and 20 minutes
Makes: enough for 4 people if accompanied by other tapas
Skill level: Easy
Ingredients
prepared squid (with tentacles) – cleaned and cut into thick rings – 500g
tinned chopped tomatoes – 200g (half a tin)
1 onion – thinly sliced
2 garlic cloves – sliced
chilli flakes – pinch
fennel seeds – ½ tsp
2 bay leaves
fresh rosemary – roughly chopped – 2 tsp
pinch of sugar
sweet smoked paprika – ½ tsp
red wine vinegar – 2 tbsp
small glass of red wine (about 100ml)
fresh coriander – small handful – roughly chopped
lemon juice – squeeze
olive oil
s and p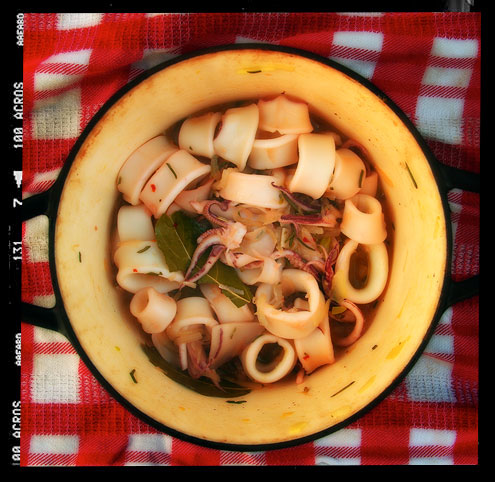 Heat some olive oil in a stylish Le Creuset casserole and add the squid, onions and garlic.
Add the chilli, fennel seeds, rosemary, bay leaves, smoked paprika and sugar and simmer until all the liquid has evaporated (the squid gives out quite a lot of liquid when cooked) and the onions are tender, about 15 minutes.
Next add the vinegar and chopped tomatoes and simmer for another minute, then pour in the red wine and season.
Cover with a lid and simmer very gently on the lowest heat your cooker can manage, stirring occasionally, for about an hour or until the sauce is rich and the squid is really tender. You may have to add a little water if it starts to get too dry.
Turn off the heat, leave to cool slightly and drizzle over a little more olive oil.
Finish off with a scattering of coriander and a squeeze of lemon juice.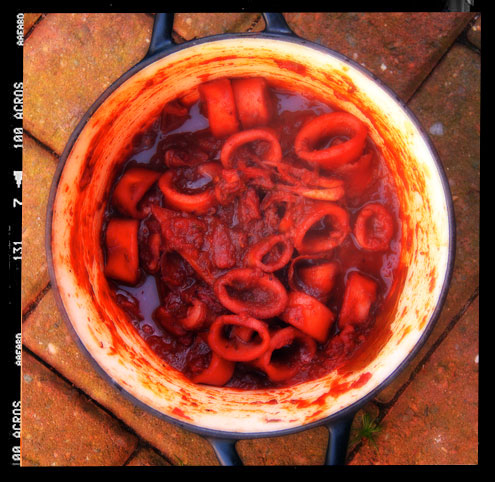 Verdict: Rich, meaty and tender. Enjoyed by yumbloggers and guests alike.

Other ways to indulge your squid could be griddled with 'Lentils and Preserved Lemon' or possible 'stuffed with prawns'.

Drink: Started with interesting continental beers, then onto Kirs Royales, followed by several bottles of red and ending with a few ill judged sloe gins.

Entertainment: Talk of Brighton, distressed parents and dog poo.