Aubergine Sauce (with tomato and chilli)
Well this is as close to perfection as you are likely to get in this increasingly imperfect world. As with all the other sauces in this occasional series, I turned to the ever reliable Marcella Hazan for inspiration and guidance, and once again she delivered the goods with this simple (slightly faffy) delicious recipe.
Preparation time: 10 minutes plus 25 minutes to salt the aubergine
Cooking time: 40 – 50 minutes
Skill level: easy with an element of faff
Serves: 2
Ingredients
1 medium sized aubergine
2 cloves of garlic – finely chopped
parsley – finely chopped – 2 generous tbsp
1 tin of (quality) tomatoes – about 400g
1 chilli – finely chopped
pasta (ideally spaghetti) – 200g
olive oil
s and p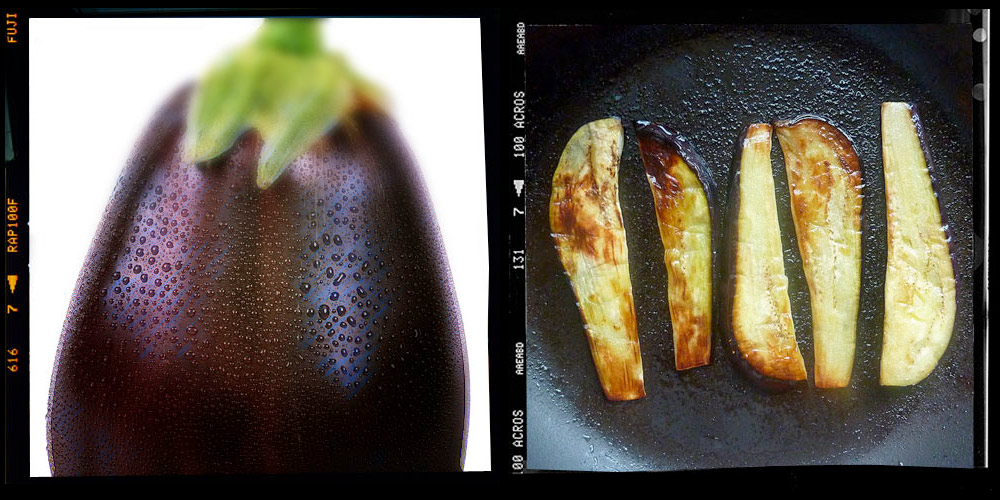 First the faffy bit.
Cut the aubergine in half lengthways and then cut (lengthways again) into 1cm slices.
Stand the layers upright against the inside of a colander and generously sprinkle with salt (double up the layers if necessary).
Place on a plate (to catch the liquid) and set aside for at least half an hour to allow the salt to draw some of the water out of the aubergine.
After half an hour, rinse under the tap and pat dry with some kitchen towel.
Pour oil into a large heavy frying pan (enough to just cover the base), and place over a high heat. When the oil is beginning to smoke, lay in your aubergine slices (you'll have to do this in batches) and cook until brown and softened on the underside. Flip over and repeat.
When cooked, place on kitchen towel to soak up some of the oil.
Repeat until all the aubergine is cooked.
OK, that was the faffy bit, although all of the above can be done in advance (up to 2 days).
To make the sauce, pour some olive oil in a large heavy frying pan (Readers tip: Why not use the same frying pan you used to cook the aubergine?) and fry the garlic over a medium heat until it becomes lightly coloured.
Add the tomatoes, parsley, chilli and some salt and stir thoroughly.
Adjust the heat to a slow steady simmer and cook for about 25 minutes. Stir occasionally.
Meanwhile cook your pasta in the usual way.
Cut the aubergine into slithers (about 1cm wide) and add to the sauce.
Heat through for 2-3 minutes (add a little pasta water if looking too thick).
Twist in some black pepper, taste and adjust the seasoning if necessary.*
Add the cooked pasta, mix together, drizzle with some good olive oil and serve.
*Sauce could be made in advance and refrigerated for up to 3 days
Verdict: As said at the beginning, this is a pretty much perfect dish which if you cooked the aubergine in advance would be an excellent mid-week treat. If I were to try and improve on perfection, I'd probably include 2 tbsp of capers at the adding tomatoes stage.

Drink: A bottle of the One Stop Shop's finest.

Entertainment: 'Celebrity MasterChef' on the iPlayer. What is it doing being broadcast in the afternoon? Our hopes go with Kirsty