We have been doubly blessed since we moved here to sunny Brighton, for not only do we now have casual access to a Waitrose, but a mere 20 strides away on the opposite side of the street is the Taj grocer, a large independently owned store offering a cornucopia of (eastern) international ingredients the likes of which we've not seen since moving out of London. T'was here we got the aubergines, yoghurt and coriander for this recipe … if the Taj gave away a free Guardian to loyalty card holders, there'd almost be no reason to cross the road.
Preparation time: 10 minutes
Cooking time: 25 – 45 minutes
Serves: 2 for a light lunch or 4 for a starter
Skill level: Easy
Ingredients
2 large or 4 small aubergines
Greek yoghurt – 3 tbsp
tahini – 1 tbsp
lemon juice – good squeeze
coriander – a generous handful
honey – 2 tsp
olive oil – 2 tbsp
white wine vinegar – 1 tbsp
olives – some – chopped
capers – some – chopped
s and p
Pre-heat the oven to 220c/gas mark 7
Put the aubergines on a baking tray and prick several times with sharp knife to prevent in-oven explosion.
Bake for between 25 – 45 minutes (it all depends on the size of the aubergines) until soft and wrinkled. Obviously in summer months the aubergine could be cooked on the BBQ.
Remove from the oven, allow to cool and peel (leaving the stalk as decoration).
Mix together the yoghurt and tahini, add a squeeze of lemon and a pinch of salt to taste.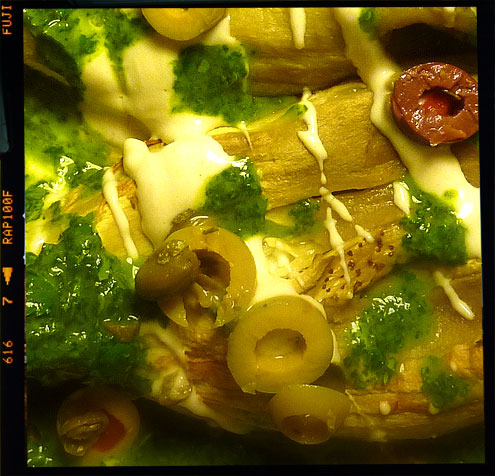 Use a hand blender to mix together the coriander, oil, vinegar and honey.
Season to taste.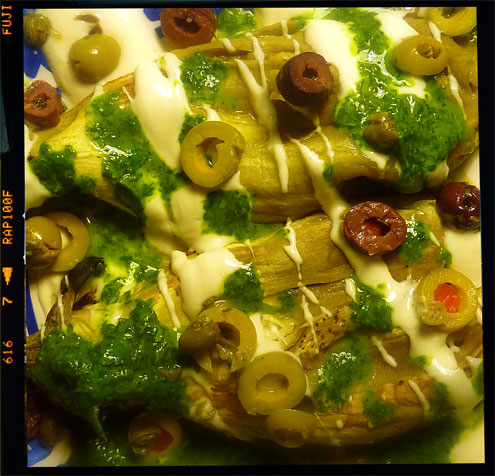 Lay the aubergines on a serving dish and spoon over some of the yoghurt and dressing.
Top with the chopped olives, capers, an extra squeeze of lemon juice and serve with flat breads (…and with the rest of the yoghurt and dressing)
Verdict: We've eaten this as a starter, a light lunch and a tasty component of a middle eastern style tapas extravaganza and it has proved to be delicious on each occasion.

Other ways to enjoy your Egg Plant could be this Minted Chick Pea & Aubergine Salad with Griddled Halloumi' or possibly this 'Perfect Pasta Sauce No 5'

Drink: Cross the street and get yourself a bottle of something white, light and chilled.

Entertainment: Paddling