Sun turns to grey, grey turns to wet and wet heralds the first flood alert for, ooh days. Time to get nostalgic about those long balmy Yorkshire summer evenings sitting on the white-washed terraza under ancient gnarled trees, their branches heavy with succulent ripe Barm Cakes still warm from the day's sun. It was on one such evening when we served this delicious, refreshing chilled soup as we watched the golden sunset explode over Knob Bottom Cragg.
Preparation time: 5 minutes – plus time to chill
Cooking time: 15 minutes
Serves: 2 – 4 people
Recipe: Angela Hartnett
Skill level: easy
Ingredients
2 courgettes – thinly sliced
1 small onion – chopped
frozen peas – 300g
vegetable stock – 500ml
Handful of mint – chopped
Handful of watercress – torn
olive oil
butter – generous knob of
s & p
soft goat's cheese – 50g
8 small pieces of toasted sourdough bread
Put the butter and a generous slug of olive oil in a pan and place over a medium heat.
Sauté the onion until soft, but not coloured.
Add the courgettes, season and cook for about five minutes.
Add the peas (from frozen), chopped mint and stock, bring to the boil and simmer for a few minutes.
Taste, adjust seasoning if necessary and then blend.
Allow to cool and then refrigerate.*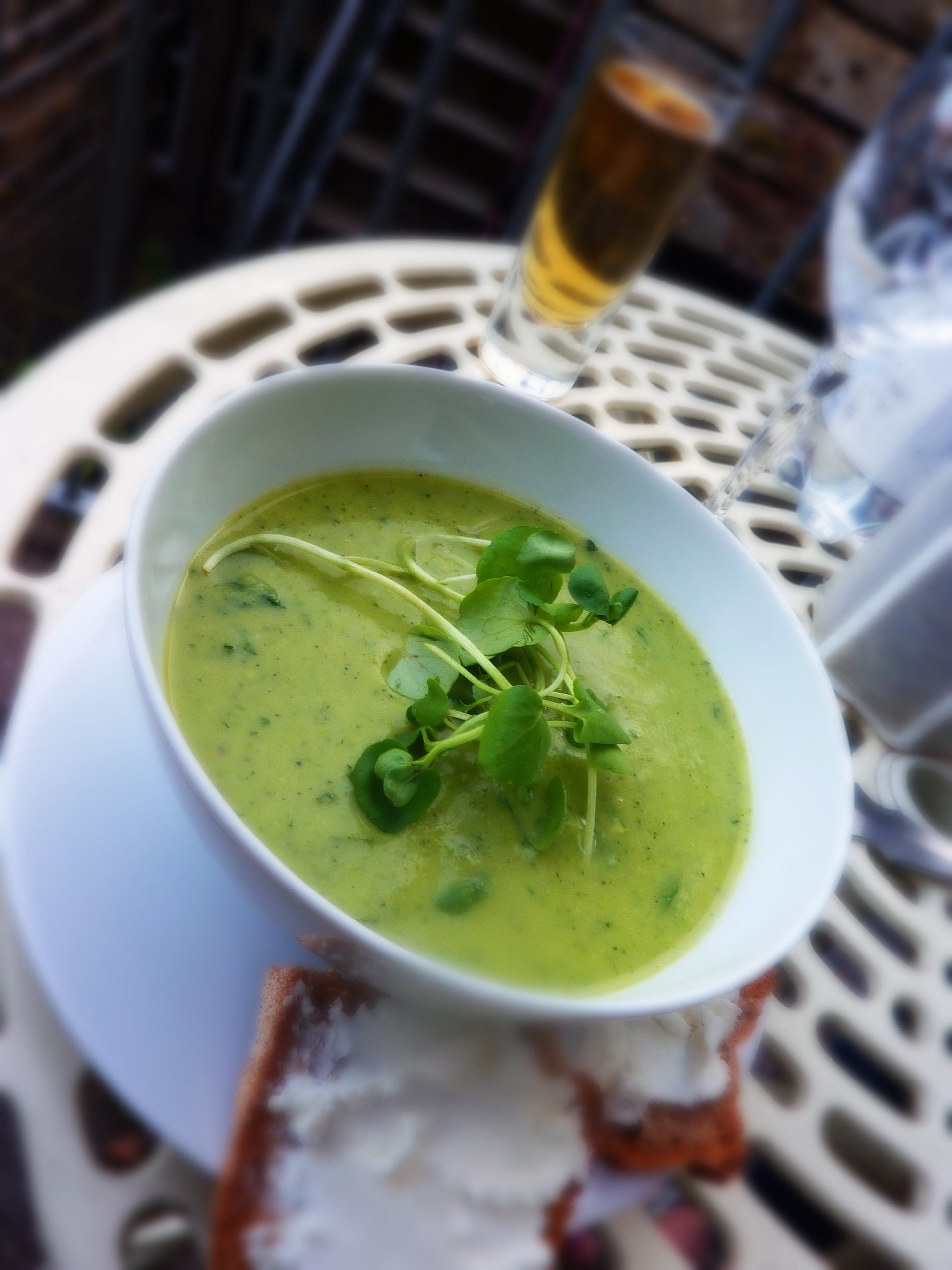 Garnish with watercress and a drizzle of olive oil.
Serve with sourdough toast spread with goat's cheese.
* This can be eaten hot, in which case skip the chilling stage.
Verdict: A light refreshing summer soup. For other equally delicious cold soups, why not try Chilled beetroot consommé or Chilled Pea(+pod) & Mint Soup

Drink: The second cheapest bottle of wine.

Entertainment: 'Before Dawn' on DVD. Zombies in Hebden Bridge.