Apologies (again) for the blogging hiatus. We can offer no excuses other than an extended trip outside the country, a redundancy, a three year old who has gone slightly bonkers and the usual plagues of locusts, frogs and boils. Here by way of compensation is a tasty morsel ideal for an extended al fresco (it rhymes with Tesco) weekend lunch.
Preparation time: 15 minutes
Cooking time: about an hour
Serves: 6 people as part of a tapas
Skill level: easy
Recipe: Polpo
Ingredients
Puy lentils – 400g
2 carrots – finely chopped
2 celery sticks – finely chopped
1 small onion – finely chopped
3 cloves of garlic – finely chopped
5 sprigs of thyme – leaves removed and finely chopped
leaves from a bunch of basil
2 or 3 large balls of the the mozzarella you can find/afford
* mustard salad dressing – 4 tbsp
olive oil
sea salt flakes and pepper
First up the basil oil:
Put the basil leaves in a food processor and add a pinch of salt and enough olive oil to make a thin sauce. Blitz for a few seconds and set aside.
Next the lentils:
Put the lentils into a saucepan and pour over enough water (unsalted) to cover them by about 7cm. Bring to the boil and simmer for about 45 minutes. Check from time to time as you don't want to over cook them … they should still have a little 'bite'.
Drain and run under a cold tap to refresh.
Set aside.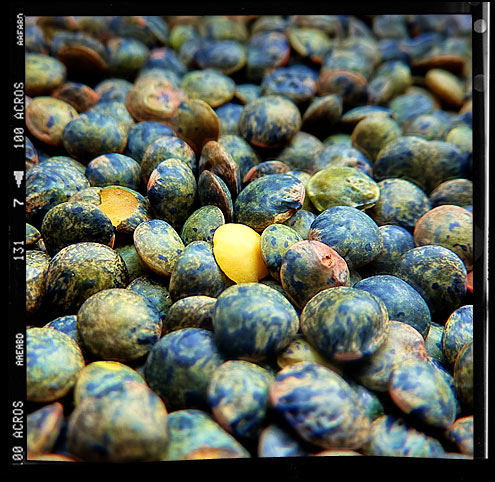 Now the vegetables:
Find a large heavy-bottomed pan and pour in a small glug of olive oil. Add the vegetables, garlic, thyme leaves, salt and pepper and saute until softened and translucent.
Stir in the lentils and a splash of water and leave over a very low heat to keep it warm.
For the * mustard salad dressing:
In a bowl combine 1 tbsp of red wine vinegar with 3 tbsp of olive oil, 1 tsp of Dijon mustard, salt, pepper and a pinch of sugar. Whisk everything together.
For the happy finish:
Add 4 tbsp of the mustard dressing to the lentil mixture. Taste and adjust the seasoning if necessary.
Tip out onto a warmed plate and tear over the Mozzarella.
Drizzle over the basil oil and decorate with a few spare basil leaves.
Serve warm as part of a delicious feast.
Verdict: Creamy melting mozzarella on earthy lentils which are cut through with the zing of vinegar and mustard and topped with aromatic basil oil. Deeeee-lish(us).

Drink: Much wine in the afternoon.

Entertainment: More talk of heading back south.