We started writing yumblog because (like most food bloggers) we wanted to give you dear reader, the opportunity to press your greasy nose against the window of our perfect world and enviously look in slack-jawed and drooling at our incomprehensibly magnificent lives. Yumblog Cottage is a haven of sunlit space, children's laughter, crisp white linen, freshly cut flowers, beautiful friends uttering witty things you'd never understand and of course food so delicious it shows up the microwaved ready-meal you joylessly serve every evening to be the mechanically recovered calorific slop it is.
You'll also be privileged to read detailed accounts on EVERY utterance, iterance and bowel movement of Yumblog Junior, our adorable and angelic three-year-old daughter who is of course far in advance of her dullard contempories and is always saying the most adorable and amusing things.
That said our motives are not entirely altruistic as we intend to use this blog as a means of entry to the cosy and elite inner sanctum of the London food blogger, there to be photographed at every dinner party, pop-up restaurant and hidden away ethnic eatery within chattering distance of Broadway Market. From there it is only a short leap of the imagination to a name check in every lazy Guardian article on the rise of the food blogger, a minor publishing deal with a book entitled something along the lines of '101 ways to boil an egg' followed by the holy grail of every vanity food writer … a brief grinning appearance in a restaurant scene on MasterChef.
Now get your nose off our window and read on.
Preparation time: 10 minutes
Cooking time: 30-45 minutes
Serves: 6 people as part of a tapas
Skill level: easy
Recipe: Polpo
Ingredients
6 courgettes
stale (good) bread
2 garlic cloves – finely chopped
chilli flakes – 1 tsp
rocket leaves – 150g
olive oil
lemon juice
sea salt flakes and pepper
You'll need to make the breadcrumbs first:
Preheat the oven to 180c/gas mark 4. Tear the bread into small chunks and scatter onto a baking sheet. Pour over a generous slug of olive oil and shake the tray a few times to ensure the bread is thoroughly coated.
Place in the oven for 15-30 minutes until golden brown and crispy. Set aside to cool.
When cool, place in a food processor along with the garlic, chilli flakes and pinch of salt and grind of pepper. Blitz for a few seconds until you have breadcrumbs. Turn out into a bowl, drizzle over a little more olive oil, taste and season again if necessary.
Now the courgettes:
Cut the courgettes lengthways into 4mm thick slices. Place in a bowl, pour over some olive oil and season with salt and pepper. Mix with your hands to ensure an even coating. Cook in batches on a griddle (or frying pan) until soft and lightly charred. Set aside to cool.
Dress the rocket with lemon juice and olive oil and season with salt and pepper.
Lay over the courgettes and sprinkle with the breadcrumbs.
Serve at room temperature.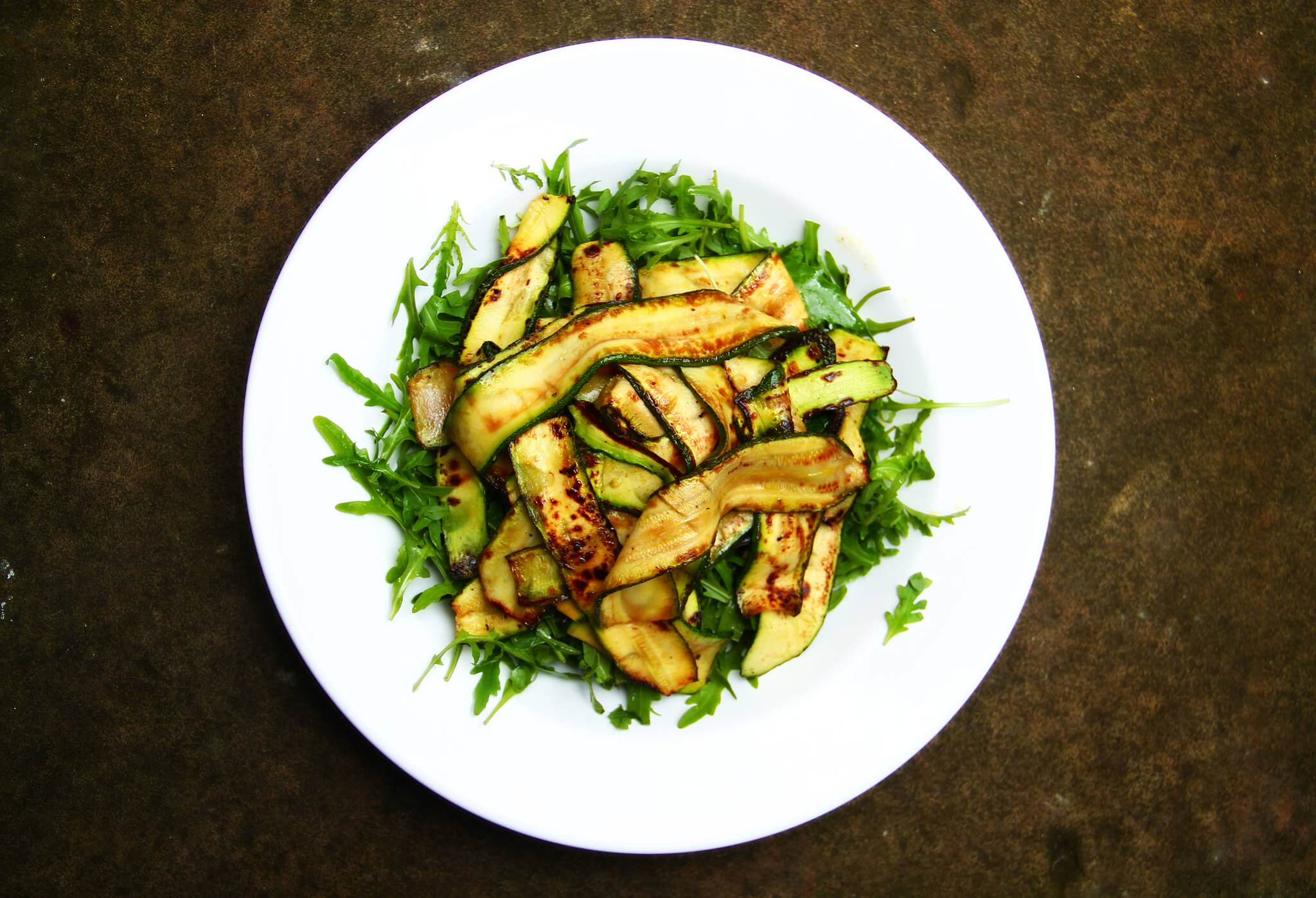 Verdict: Zesty, peppery, smokey and crunchy. Excellent as part of a multi-layered tapas-style meal.

Drink: All three. White, Rosé and Red.

Entertainment: Talk of heading back south.