One of the meatier vegetarian dishes you'll find here on Yumblog.
Preparation time: 10 minutes
Cooking time: 40-45 minutes
Serves: 2 hungry/greedy people
Skill level: easy
Ingredients
Tuna steak – 300g should be ample for 2 greedy people
ripe tomatoes – 250g
tin of tomatoes – 400g
3 – 4 cloves of garlic
2 sprigs of fresh rosemary
chilli flakes – pinch
capers – rinsed – 3tbsp
dried oregano – 1 heaped tsp
6 anchovy fillets
olive oil
s & p
Make 10-12 angled stabs in one side of the tuna steak and stud each with a few rosemary leaves and a sliver of garlic. Season with salt and pepper and drizzle with a little olive oil. Set aside.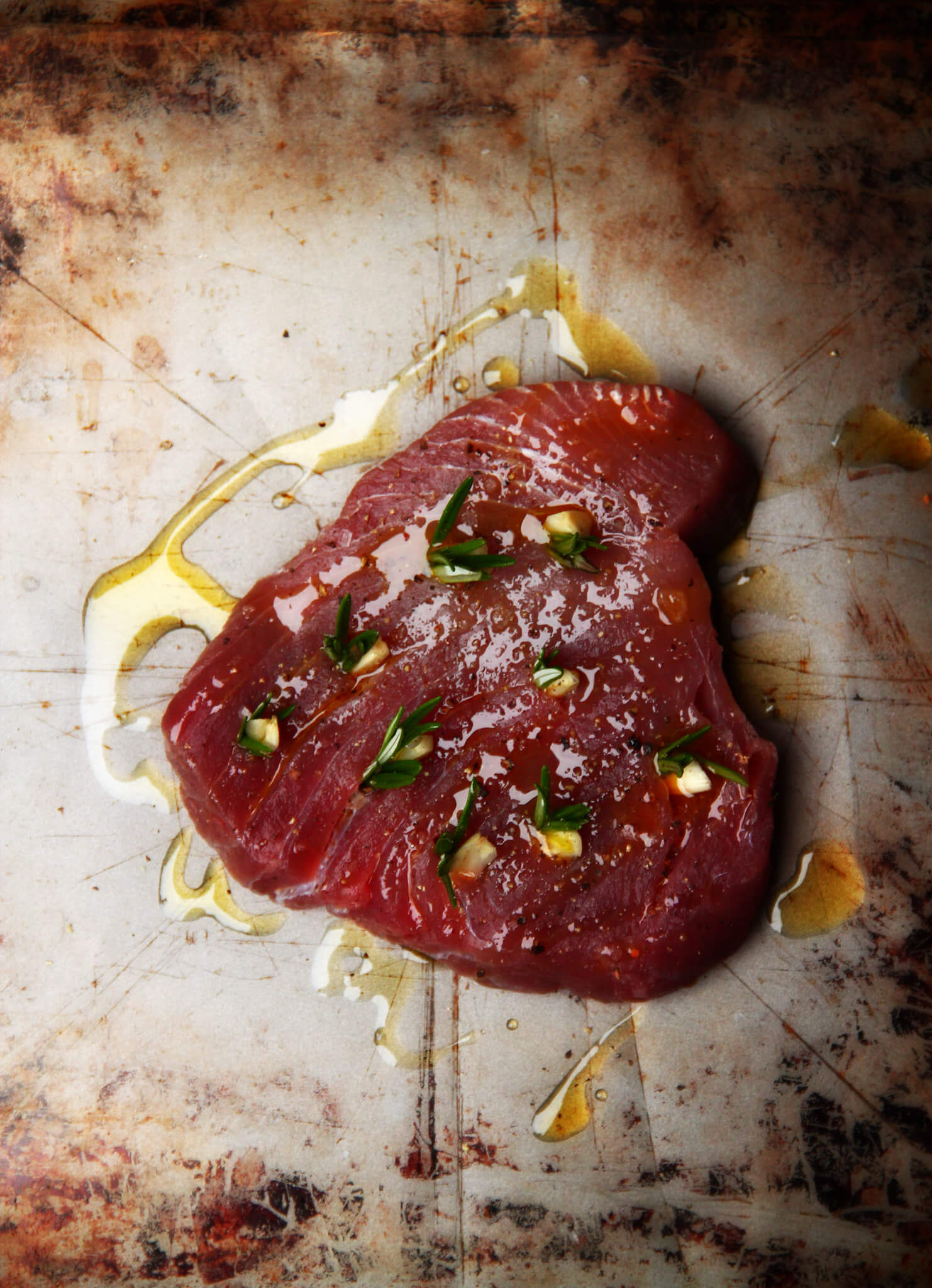 Pour a generous slug of olive oil into a heavy-bottomed lidded saucepan (choose one with a diameter not much bigger than the tuna steak as you want it to fit fairly snugly).
Heat the oil, add 2 chopped cloves of garlic, the capers, oregano, anchovies, the leaves from one sprig of rosemary, and a pinch of chilli flakes. Gently cook until the garlic is soft but not coloured.
Add the fresh tomatoes roughly chopped (if you are feeling refined skin and de-seed beforehand, if not, just bung them in). Stir for a few minutes until softened and then add the tinned tomatoes. Simmer for 10 minutes, taste and season.
Carefully place the tuna on top of the sauce and then gently push down until it is completely covered.
Partially cover with the lid and simmer for 20-25 minutes (depending on the thickness of your steak) until the tuna starts to flake when prodded.
Serve with a chunk of good bread or (as we did) small potatoes which had been drizzled with rosemary oil, a sprinkling of sea salt and baked in their skins until crispy on the outside and fluffy on the inside.
Verdict: This makes a great Saturday treat. Thick, flakey tuna in a rich tomato sauce piquant with capers and perfumed with rosemary. A lot of flavour for very little effort. Highly recommended. If you can't be bothered to cook your tuna try this Tuna Confit Salad, or if you would rather give it to the cat, these Tuna Delights.

Drink: Austerity Stella and bargain full-bodied red.

Entertainment: Eurovision to the bitter end.