Spinach, egg & parmesan pizza is like so yesterday. This is now our Friday evening pizza of choice.
Preparation time: 25 minutes plus at least 30 minutes proving.
Recipe: Polpo
Cooking time: 8-10 minutes
Makes: 1 pizza which should be large enough to share between 2 people
Skill level: medium
Ingredients
For the pizza dough – this will make enough for 6 large pizzas:
strong white flour – 500g
1 sachet (7g) of fast action yeast
tepid water – 300ml
fine salt – 2 tsp
extra-virgin olive oil – 2 tbsp
For the pizza topping:
1 large courgette – finely sliced
chilli flakes – pinch
fresh mint – 10 leaves – roughly chopped
emmental/gruyère – grated – 2 handfuls
s & p
In a bowl, mix together the flour, yeast, salt, olive oil and water until it forms a ball.
Tip out onto a floured surface and start kneading. The technique is to stretch it out with both hands and then fold it back into a ball. Continue the stretching for 10 minutes by which time you should have a lovely smooth dough.
Roll into a ball, put in a bowl and loosely cover with oiled clingfilm. Set aside somewhere warm for at least 30 minutes or until it has doubled in size.
The dough is now ready. Divide the it into six, use one piece for this recipe and freeze the other five for future pizzas.
Put either a pizza stone or heavy baking sheet into your oven and preheat it to the highest it will go (250c/gas mark 9+)
Roll out the dough to a thin rough 28cm diameter circle.
Evenly sprinkle over a small amount of parmesan and emmental/gruyère.
Very thinly slice the courgette (ideally use a recently purchased mandolin and try not to slice off the top of your finger) and layer over the cheese.
Scatter over the chilli flakes, season with salt and pepper and drizzle over a little olive oil.
Place onto the pizza stone and bake for 6-8 minutes.
Garnish with roughly chopped mint and another drizzle of olive oil.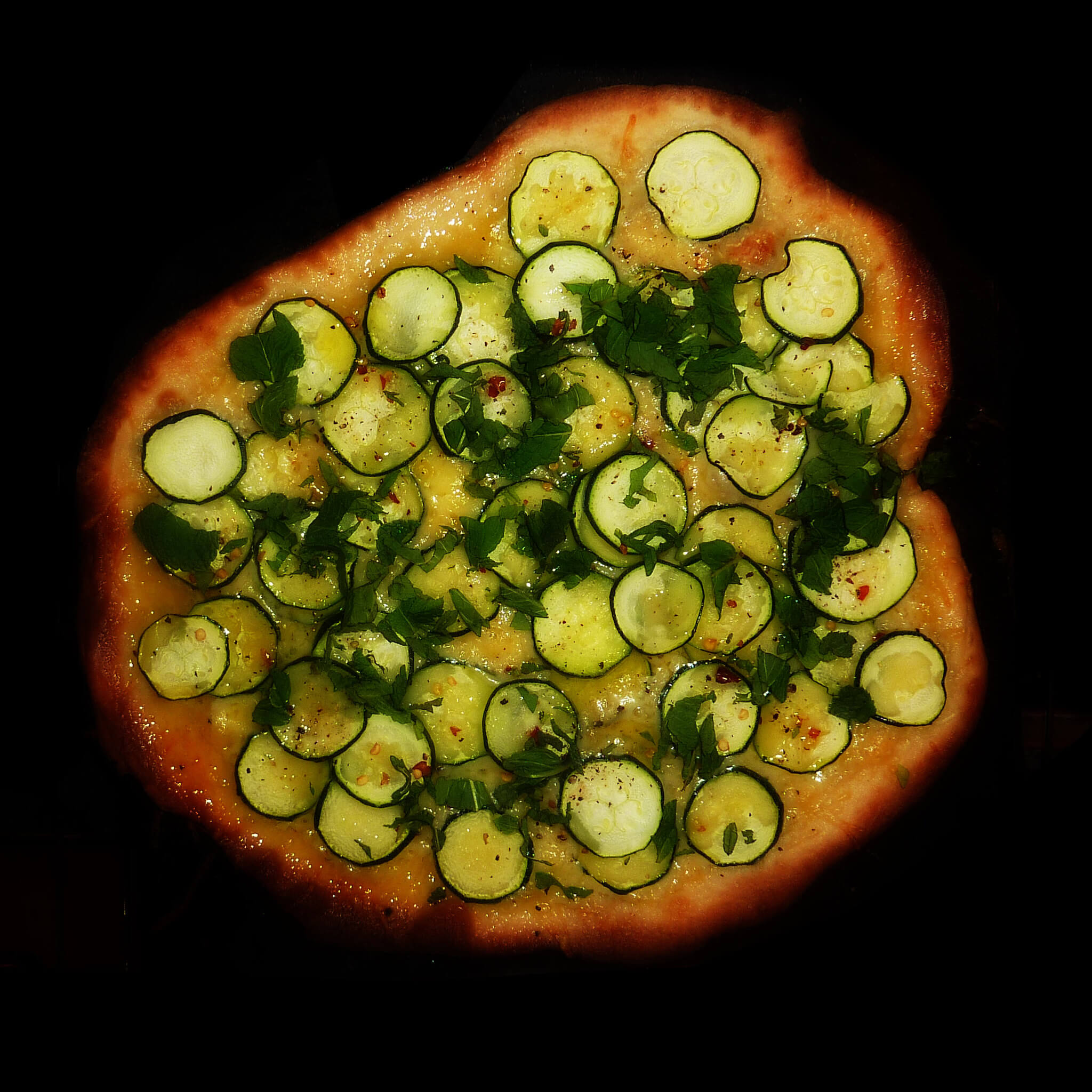 Verdict: A light and refreshing pizza with a thin crispy base and a slight chilli hit. Marvellous. Or why not try Rosemary Potato Pizza.

Drink: A couple at The Hole in T'Wall (RIP) before and a tripple at the Fox and Goose afters.

Entertainment: The entire Hairy McLary cannon read in the correct accent.