Such is the toothsomeness of this pizza, it has now become a Friday evening regular here at Yumblog Cottage – along with six hasty after-work Stellas and a punch up* with rival food bloggers in the precinct. The recipe comes from the excellent 'Polpo – A Venetian cookbook (of Sorts)' by Russell Norman. If you want a copy you can buy it here at Waterstones and not here at Amazon.
Preparation time: 25 minutes plus at least 30 minutes proving.
Cooking time: 8 minutes
Makes: 1 pizza which should be large enough to share between 2 people
Skill level: medium
Ingredients
For the pizza dough – this will make enough for 6 large pizzas:
strong white flour – 500g
1 sachet (7g) of fast action yeast
tepid water – 300ml
fine salt – 2 tsp
extra-virgin olive oil – 2 tbsp
For the pizza topping:
1 packet of spinach
crème fraîche – 2 tbsp
1 clove of garlic – finely chopped
Parmesan – grated – 2 handfuls
2 free range eggs
s & p
In a bowl, mix together the flour, yeast, salt, olive oil and water until it forms a ball.
Tip out onto a floured surface and start kneading. The technique is to stretch it out with both hands and then fold it back into a ball. Continue the stretching for 10 minutes by which time you should have a lovely smooth dough.
Roll into a ball, put in a bowl and loosely cover with oiled clingfilm. Set aside somewhere warm for at least 30 minutes or until it has doubled in size.
The dough is now ready. Divide the it into six, use one piece for this recipe and freeze the other five for future pizzas.
When you are ready to start your pizza, place a pizza stone or heavy baking tray into the oven and crank it up TO THE MAX. (250c/gas mark 9+)
Next blanch your spinach by plunging it into boiling salted water for 1 minute and then transferring to to a bowl of iced water. Remove, squeeze as dry as you can and chop finely.
Put in a bowl along with the crème fraîche, garlic, three-quarters of the parmesan, salt and pepper. Mix together to a delicious green paste.
Roll the dough out to a rough 26cm diameter circle.
Evenly spread over the spinach mixture, make 2 slight wells and carefully break an egg into each – assuming this pizza is for two then just be sure of an even balance of eggs.
Place on the pizza stone/baking sheet and bake for 6-8 minutes. One minute from the end sprinkle over the remaining parmesan along with a twist of black pepper.
Try not to overcook – the plan is to have a runny egg yolk.
Enjoy.
Verdict: Superb. Softly baked egg atop creamy spinach sauce atop thin crisp pizza base.

Drink: Veltins @ Hole in the Wall before, Staropramen during and red wine after.

Entertainment: The entire Hairy McLary cannon read in the right accent.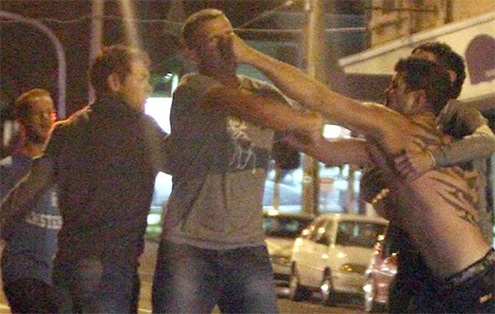 * Fight! Fight! Fight! Yumblog (that's us on the right with the back tats) takes a pop at a rival food blogger (Chocolate and Zucchini)