I know, I know, you weren't even aware cuttlefish had balls. Perhaps they do, perhaps they don't. For all I know they might ride the ocean currents with their magnificent jewels swinging low and proud beneath them. Perhaps the entire aquatic world stares with slack-jawed envy as they swim by with their pendulous plums dragging along the seabed. Like I said, I don't know, but whatever our particular cuttlefish's gonadular architecture you can rest assured they were efficiently and unceremoniously hacked off by the fishmonger.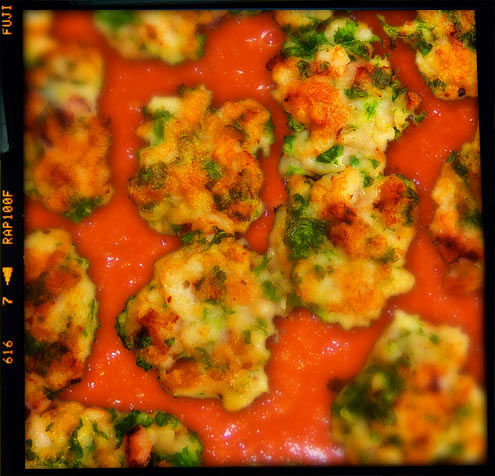 Preparation time: 20 minutes plus half an hour chilling
Cooking time: 45 – 60 minutes (longer if you are making your basic tomato sauce from scratch)
Serves: 4 people as a main course – more as a tapas
Skill level: medium
Recipe: a variation on Rick Stein (out with the curry powder and deep frying, in with the smoked paprika and shallow frying)
Ingredients
For the cuttlefish balls
cuttlefish – cleaned and prepared – 900g
garlic – 4 fat cloves – crushed
1 egg – beaten
FLP (flat leaved parsley) – finely chopped – 2 tbsp
dry white wine – 1 tbsp
breadcrumbs – 10g
s and p
olive oil for frying
For the sauce
basic tomato sauce – 150ml – recipe here
1 medium onion – finely chopped
2 bay leaves
smoked paprika (sweet) – 1 tsp
carrots – finely chopped – 125g
vegetable stock – 250ml
dry white wine – 2 tbsp
lemon juice – squeeze
olive oil
s and p
For the cuttlefish balls:
Roughly chop the cuttlefish and put in a food processor along with the garlic and 1 teaspoon of salt. Blend to a paste which looks alarmingly like snot. Add the beaten egg and blend again. Now it looks even more like snot.
Slop into a bowl and stir in the breadcrumbs, wine and parsley. Cover and chill for at least half an hour.
Now the sauce:
Find a deep heavy-bottomed frying pan or casserole dish, put over a medium heat and add a good slug of olive oil. Add the onion, carrot, bay leaves and smoked paprika and gently cook for 10 minutes.
Add the stock, tomato sauce and wine and simmer gently again for another 10 minutes.
Add the lemon juice and 120ml of water and bring back to a gentle simmer. Taste and adjust the seasoning.
Back to the cuttlefish balls:
Heat some olive oil in a frying pan.
Remove the cuttlefish mixture from the fridge. Scoop out a heaped teaspoon and shape into a ball. Continue until all the mixture is used (you should have about 50 balls)
Shallow fry in batches until golden brown – turning frequently to ensure even cooking.
Remove, place on kitchen towel and cook another batch.
Finishing off:
When you have cooked all you cuttlefish balls, drop them on top of your still simmering sauce and leave for a couple of minutes to heat through – you don't want to over cook them.
Serve as a main course or tapas.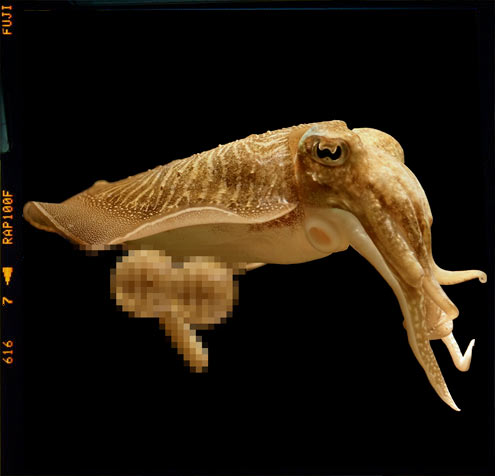 A proud cuttlefish stops to pose for the camera (offending nad sacks pixelated out)
Verdict: It turns out cuttlefish balls are sweet, succulent and toothsome, with just enough bite to give them a pleasant texture. They make an excellent and amiable companion to the spicy smokey tomato sauce. Unusual and highly recommended.

Drink: We had guests so no bottle was left unturned. Lager, fizzy, red, white, gin.

Entertainment: Tales of Hebden Bridge and the old homeland.