Disaster struck us here at Yumblog Mansions when heavy rain caused the moat to burst its banks and overflow into some of the outer buildings. Fortunately the water damage to the Orangery, Keeper's Lodge and gift shop was only superficial, however the wine cellars were completely deluged and much of our renowned collection was lost to the world, including tragically, several bottles of Echo Falls Cabernet Sauvignon screw top 2010, which had recently been laid down for posterity. The wine cellars also served as a storage area for little-used but still-wanted cooking equipment, all of which was damaged beyond repair. We'll be holding a wake for the wok on Friday 20th July – rsvp, cold buffet provided, no riff raff. After party to be held at Kitties Restaurant, Hebden Bridge.
Anyway, some time before, during or after what from now on will only be referred to as 'The Event', we made this tomato sauce.
Thanks (genuinely) to the fire brigade for spending most of Saturday pumping out our cellar and a thumbs up to Calderdale council and the folk of Hebden Bridge for general helpfulness and generosity of spirit.
Preparation time: 5-10 minutes
Cooking time: 1 – 1 hour 15 minutes
Makes: 1 serving
Skill level: easy
Ingredients
1 tin of tomatoes – 400g
2 medium onions – finely chopped
2 garlic cloves – crushed
olive oil – 125ml
water – 150ml
3 bay leaves
salt – ¾tsp
sugar – ¾tsp
Heat the oil in a deep frying pan.
Add the onions and garlic and sauté for 15 minutes (stirring occasionally) until soft and golden.
Add the tomatoes, water, bay leaves, salt and sugar.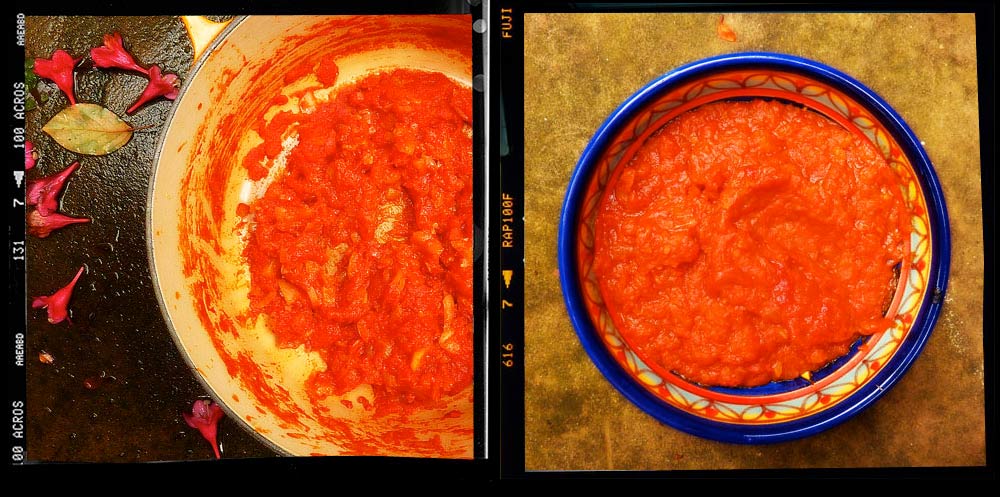 Bring to the boil, turn down the heat to low and simmer uncovered for 45 minutes to an hour, by which time it should be a thick paste.
Keep an eye on it during this stage to make sure it doesn't dry out – stir occasionally and add a little more water if necessary.
Remove the bay leaves and set aside to cool.
Either refrigerate or freeze.
Verdict: A rich thick flavoursome sauce with a myriad uses. Ours was the base for an audacious marine life stew, but it could equally be used on a pizza, a simple pasta sauce, or even spread on toast. Why not drop us a line and tell us what you do with yours? There is a prize of 50 Nectar points for the most apt and amusing story.

Drink: Flood damaged Echo Falls Cabernet Sauvignon screw top 2010.

Entertainment: Sifting through our sodden belongings.