According to this year's Yumblog Winterval menu, on Christmas Eve we'll be sitting down to a meal of 'Gravalax 3 Ways with Horseradish Cream and Vodka'. Ever wary of eating raw flesh, we thought we'd do a dummy run of this, the most trad of the trio just to make sure it wasn't too 'wet and fishy'. It turned out we had no need to be so cautious as the results were spectacular and far exceeded our expectations. Also, at a little over a quid per 100g, it works out to be about an eighth of the cost of its shop bought cousin – you do the maff. We urge, nay insist, you hot foot it down to Paul the Fishmonger and give this a try over the next few days.
Preparation time: 5 minutes plus 2 days to cure
Cooking time: none
Skill level: ridiculously easy
Serves: 2
Ingredients
fresh salmon fillets (skin on) – 300g
caster sugar – 15g
course sea salt – 20g
fresh dill finely chopped – small bunch
pink peppercorns – crushed – 1tsp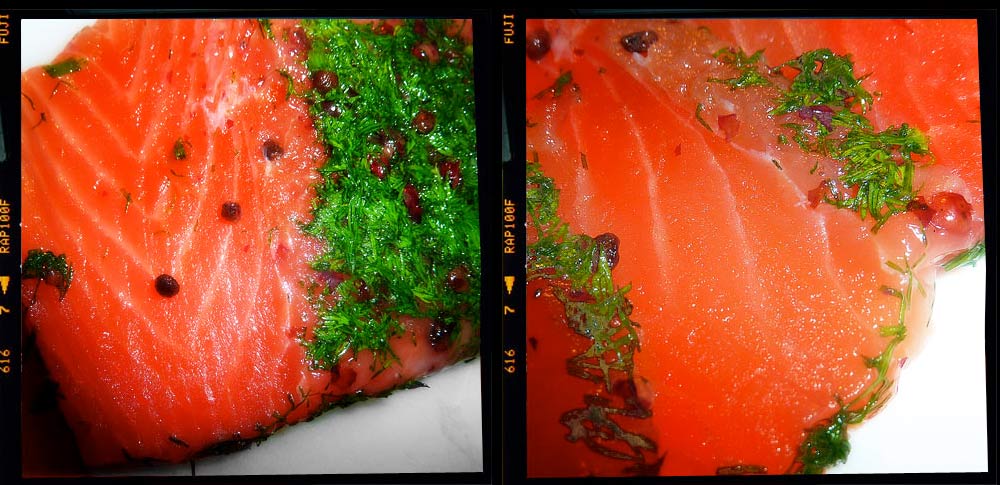 Place the salmon skin side down on a piece of clingfilm.
Mix together the sugar, salt, dill and pepper and rub this mixture onto the fish.
Tightly wrap in the 3-4 layers of clingfilm.
Lay in a shallow dish (there will be some leakage), put a saucer/small tray/tin lid/etc. on top and weigh down with something heavyish (tin of baked beans/jar of mayonnaise/etc.)
Place in the fridge for 2-3 days, turning every 12 hours so the briny cure liquid permeates throughout the fish.
Unwrap, slice thinnish and enjoy with some horseradish sauce.
Gravalax will keep in the fridge for around 5 days.
Verdict: Phwoar!!! Utterly superb and so easy to make. I urge you to make some for Christmas, it is every bit as good as smoked salmon, and a fraction of the cost. This recipe is for just a small amount so I suggest you multiply up the quantities.

Drink: Wintery Pimms and a bottle of red.

Entertainment: 'MasterChef – The Pros' – Gregg and MRJ gorge themselves on superlatives.