Quesadillas are as easy to make and versatile as a cheese toastie, so use this recipe as just a loose guide and add any filling you fancy or have to hand. The only prerequisite is melty cheese and a little chilli heat, other than that, the world's your lobster. Depending on the ambition of your accompaniments, this serves as a tasty snack or a quick, effortless, hearty evening meal.
Preparation time: 5 minutes
Cooking time: about 4 minutes per quesadilla
Skill level: easy
Makes: 4 (serves 2)
Ingredients
4 large corn or flour tortillas
halloumi – most of a pack – grated
mozzarella – 2 balls (300g) – cut into small pieces
cheddar – grated – handful
2 green jalapeño chillies (less or more depending on how hot you like it) – thinly sliced into rounds
coriander stalks – moderately chopped

Method.
Mix the three cheeses in a bowl.

Heat a well-oiled, tortilla-sized, cast-iron griddle or heavy-bottomed frying pan on a medium heat.

Once hot, lay in a tortilla and sprinkle with a quarter of the cheese mix, making sure you leave a decent border all around the perimeter.

Add a few slices of chilli, a sprinkling of coriander stalks, and fold over the tortilla, pressing it down to seal the edges.

Continue to cook until the underside is golden, then carefully flip over and repeat on the other side.

Put on a plate in a warmed oven and repeat three more times until you have your full quota of quesadillas.

Serve with whatever takes your fancy – salsa, avocado, more cheese, sour cream, pickled chillies, more cheese, lettuce, more cheese, etc.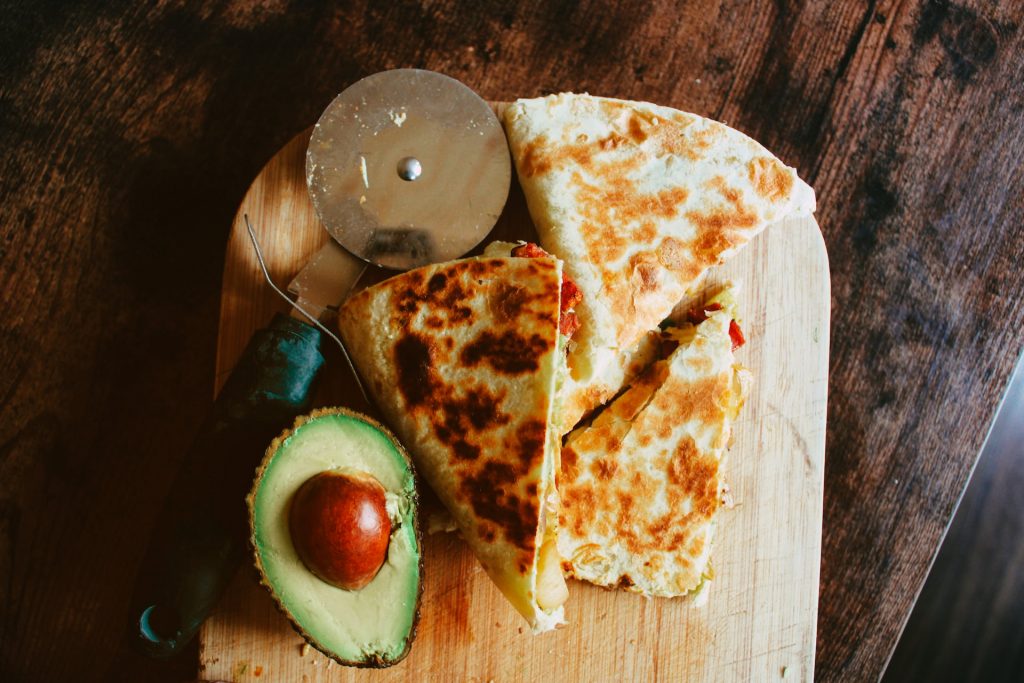 Verdict: A delicious sandwich of tri-melted cheeses oozing between thin layers of golden crunchy tortillas, punctuated with the occasional nugget of chilli heat. Delicious, especially with a lime-zesty coriander-heavy salsa.

Lovers of tres quesos could also try this '3 Cheese Risotto' or perhaps this zesty and unusual 'Cheesy Lemons with Basil Oil'.

Drink: Recently returned from a relatively boozy trip to Edinburgh, so just CO2H2O.

Entertainment: We've reached the semi-final of 'Celebrity Masterchef'. Today it's the mass catering challenge feeding 100 staff at the Beamish Living Museum of the North. Marcus Brigstocke proves that posh blokes are not necessarily natural born leaders.