Rummaging through the dusty yumblog archives in search of something tasty which could possibly win the approval* of a discerning (some would say fussy) thirteen-year-old, we came across this recipe for Frittelle di Spaghetti first posted on 17th December 2009, some seven months before said darling child was born. The original introduction referenced Nick Griffin getting a well-deserved public egging… thank goodness the last 14 years has seen the elimination of right wing nut jobs from UK politics and our society transformed into a Socialist utopia. Who remembers poverty and homelessness?
Preparation time: 5 minutes
Cooking time: 30 – 45 minutes
Skill level: easy
Recipe: J'me
Serves: 2
Ingredients
spaghetti – 200g
2 free-range eggs
4 anchovies – roughly chopped
2 garlic cloves – crushed
parsley – finely chopped – handful
Parmesan – grated – 2 handfuls
2 dried chillies – crushed
olive oil
s & p
Cook your spaghetti as per usual.
Once cooked run under cold water until cool enough to handle.
Put the eggs, cheese, parsley, garlic, anchovies and chillies in a largish bowl and mix together.
Cut the spaghetti into 3 inch lengths and add to the bowl. Mix thoroughly.
Heat some oil in a large heavy frying pan.
Fork some of the mixture into the frying pan and pat down with a fish slice to form your fritters. Make them any size you like.
When the underside is cooked, browned and starting to crisp, flip over and cook the other side.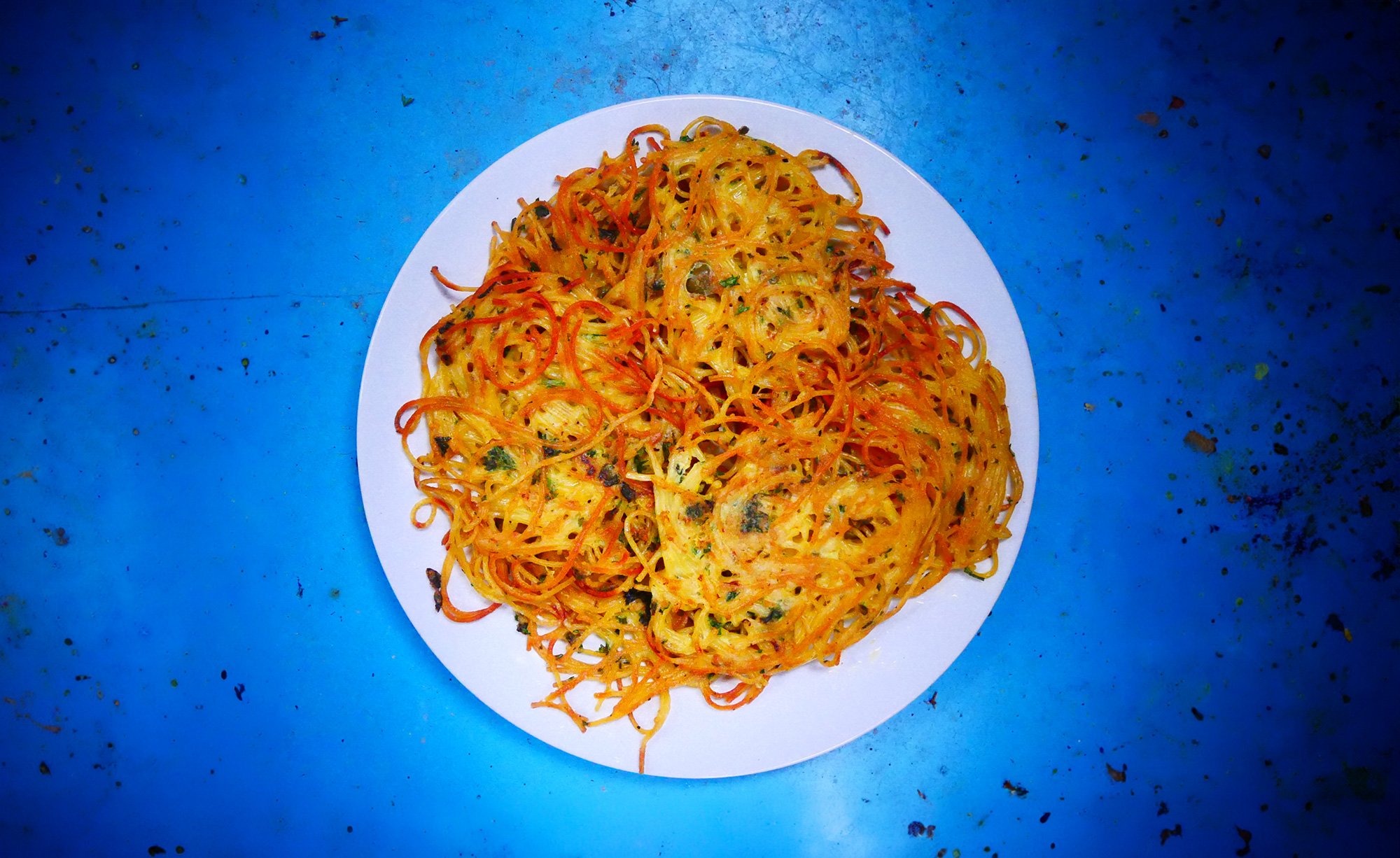 Place on a warmed plate in a moderate oven to keep warm and repeat until all your mixture is used up – we got six from these quantities.
Counter-serve with a healthy salad.
*The child was ambivalent.
Verdict: This certainly is a tasty treat. Eat with a knife and fork, fingers, sitting down, standing up, indoors, outdoors, walking around, anyway you like. You could of course substitute the anchovies with olives, capers, sundried tomatoes, etc.

Other tasty spaghetti recipes from the yumblog archives are this 'Anchovy breadcrumb spaghetti' or for those in search of novelty, this 'One-pan pasta with garlic and oil'

Drink: A pair of St Peters Grapefruit ales at The Jerusalem.

Entertainment: It's semi-final time in Celebrity Master Chef and among other things the final four were shipped off to Leeds castle to cook dinner for a bunch of plummy toffs. As always this is great stuff only slightly spoilt by the continued presence of the tedious Iwan Thomas and his endless laboured sporting analogies. Wendi to win.