These stuffed flatbreads are fairly substantial and so are traditionally simply served with yoghurt and/or chutney. However it had been a long and punishing trek up the Hindu Kush and by the time we made camp we were famished, so we ate ours accompanied by the braised aubergines below.
Preparation time: 10 minutes
Cooking time: 45 minutes
Skill level: easy
Serves: 4

For the flatbreads
plain flour – 485 g
dry yeast – 1½ tsp
salt – 2 tsp
lukewarm water – 375 ml
sunflower oil – 1 tbsp, plus more for frying.

For the filling
potatoes – 800 g
1 large onion – very finely chopped
coriander seeds – crushed – 2 tsp
2 large garlic cloves – crushed
sunflower oil – for frying
chilli powder – 1 tsp
salt and pepper

Start by making the dough:

In a large bowl, combine the flour, yeast and salt. Create a well in the centre and pour in enough water to wet the ingredients and then add the oil. Continue too add enough of the remaining water to form a dough (we probably used only about 340 ml).

Turn out onto a floured surface and knead for 5 minutes until you have a nice smooth springy dough.

Place into an oiled bowl, cover with a tea towel and set aside for 30 minutes or until it has doubled in size.

(This is a good time to make the filling – method at the bottom of the page.)

Divide the dough into 6 equal pieces, roll into balls and place on a baking sheet lined with baking paper. Cover with a tea towel and leave for 30 minutes or until doubled in size.

On a floured surface, roll out the balls into a circle roughly 12 cm in diameter.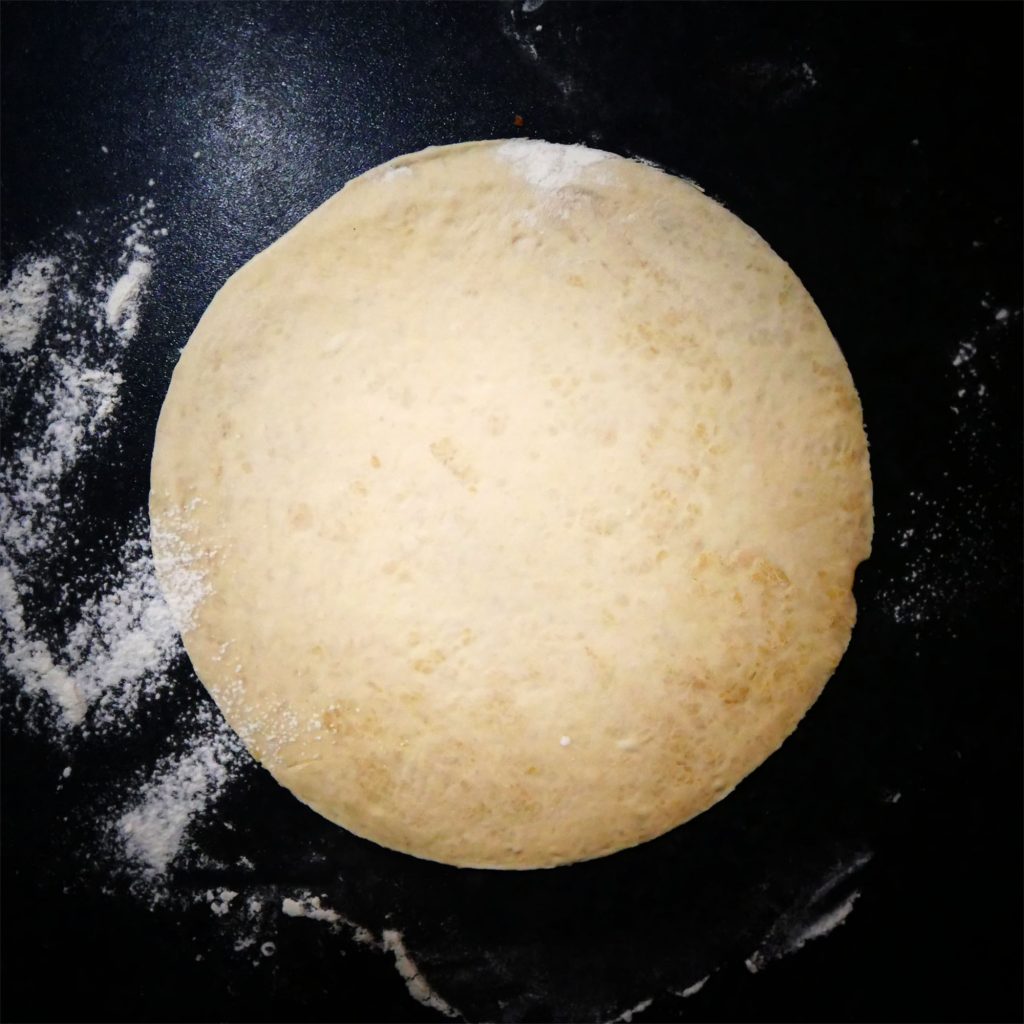 Place 3 tbsp of the filling on one half of the circle and spread evenly leaving a small border around the edge.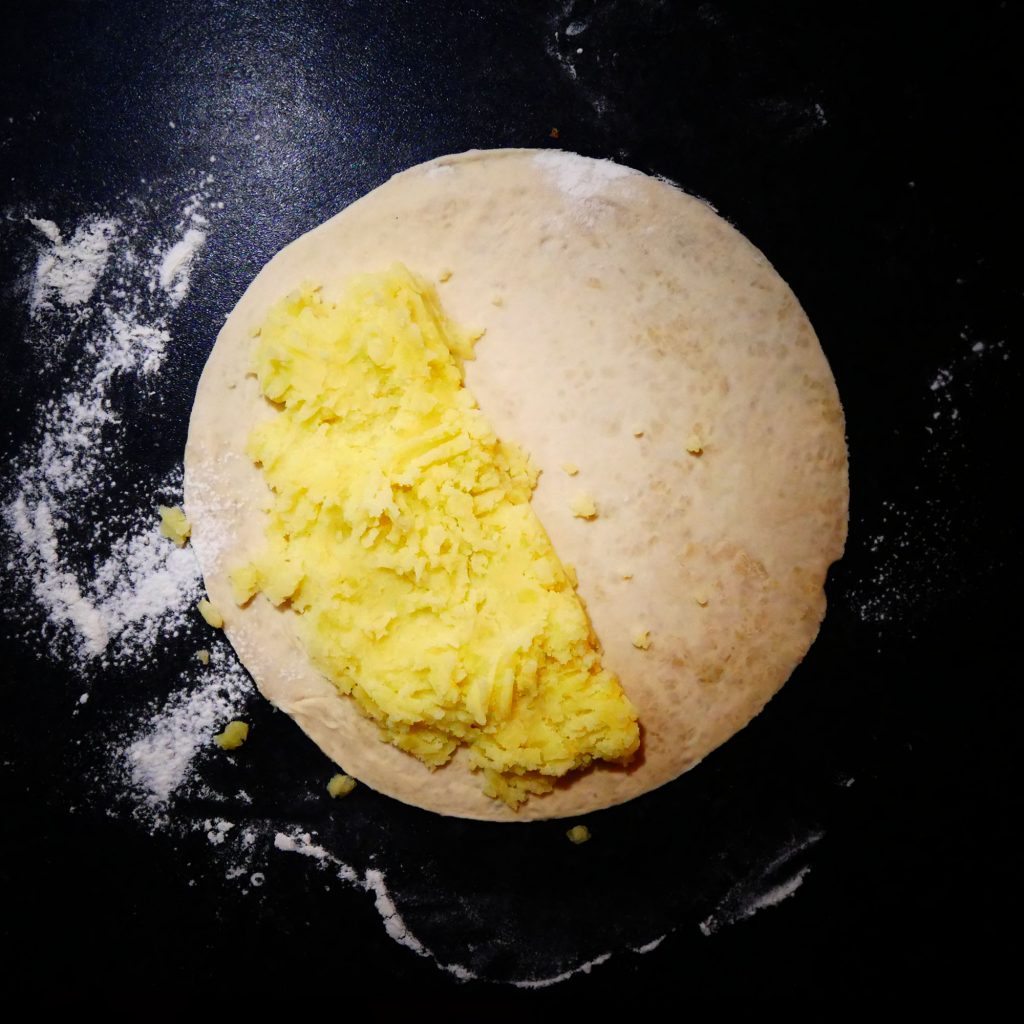 Fold the other half over the filling to form a semi-circular 'pasty'. Press down the edge to seal. Repeat with the 5 remaining dough balls.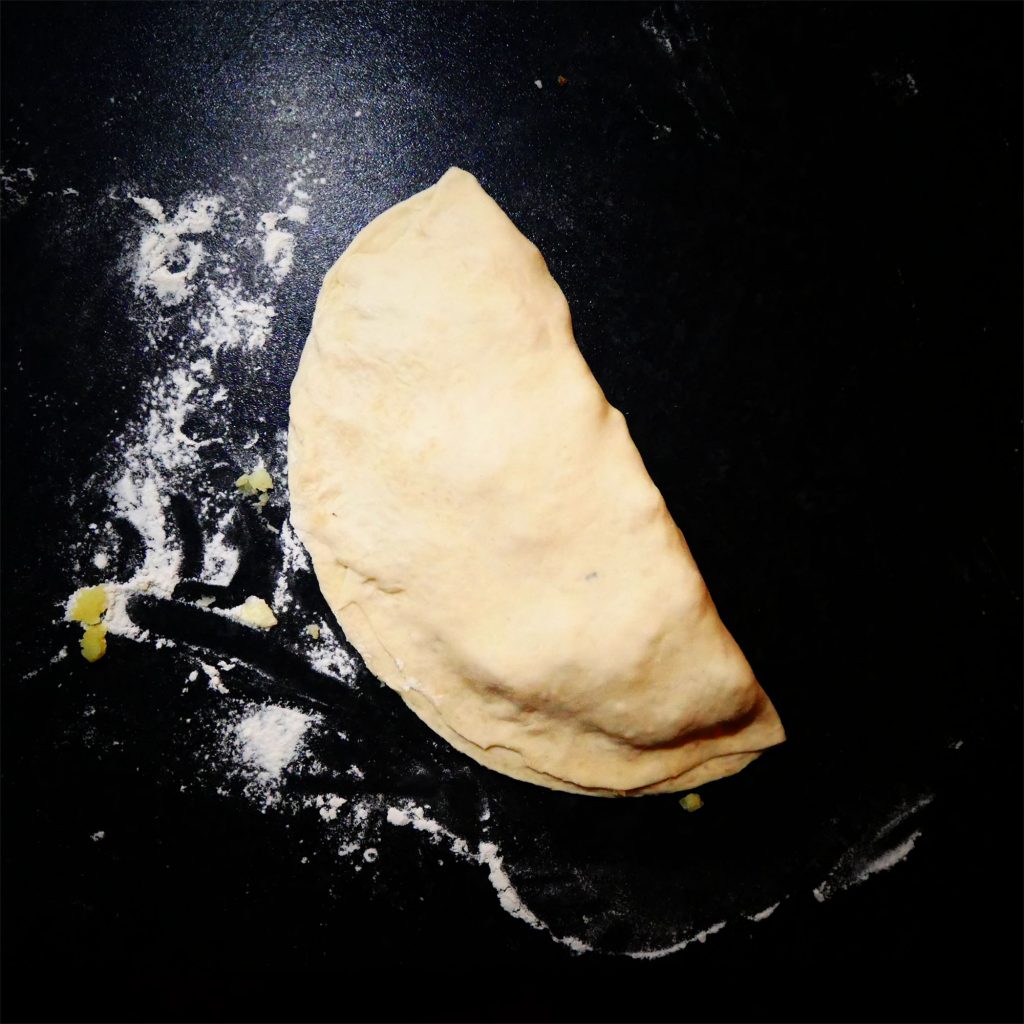 Heat enough oil to cover the base of a large heavy-bottomed frying pan and, over a medium heat, carefully add one of the flatbreads. Fry for about 4 minutes on both sides until golden brown.

Keep warm and repeat the process with the remaining flatbreads.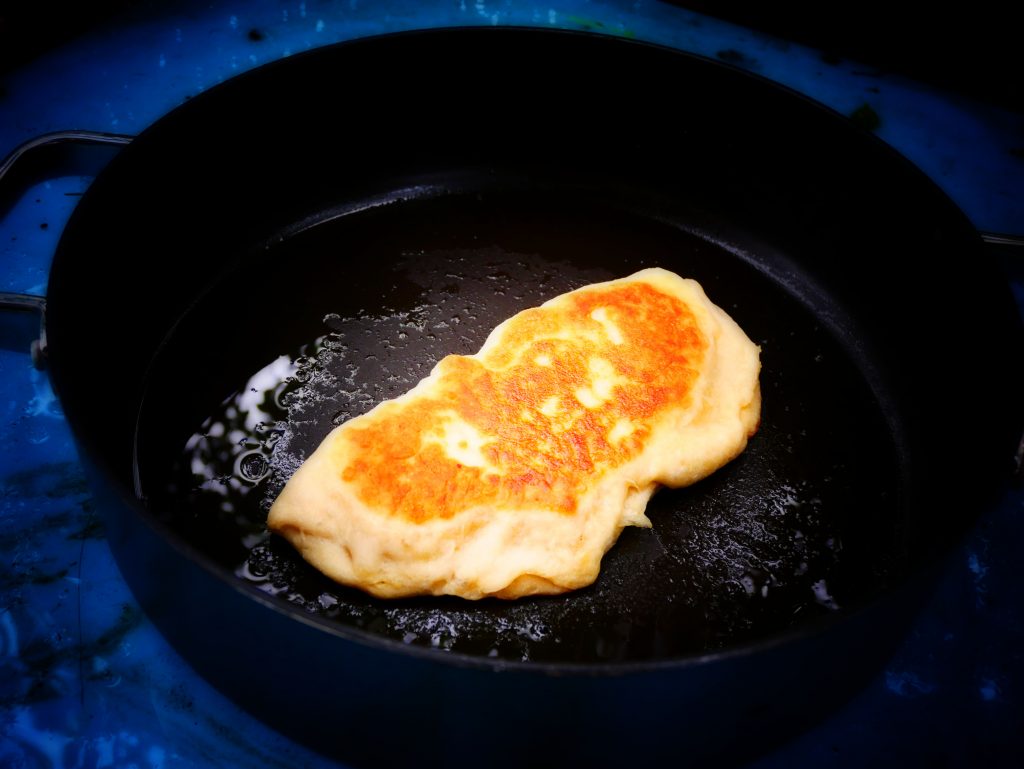 For the filling:
Peel, and quarter the potatoes and boil in unsalted water for 15 minutes or until cooked through.

Meanwhile heat a small amount of oil to a frying pan and gently cook the crushed garlic until soft.

Mash the potato and add the chopped onion, crushed coriander, cooked garlic (and the cooking oil), the chilli powder, 2 tsp of salt and a generous twist of black pepper. Stir everything together and set aside until cool enough to handle.

Use to stuff your flatbreads as described above – we had a little of the filling left over.

Verdict: Everything we publish on Yumblog is good, but these are GOOD. A double carb delivery of spicy potato wrapped in chewy flavoursome envelope of fried bread.

Drink: The Tesco delivery.

Entertainment: First time we've watched Sky Arts – so many bloody adverts!