Arguably an obvious choice. Undeniably a tasty one.

There was mild panic when a trip to Sainsburys was met with an empty shelf where the Mozzarella should have been. Hopefully this was down to an oversight by the manager rather than a consequence of Brexit, but it is too dismal to speculate. On the fruitless walk back along London Road my mind returned to a 2009 holiday to Sperlonga and the small shop in the old town which sold tubs of the softest, juiciest, ooziest Mozzarella we have ever tasted. In this country you'll have to make do with what you can find in the supermarket – usually a solitary testicle floating in a liquid filled plastic sac.

Italy is considered to be one of the world's most culturally and economically advanced countries, with the world's eighth-largest economy (third in the European Union), sixth-largest national wealth and third-largest central bank gold reserve. It ranks very highly in life expectancy, quality of life, healthcare, and education.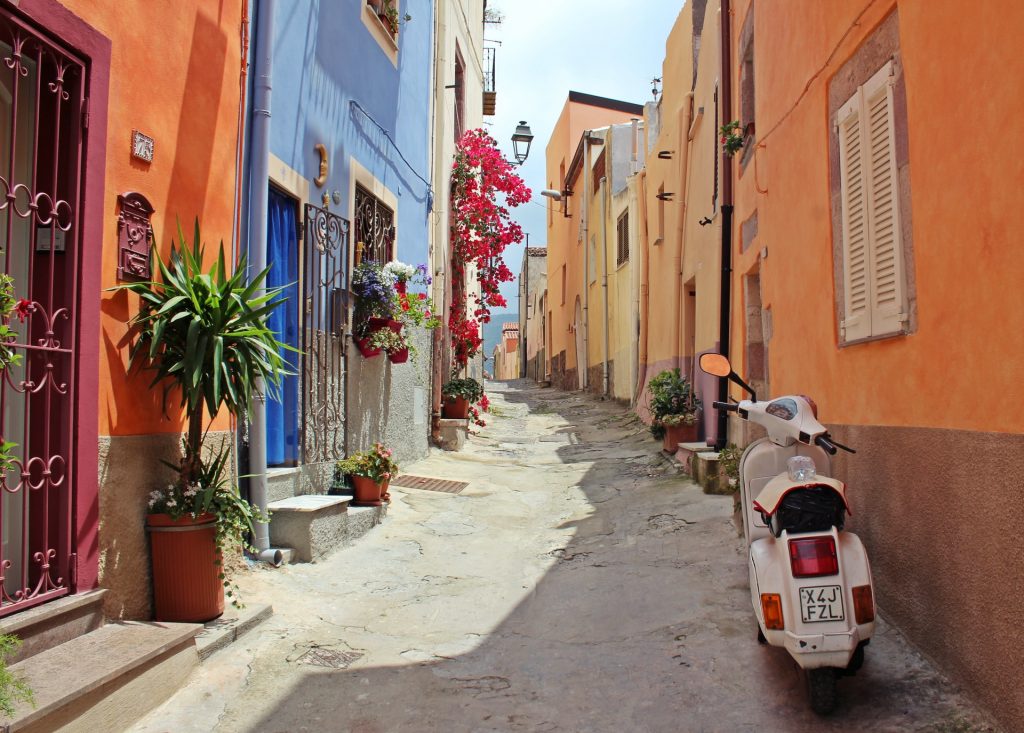 Pizza
Preparation time: 20 minutes plus 2 hours proving
Cooking time: 12 minutes
Skill level: easy
Makes: 3 pizzas

Ingredients for the pizza dough (Polpo)
strong white flour – 500g
7g fast action yeast
water – 300ml
fine salt – 2 tsp
extra-virgin olive oil – 2 tbsp

Ingredients for the tomato sauce (Angellica Bell)
garlic – 2 cloves – finely chopped
olive oil – 3tbsp
fresh basil – large handful plus more to serve
2 cans of tomatoes – 800g
dried oregano – 1tbsp
salt – 1tsp
black pepper – generous twist

Toppings – we all had different pizzas, so mix and match whatever you fancy, but keep it simple (yumblog)
mozzarella – 2 packets should do for 3 people
black olives
ham
anchovies

Making the dough:

In a bowl, mix together the flour, yeast, salt, olive oil and water until it forms a ball.
Tip out onto a floured surface and start kneading. The technique is to stretch it out with both hands and then fold it back into a ball. Continue the stretching for 10 minutes by which time you should have a lovely smooth dough.
Roll into a ball, sprinkle the top with flour, put in a bowl and cover with oiled clingfilm. Set aside somewhere warm for at least an hour or until it has doubled in size.

Now's a good time to make the tomato sauce:

Heat the oil in a heavy-bottomed saucepan and gently fry the garlic for 1 minute.

Add the basil leaves, tomatoes, oregano and cook for 5 minutes, stirring occasionally.

Turn off the heat and set aside for 10 minutes to cool slightly, then blitz with a handheld blender. Season to taste.

Constructing your pizza:
Put either a flour dusted pizza stone or heavy baking sheet into your oven and preheat it to the highest it will go (270 C/gas mark 9+). You want it to get as hot as possible for a good crusty base.

Now the dough is now ready, divide it into three.

Roll out your dough on a floured surface to a rough circle about 8mm thick.

Place on the hot pizza stone/baking sheet. Spread a thin layer of tomato sauce over the pizza (you'll probably have to make your pizzas one at a time).

Add your chosen toppings followed by a drizzle of olive oil.

Bake for about 12 minutes, depending on your oven.

Remove from the oven and sprinkle with extra basil leaves.

Place in homemade pizza box and pretend to deliver.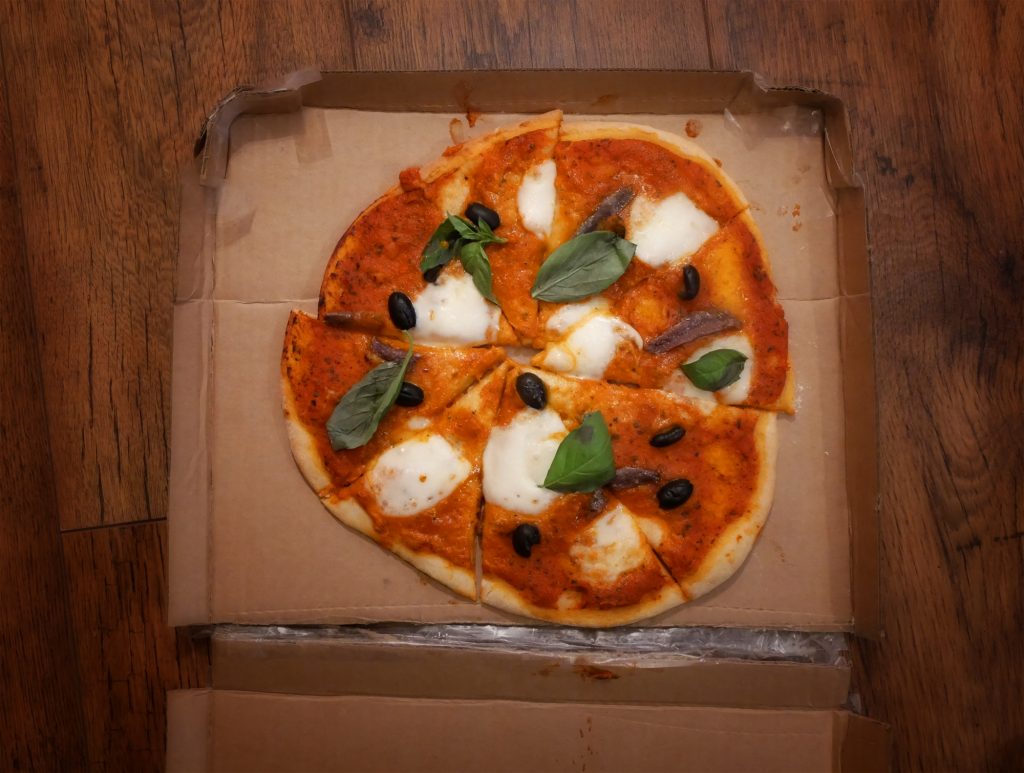 The pizza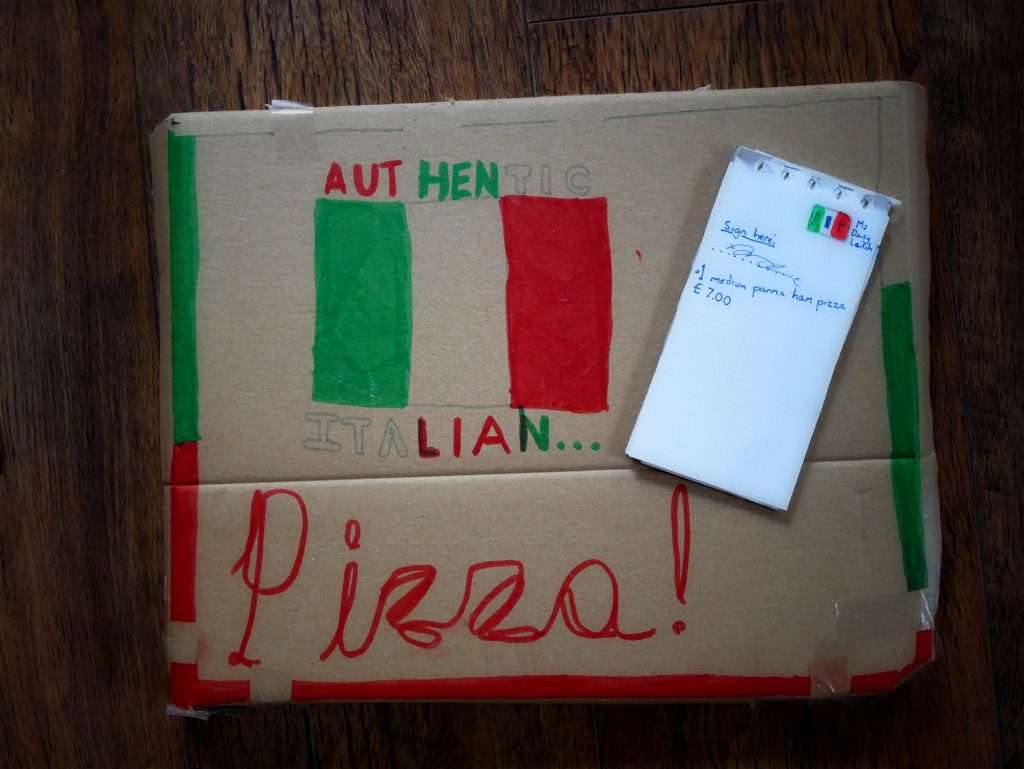 The box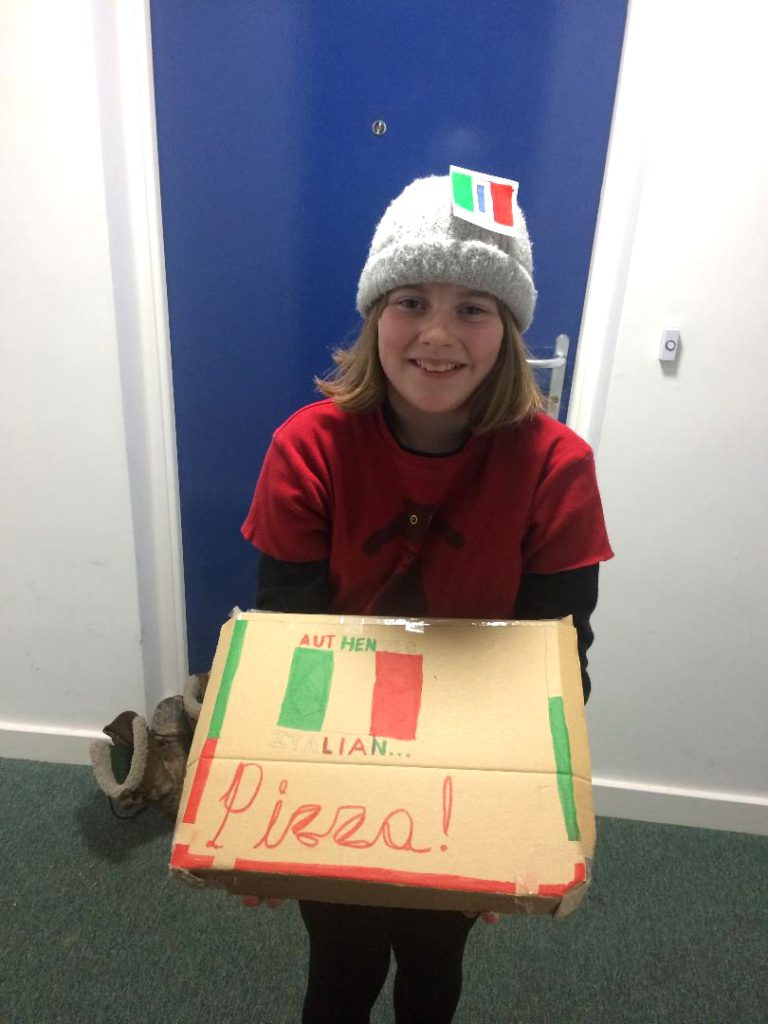 The delivery

Verdict: It's pizza. Everyone loves pizza. Get your oven as hot as possible and keep the toppings simple and you can't go wrong.

Drink: Repeat of yesterday.

Entertainment: Tonight's family viewing was 'Mission Impossible'. Despite no-one here at Yumblog Villas being massive fans of Tom Cruise, and Jon Voight being an unpleasant right-wing Trump supporting nut, this was enjoyable nonsense, much enhanced by the incredibly dated 'state-of-the-art' technology.