Here's wishing a 'Happy New Year' to all our lovely readers. In many ways 2017 wasn't the best, but trust me 2018 is going to be great. The Tories will implode under the sheer weight of their incompetence, corruption and lies, Corbyn will march us joyfully towards a new Socialist dawn, Brexit will be cancelled, Greggs will be nationalised, and Trump will be either sectioned or gunned down in a Waco style shoot out. Here at Yumblog Villas, we celebrated the first day of this newest of years with these rather special stuffed peppers. Don't be deterred by the long list of ingredients – most can be found at the back of your no doubt well-stocked spice cupboard.
Preparation time: 30–40 minutes (there are a lot of spices to find in the back of the cupboard)
Cooking time: about an hour
Skill level: medium (as precision stuffing is involved)
Serves: 2 as a main or 4 as part of a larger feast
Original recipe: Sri Lanka – The Cookbook
Ingredients for the stuffed peppers
4 green peppers (*see below)
potato (suitable for mashing) – 150g
half a medium onion – finely chopped
2 cloves of garlic – finely chopped
fresh ginger – 15mm chunk – peeled and finely chopped
5 fresh curry leaves – finely chopped
fish sauce – 1 tsp (optional for vegetarians/vegans)
sea salt – ½ tsp
wine vinegar (white or red) – ½ tsp
a few good twists of black pepper
* Try to get this long thin light green variety known as cubanelle or banana peppers which are readily available in Asian or Turkish shops. Failing that, use 2 green bell peppers.
Ingredients for the sauce
vegetable oil – 1 tbsp
half a medium onion – finely chopped
fenugreek seeds – ½ tsp
cumin seeds – ½ tsp
5 fresh curry leaves
3 cloves of garlic – finely chopped
fresh ginger – 15mm chunk – peeled and finely chopped
1 green chilli – deseeded and finely chopped
sea salt – 1 tsp
1 tomato – finely chopped
water – 350 ml
coconut milk – 250 ml
ground turmeric – 1 tsp
ground cumin – 1 tsp
juice of half a lime
Peel, chop and boil the potato in salted water until cooked. Drain and roughly mash with a fork. Set aside.
Now for the filling:
Heat the oil in a deep frying pan and add the onion, garlic, ginger and curry leaves. Sauté for a few minutes until the onions are soft and golden, and then add the mashed potato, fish sauce (if using), salt, pepper and vinegar.
Stir everything together and set aside to cool.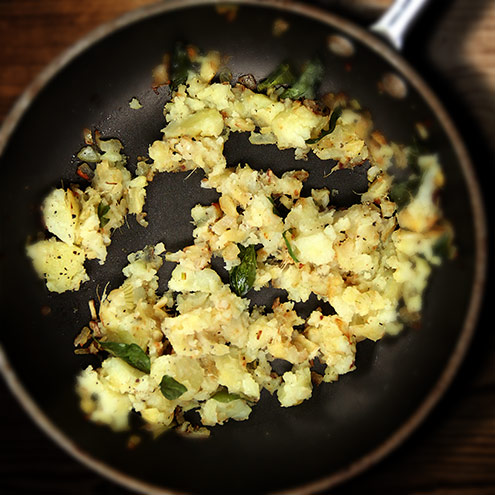 Next sauce:
Heat the oil in a large frying pan and add the onion, fenugreek seeds, cumin seeds, curry leaves, garlic, fresh ginger, green chilli and sea salt. Sauté for a few minutes until the onions are soft and golden.
Add the tomato and water, bring to the boil and then simmer for about 7 minutes until it has reduced by half.
Add the coconut milk, turmeric and cumin and stir everything together. Remove from the heat while you stuff the peppers.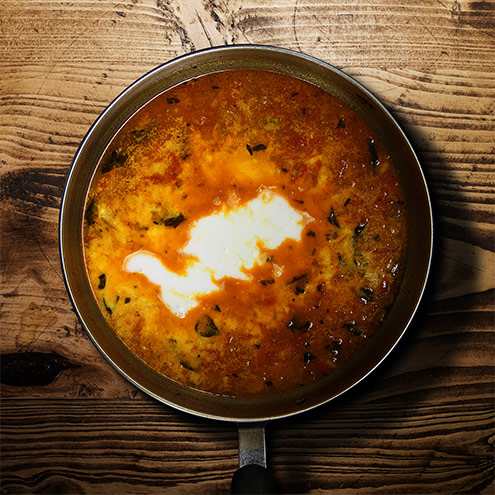 Stuffing the peppers:
Wash the peppers and slit down their length (leaving about 15mm uncut at the top and bottom). Gently prise open the slit and remove the seeds. Carefully spoon the potato mixture into the four peppers, close up the slit, and secure with cooking string.
All this can be done in advance… so now's a good time to nip to the pub**.
Finally:
Return the sauce to the heat, gently lay in the peppers and simmer for 5 minutes. Carefully turn the peppers over and cook for a further 5 minutes. Check the peppers are cooked, remove from the heat and squeeze over the lime juice.
Serve immediately with flat breads and/or a rice.
Verdict: Spicy, fragrant soft potato swaddled in a sweet pepper shell, atop a thick creamy warming indulgent coconut sauce. No finer way to start the new year.

If this has got you in the mood for stuffing, why not try this 'Green peppers stuffed with hake and manchego' or alternatively some 'Deliciously baked stuffed tomatoes'.

Drink: **A few Pilsner Urquell at The Independent.

Entertainment: A fairly pointless but nevertheless entertaining New Year edition of 'Bake Off'.