As the result of a Christmas spent in France hosted by, among others, Jean-Pierre the moustachioed turophile, we had pretty much vowed to stay away from cheese for long into the new year. That was until, in an idle moment, we happened across this tempting Potato, Leek and Gruyère tart from the ever reliable and inspirational Gourmet Traveller website.
Be forewarned, this is a fairly lengthy and involved dish, so read the recipe through a couple times before starting, plan your own timetable, turn on 6Music, open a bottle of red and set aside a Saturday afternoon.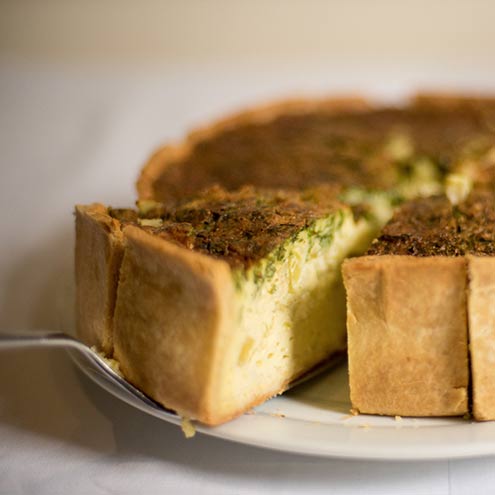 Preparation time: the best part of an afternoon
Cooking time: 2-2½ hours
Skill level: medium

Ingredients for the pastry
butter – chilled and coarsely chopped – 300g
plain flour – 400g
cream cheese – 300g
Ingredients for the filling
12 shallots
olive oil – 100ml
fresh thyme – 2 tbsp
potatoes – diced into 15mm pieces – 400g (about 3)
1 onion – finely chopped
baby leeks – thinly sliced – 250g
8 cloves of garlic – finely chopped
freshly grated nutmeg – ¼ tsp
Gruyère – grated – 350g
4 eggs
double cream – 400ml
Dijon mustard – 50g
chives – finely chopped – 2 tbsp
s & p
Don't panic, we haven't made a mistake, this pastry really is made from a combination of butter, flour and cream cheese…
… so, first make the pastry by putting the butter and flour in a food processor and mixing until it resembles breadcrumbs.
Add the cream cheese and process until it forms a dough.
Cover with cling film and refrigerate for at least 30 minutes.
Preheat oven to 180C/gas mark 4.
Divide the pastry in two and roll out both halves to a thickness of about 7mm.
Line two 28cm diameter x 3cm deep pie tins and put in the fridge for 30 minutes to rest.
Trim the edges, line with baking paper and weigh down with ceramic baking beans.
Blind bake for 15 minutes, then remove the paper and beans and continue baking until the pastry is golden brown (8-15 minutes)
Set aside to cool.
Now for the filling:
Combine the shallots with a good glug of olive oil and 1 tbsp of fresh thyme leaves in a bowl, season with salt and pepper and then scatter on an oven tray lined with baking paper.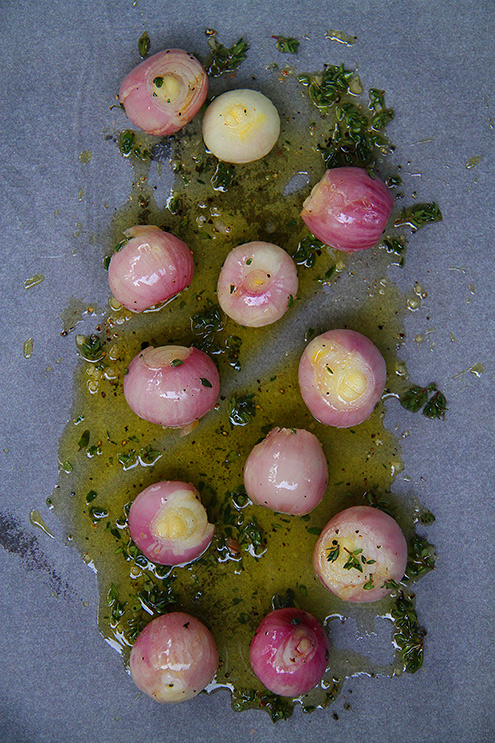 Roast (shaking occasionally) until golden and tender (around 20-25 minutes). Set aside.
Meanwhile boil the potato in salted water until tender (15-20 minutes). Drain and set aside to cool.
Next, heat some olive oil in a large frying pan over medium heat.
Add onion, leek and garlic, and cook until tender (15-20 minutes).
Then add the cooked shallots and potato along with the remaining 1 tbsp of thyme, season and stir to combine.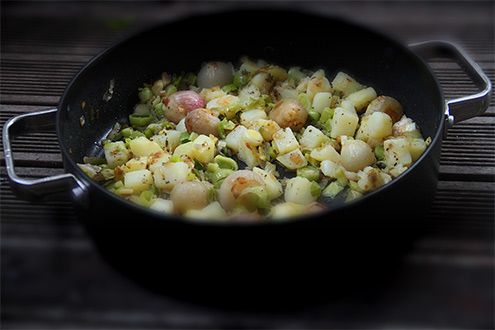 Grate in the nutmeg and three-quarters of the Gruyère and check the seasoning.
Now whisk together the eggs, cream, mustard and chives in a bowl, season and set aside.
Divide potato mixture between the two pie crusts, top with cream mixture and scatter with remaining Gruyère.
Bake until golden and set (20-25 minutes).
Cool slightly before removing from the tins.
Serve warm with a salad.
Unless you are feeding a tableful of people, you can freeze the second pie for a feast at a later date.
Verdict: A rich cheesy tri-allium masterpiece. Crisp short pastry cradling a stringy cheese filling studded with bursts of sweet caramelised onion tastiness. Well worth the effort (of my co-blogger).

If this has given you the taste for tarts, try this one with 'Crab with garlic & tomato' or if it's cheesy you want, this atopped with 'Stilton & Rocket'.

Drink: A variety of interesting and increasingly strong beers from our German Beer advent calendar beforehand. Wine during and after.

Entertainment: Finished re-watching series one of 'Ideal'