After the stunning and heroic intake of baked goods* on our recent tri-city Teutonic train tour of Düsseldorf, Berlin and Köln, thoughts and waist-lines turned to meals of a lighter, altogether less bready nature. This recipe fulfilled that desire to such a degree we ate it two days on the trot – first as here with prawns, and secondly (as there) with tofu.
* One of the tastiest being the newly discovered and magnificent Laugenecke – a dangerous hybrid wedge of crunchy salty pretzel on the outside and buttery chewy croissant on the inside. Great on its own, dunked in coffee, spread with cherry jam, or stuffed with all number of fillings. Expect a recipe as soon as the bread curfew has been lifted.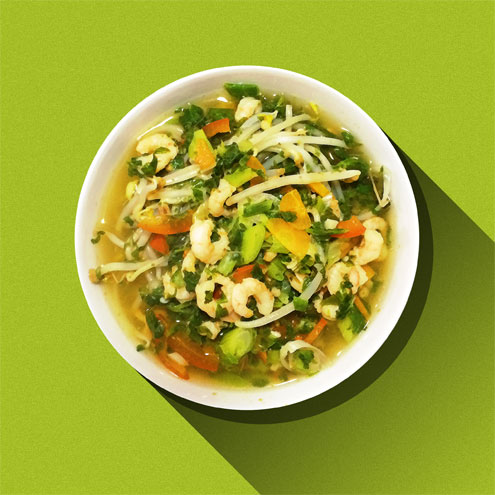 Preparation time: 5 minutes
Cooking time: 37 minutes
Skill level: easy

Ingredients
2 or 3 birdseye chillies (depending on how hot you like it) – finely chopped
3 cloves of garlic – crushed
1 stick of lemongrass – cracked with the side of a knife
2cm piece of ginger – squashed slightly
4 spring onions – sliced diagonally
fish or vegetable stock – 600 ml
fish sauce – 2 tbsp
coriander leaves – good handful – chopped
mint leaves – good handful – chopped
cooked king prawns – 150g
rice noodles – 150g
bean sprouts – 100g
1 lime – cut into wedges
Start by pouring the stock into a medium size pan, adding the lemongrass, garlic, ginger and two of the chillies and simmer vigorously for about 15 minutes to create the base of the broth.
Taste and if required add the other chilli.
Turn down the heat, cover the pan and leave to simmer gently for another 15 minutes.
Next add the prawns to the soup, along with three of the spring onions, the fish sauce and the chopped herbs. (Reserve a little of both herbs for garnishing).
Remove the garlic, lemongrass and ginger, put the lid back on the pan and set aside.
Boil some water in a pan, add the bean sprouts and cook for 1-2 minutes, until they are just tender.
Remove the bean sprouts with a slotted spoon and add to the soup.
Place the rice noodles in the boiling water and cook for 4-5 minutes until just cooked.
Divide the cooked noodles between two warmed bowls and pour over the soup.
Garnish with the remaining coriander and mint leaves, a few slices of red chilli, and spring onion.
Serve with a wedge of lime.
You can of course supplement/substitute the bean sprouts for bok choy, finely sliced cabbage, carrots or pepper. The important thing is to get the stock right – it should be hot and pungent and zingy.
Verdict: Hot, spicy, fresh, salty and satisfying. A quick and easy midweek treat.

Other fishy noodle delights you could try are this 'Sesame seared tuna with avocado salad, noodles & chilli ginger dressing' or this 'Prawn and udon noodle salad with sesame ginger dressing'

Drink: After the excesses of our tri-city Teutonic train tour of the Fatherland, beer (and bread) are now banned from Yumblog Villas.

Entertainment: Binged our way into the fourth series of the 'IT Crowd'.

The main cast of the German version (left to right, from top) Jen, Roy, Moss and Denholm (bottom)