What to do on a rainy day in Brighton when the girl can't go to the playground for a solid two hours after school? Well, you make biscuits. Well you plan to make biscuits but then the girl chooses something biscuitesque from a giant biscuit compendium and you adjust it due to the presence of cream cheese in the topping and the presence of the word frosting in the recipe. So chocolate fudge bars or Schokoladencremetafel, were they to exist in Germany and need translating.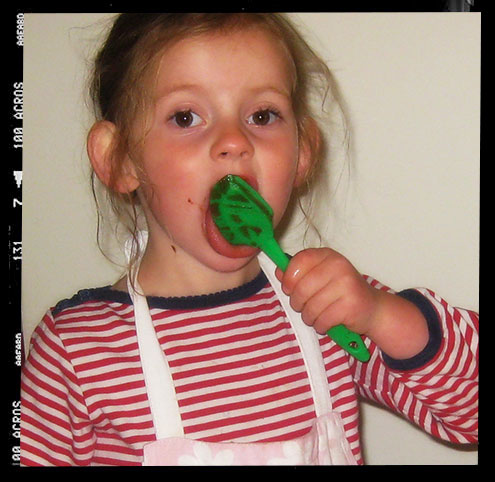 And so to the recipe.
Preparation time: 10 minutes
Cooking time: 40 minutes
Serves: many people
Skill level: Easy
Ingredients
170g butter
80g plain chocolate – as high a cocoa content as you can
200g light brown sugar
200g dark brown sugar
2 eggs – beaten
125g plain flour
2 tsp vanilla essence
First, preheat the oven to 180C. Then grease a baking tray and line it with greaseproof paper which you have also greased.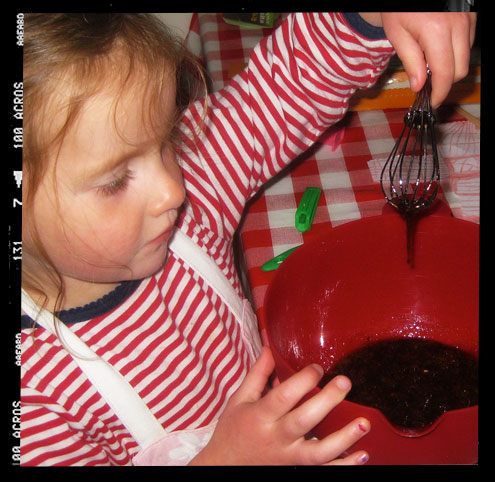 Melt the butter in a pan over a low heat, add the chocolate and stir until both melted. Studiously avoid boiling the mixture. Remove from heat.
Next, whisk together the two sugars with the eggs. Add the butter/chocolate mixture to the sugar/egg mixture. Stir in the flour and vanilla essence until all ingredients are well combined. Pour into waiting baking tray and put in the oven for 40 minutes or until an inserted implement comes out clean.
Leave to cool in the tray.
Set to it with a series of animal-shaped cutters or just cut into regulation rectangles.
Eat.
Verdict: Quite brownieish but more satisfying and chewierer and mercifully lacking in unnecessary nuts.

Drink: water to counteract the Xtreeeeme sugar content on young teeth.

Entertainment: During the making – Syro, Aphex Twin's latest. During the eating – Hello Kitty, the appropriately chosen baking episode.