This is a bit like a kedgeree … but with potatoes instead of rice… and smoked mackerel instead of haddock … and horseradish instead of curry powder… In fact now I think about it, nothing like a kedgeree. In that case, consider this a Salade Niçoise with mackerel replacing the tuna and an absence of olives, green beans and anchovies. Nope, again a lazy comparison. Perhaps a hybrid of the two then? A Saledge niçoiseree? Sounds authentic.
Preparation time: 15-20 minutes
Cooking time: 25-30 minutes minutes
Serves: 2 greedy people
Skill level: easy
Ingredients
new potatoes – 650g
3 smoked mackerel fillets (or 3 kippers)
2 free-range eggs – boiled
a knob of butter
a splash of olive oil
a handful of parsley – chopped
horseradish sauce – 2-3 tsp
lemon juice – a generous squeeze
2 spring onions – finely sliced
watercress – a couple of handfuls
s and p
Start by boiling/steaming your new potatoes until cooked but firm.
Also hard boil a couple of free-range eggs.
Meanwhile skin the mackerel and remove the darker flesh of the bloodline. Break up into bite-size pieces being careful to remove any bones (if you are using kippers this is a slightly more fiddly and lengthy process)
Melt a knob of butter in a large frying pan, add the fish and chopped parsley and cook gently until warmed through.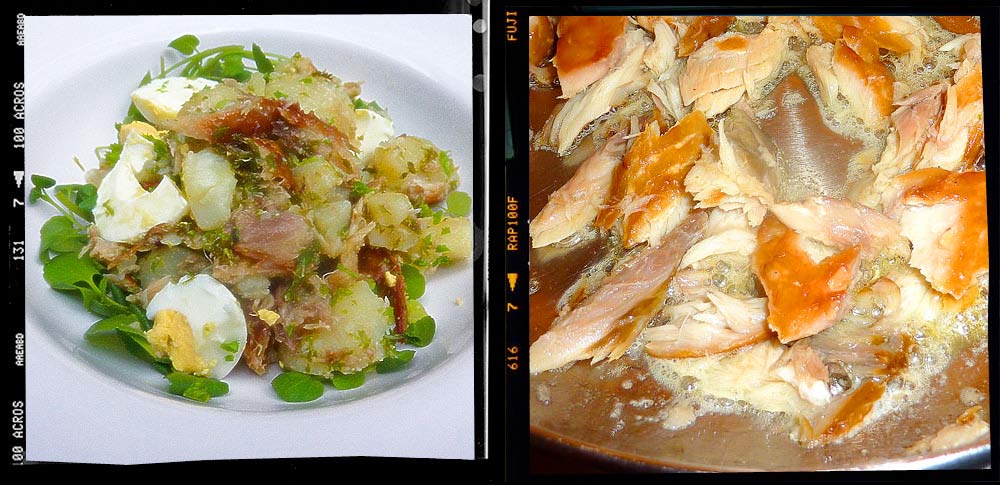 Add the potatoes and crush slightly with a fork.
Add the lemon juice and horseradish and stir though.
Generously season with pepper.
Taste and add salt if necessary.
Chuck on the sliced boiled eggs and finely chopped spring onion.
That's it.
Serve warm on a bed of watercress.
Verdict: This makes a great midweek dinner, for as well as being very tasty it is also quick and easy to prepare. The horseradish gives it a north European feel which could be further enhanced by the addition of dill. We have made this with both mackerel and kippers and although both are delicious, I'd say the latter slightly had the edge.

Drink: Staropramen and Rioja.

Entertainment: The fifth and final episode of 'Line of Duty'. At the end he stepped out in front of a lorry. We cared not.