Perhaps it's the imminent collapse of free-market capitalism, the melting of the polar ice caps, the influence of our reptilian Illuminati shapeshifting overlords, the demise of the bumble bee, or just our shameful lack of regular posts, but of late freebies have been few and far between here at Yumblog. So when our new best friends at Elizabeth Shaw got in touch and asked if we'd like a hamper of chocolate-based goodies to review, we literally (or is that metaphorically) bit off their hands.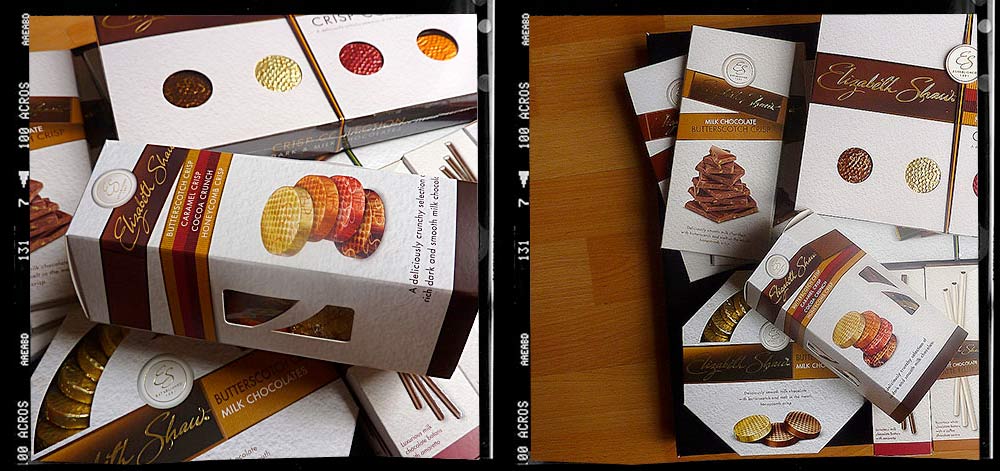 For the last couple of weeks we have been selflessly and heroically sampling the entire Elizabeth Shaw range on your behalf, dear reader, and so it is that we now feel in a position to give them a hearty thumbs-up with the award of the coveted Yumblog seal of approval. My personal fondness is for the amaretto flutes, whilst my co-blogger, being a traditionalist, veers towards for the dark chocolate with minty crispy bits. So far Yumblog Junior has yet to express a preference, though the word 'chocolate' has featured more heavily in her vocabulary since the appearance of the large black box.
Obviously not being important and influential food bloggers you can only dream of being sent a gratis hamper like ourselves, however up until 1st October Elizabeth Shaw are giving away a box of chocolates every day … click here to enter the free draw.