For this recipe we experimented with frozen clams from a recent Ocado shop. Despite our middle class credentials we wouldn't ordinarily shop at Ocado but we had a £20 off voucher and thought we'd make use of the offer. A flourish of reckless clicks and 240 quid later, this didn't seem such a bargain. Also, frozen clams it turns out are a bland and uneventful experience, so please use fresh when making this tasty dish.
Preparation time: 20 minutes
Cooking time: 10 minutes
Recipe: Rick Stein
Skill level: easy
Ingredients
fresh clams – 1kg
pine nuts – 30g
blanched almonds – 30g
olive oil – 4 tbsp
slice of crustless white bread – 25g
garlic cloves – 4
leaves from a few sprigs of parsley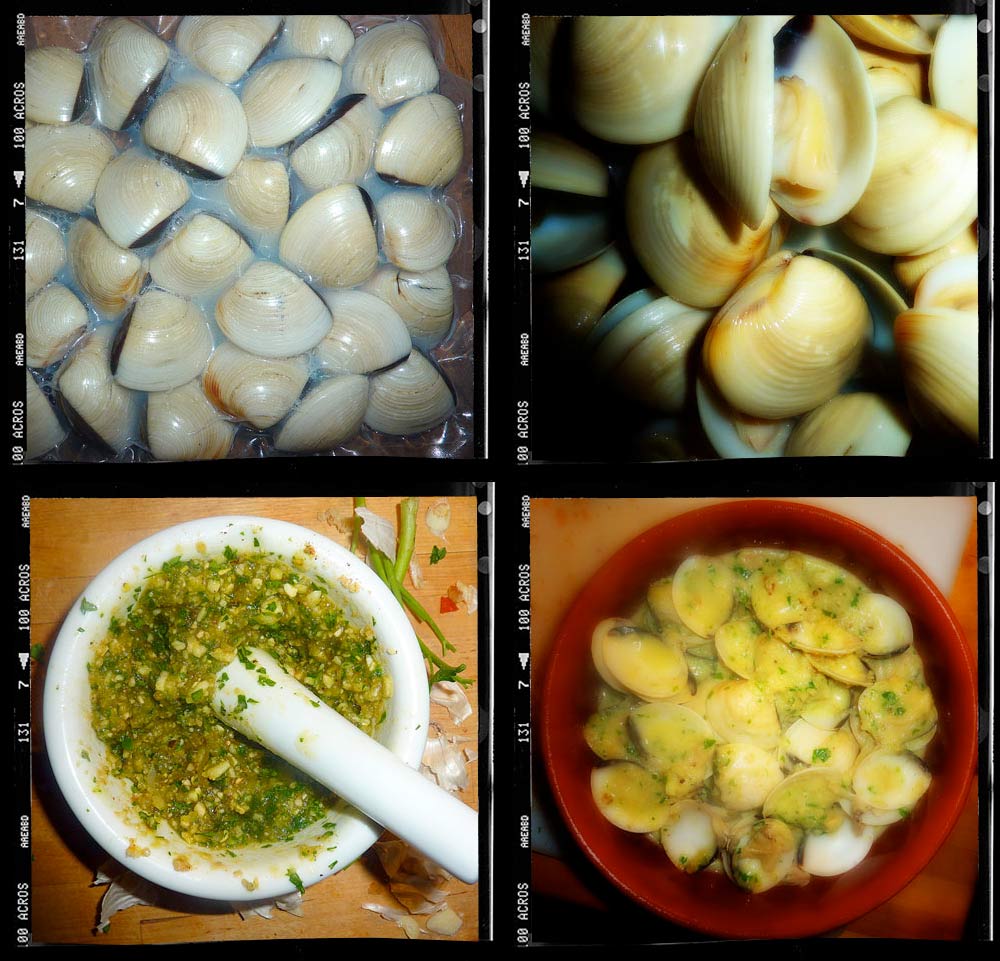 For the picada, heat a frying pan and dry fry the pine nuts for 1 minute and the almonds for 2 minutes. Set aside to cool.
Next fry the bread in olive oil on both sides until golden brown. Set aside to cool.
Break the fried bread into a mortar (or small food processor), add the toasted nuts and grind to the texture of sand.
Add the garlic, parsley leaves and 2 tbsp of olive oil and continue to grind until you have a thick coarse paste.
Wash the clams in plenty of cold water and discard any which refuse to close when gently tapped.
Find a large pan with a lid and add 4 tbsp of water. Place over a high heat and as soon as the water boils add the clams.
Cover and cook (shaking occasionally) for 1-2 minutes until the clams have opened.
Remove the pan from the heat.
Pour the cooking liquid into the picada and stir to form a thick sauce.
Add to the clams and stir to coat evenly.
Serve immediately with some good bread.
Verdict: A lovely, tasty and unusual dish. Quick and easy enough for a midweek dinner … exotic and tasty enough for a weekend treat.

Drink: Both hop and grape.

Entertainment: Still working our way through the last series of Homicide – Life on the Street.