Sorry about the irregular nature of recent posts but I have recently started a new job in Manchester and feel it would be considerate to my new employer to wait a few weeks before I spend all my working day writing up posts for yumblog. On the plus side I have discovered a superb fishmonger in the Arndale centre which stocks a fantastic range of fish and seafood. Hence this and subsequent octopi.
Preparation time: 10 minutes
Cooking time: 1 hour 15 minutes
Recipe: Rick Stein (and countless generations of Spaniards)
Skill level: easy
Ingredients
octopus – about 500g
waxy potatoes – such as Désirée
pimentón picante (hot smoked spanish paprika) – ½ tsp
olive oil
s & p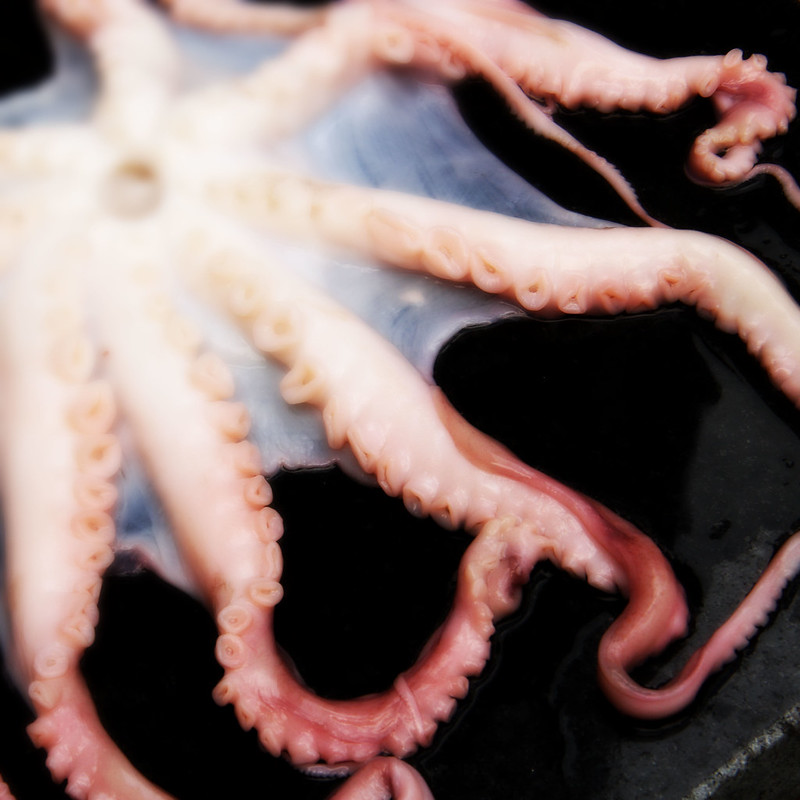 Get your local fishmonger to clean and prepare your octopus. You will have a mass of tentacles and the head (which looks like a squid tube)
Pour enough water to comfortably cover the octopus into a large saucepan along with 1 tbsp of sea salt.
Bring to the boil and add the octopus. The octopus will tense and stiffen in a slightly sinister way. Cover and simmer for 45 mins to 1 hour until tender.
Remove the octopus from the pan and set aside to cool. DON'T THROW AWAY THE WATER.
When cool enough to handle cut the tentacles and head into 10mm thick pieces.
Peel the potatoes and cut into wedges.
Bring the octopus water to the boil and add the potatoes. Simmer for 10 minutes or until just tender. Drain.
Heat some olive oil in a large frying pan and add the pimentón picante followed by the potatoes. Toss for a few seconds until completely coated in the red-coloured oil.
Add the octopus and quickly cook until heated through.
Serve immediately with an extra drizzle of olive oil and a sprinkle of sea salt.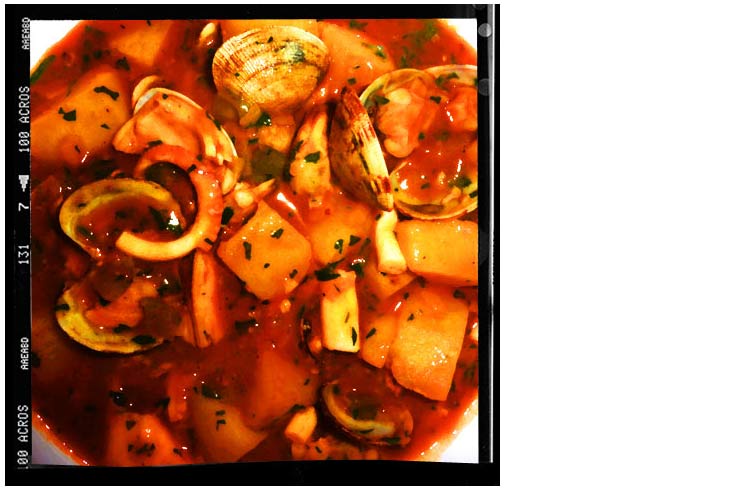 Verdict: Superb. And very simple. The octopus was perfectly tender and in my opinion much tastier than it's cephalopodic cousin, the squid, it has a deeper, earthier flavour, really very good.

Drink: A pair of Cruzcampo at the local tapas bar (along with a few appetising bowls of pre-dinner tapas). And a bottle of white.

Entertainment: Vintage Floyd in Italy on DVD.