If, as Yumblog, you like the idea of gnocchi but in reality find them a tad disappointing after all the faff they take to make, then perhaps you should try their lesser known but more interesting cousin, gnudi.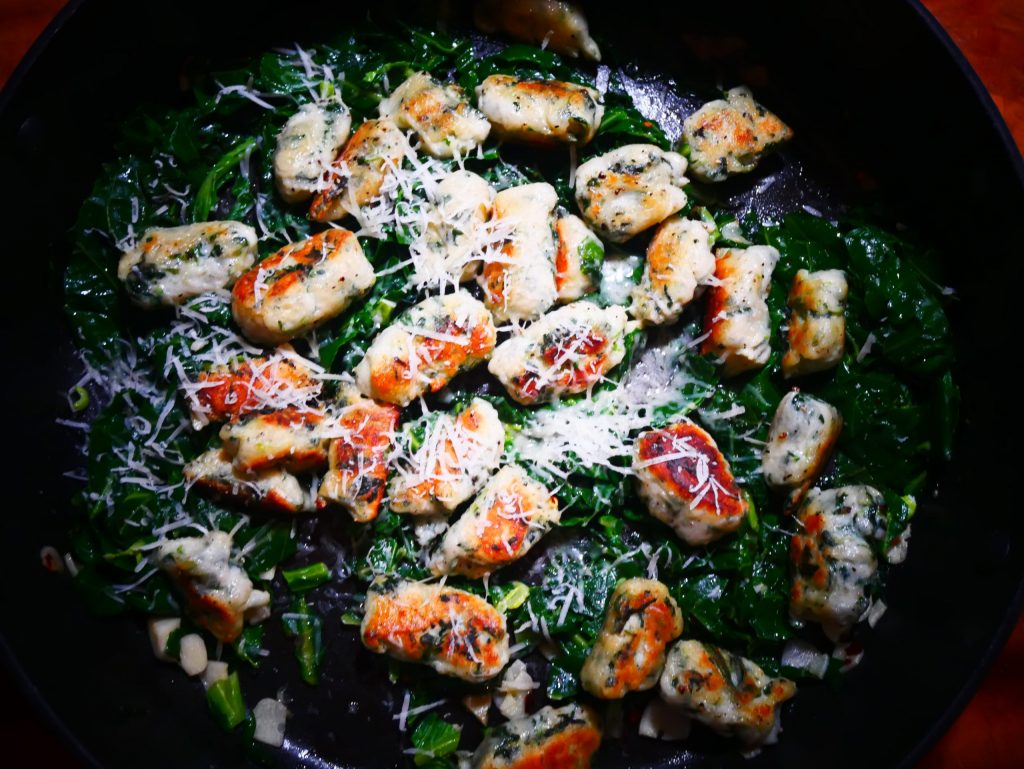 Preparation time: 30 minutes plus an hour chilling
Cooking time: 30 minutes
Skill level: medium
Serves: 2
For the gnudi
spinach – 50g (we used frozen, you can of course use fresh)
ricotta – 250g
parmesan – finely grated – 20g plus extra for serving
1 egg – beaten (although you will only need to use half)
nutmeg – generous grating
plain flour – 75g plus more for dusting
s & p

For the spring greens
olive oil – generous glug
butter – big knob
2 garlic cloves – finely sliced
chilli flakes – 1tsp
spring greens – shredded – 400g
s & p


Start with the gnudi

If you are using fresh spinach, blanch it in boiling water for 30 seconds, or until wilted, drain, refresh in cold water, drain again and squeeze in a tea towel to remove as much liquid as possible. Then place in a food processor and blitz until coarsely chopped.

If you are using frozen spinach, just defrost, squeeze out the excess liquid and blitz in a food processor.

Next add the ricotta, parmesan, egg, nutmeg, season to taste and combine.

Transfer to a bowl and stir in the flour to form a dough.

Turn out onto a floured surface and knead lightly until smooth. Add more flour if too sticky.

Halve the dough, roll out into 1.5cm diameter cylinders and then cut into 2cm lengths, pinching the centres gently.

Place in a single layer on a lightly-floured tray and refrigerate for an hour to firm up.

Now for the greens

Blanch the spring greens in boiling water for a minute of two, remove with a slotted spoon, refresh in cold water, thoroughly drain and set aside.

Heat the oil and butter in a large frying pan, add the garlic and chilli flakes and sauté for a couple of minutes. Add the spring greens and continue to cook for a short while until they are tender. Season to taste, transfer to a bowl and keep warm.

Back to the gnudi

Bring a large saucepan of salted water to the boil.

When it is almost at boiling point add more butter to the frying pan and heat until the butter is foaming.

Gently drop some gnudi into the simmering water and cook until they rise to the surface – this will only take 1 or 2 minutes. As soon as they hit the surface, remove with a slotted spoon, shake off excess water and add to the frying pan. Continue in batches until all the gnudi are in the frying pan. Give them regular shakes until they are a wonderful light golden brown.

Add the greens, check the seasoning, grate over more parmesan cheese and serve.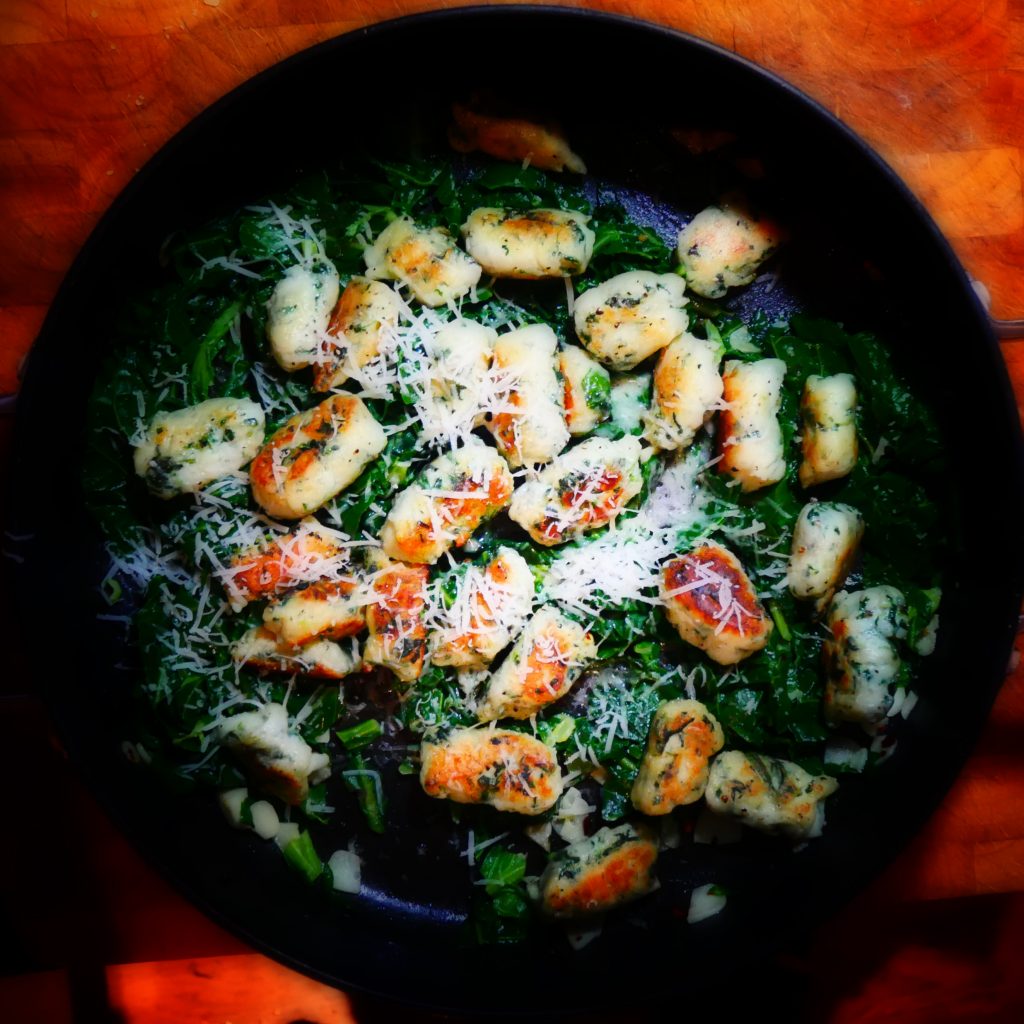 Verdict: Crunchy pillows of cheesy goodness lounging on a luxurious bed of buttery brassica. Well worth the not much effort they take to make.

If you like your greens, why not try Wilted greens and potato with cheese sauce or perhaps Mushroom, Spring Greens & Lincolnshire Poacher Toasts. Both covered in melted cheese. Both delicious.

Drink: Pilsner Urquell and vin rouge.

Entertainment: Two episodes of the excellent German Cold War espionage drama 'The Same Sky'.