Sticking with A's, we board an Aeroflot Ilyushin Il-76 and continue our culinary journey with an 18-hour, 15,668 km, direct flight to Argentina (in-flight movie – 'Taken 3', vegetarian option – chicken). Touching down at Buenos Aires International Airport, we take a cab to the tiny unspoilt fishing village of Mar del Plata where, overlooking the deserted picturesque bay, we sit down to a late lunch of empanadas with chimichurri sauce.

Recognising us as yumbloggers, the chef de patron, Benifacto López comes out to greet us and offer complimentary aperitivos. We of course accept and upon praising him on the quality of his empanadas he presents us with the original handwritten secret family recipe passed down to him through twelve generations. We promise Benifacto to honour his solemn request for confidentiality and tell no one.

Recipe below: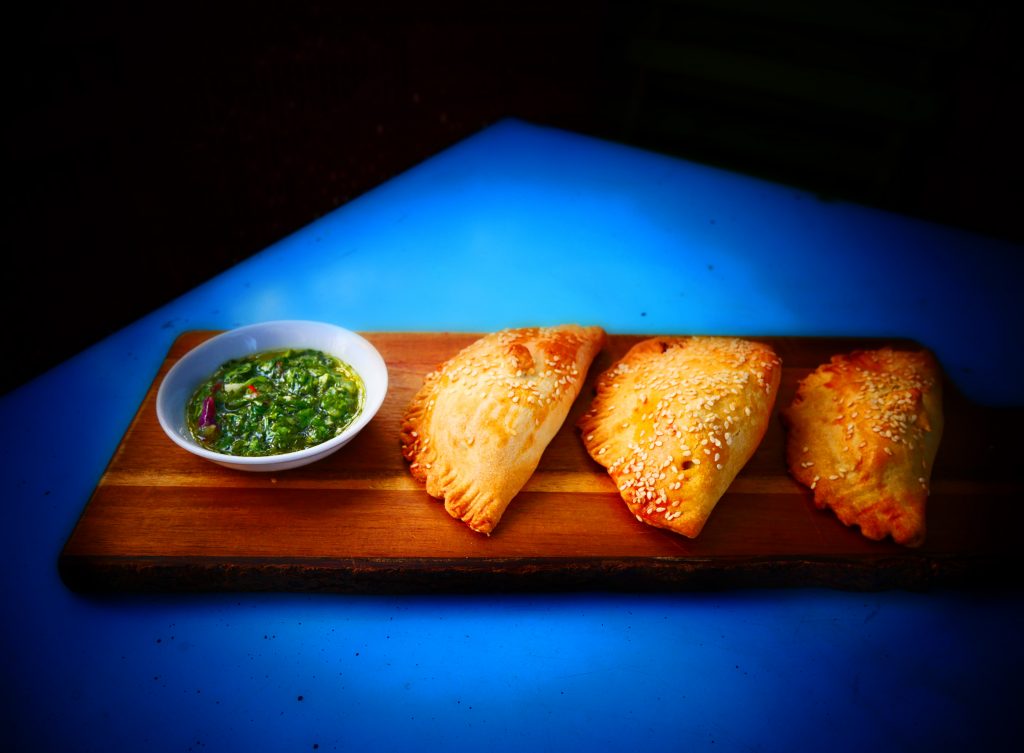 Potato, onion & cheese empanadas with chimichurri sauce.
Preparation time: 45 minutes plus an hour chilling
Cooking time: about an hour
Skill level: medium
Makes: 14
For the pastry
plain flour – 500g
baking powder – 2 tsp
sea salt – 1 tsp
unsalted butter (straight from the fridge) – 150g
1 large egg – beaten
sesame seeds – for sprinkling

For the filling
2 medium potatoes
olive oil
2 medium onions – halved and finely sliced
3 large garlic cloves – finely chopped or grated
oregano (fresh or dried) – to taste
s & p
cheese (cheddar, gouda, anything melty) – grated

For the chimichurri sauce
small bunch of coriander – finely chopped
small bunch of parsley – finely chopped
2 garlic cloves – finely chopped
1 chilli – de-seeded and finely chopped
olive oil – 7 tbsp
white wine vinegar – 2 tbsp
s & p

Start by making the pastry
Combine the flour, baking powder and the teaspoon of sea salt in a large bowl. Finely chop or coarsely grate the butter and rub into the flour mix until it resembles fine breadcrumbs.

Mix in just enough cold water to bring it together into a dough. Wrap in clingfilm and place in the fridge for an hour.

Now the filling
Peel, quarter and boil the potatoes in the usual way until cooked. Set aside to cool.

Meanwhile, heat some oil in a large frying pan, add the sliced onion along with a pinch of salt and sauté until softened. Add the finely chopped garlic and a sprinkle of oregano and continue to cook for 10 minutes, by which time the onion should be golden and caramelised.

Roughly dice the potato and add to the onion. Stir, taste, season and set aside.

Next the chimichurri sauce
Simply combine all the sauce ingredients, taste and season.

Construction and cooking
Preheat the oven to 190°C.

Divide the pastry into 14 equal pieces and then, on a lightly floured surface, roll each portion into 14cm circles.

Spoon about 2 tablespoons of the filling onto the middle of one half of each pastry circle, cover with a generous sprinkling of cheese, brush the edges with a little beaten egg, then fold them over to form a semi-circle.

Press the edges together with a fork to seal, then place onto a large, lightly greased baking tray.

Brush the empanadas with the beaten egg, sprinkle with sesame seeds and bake for 25 to 30 minutes, or until golden and crisp.

Leave to rest for a few minutes, then serve with the chimichurri sauce.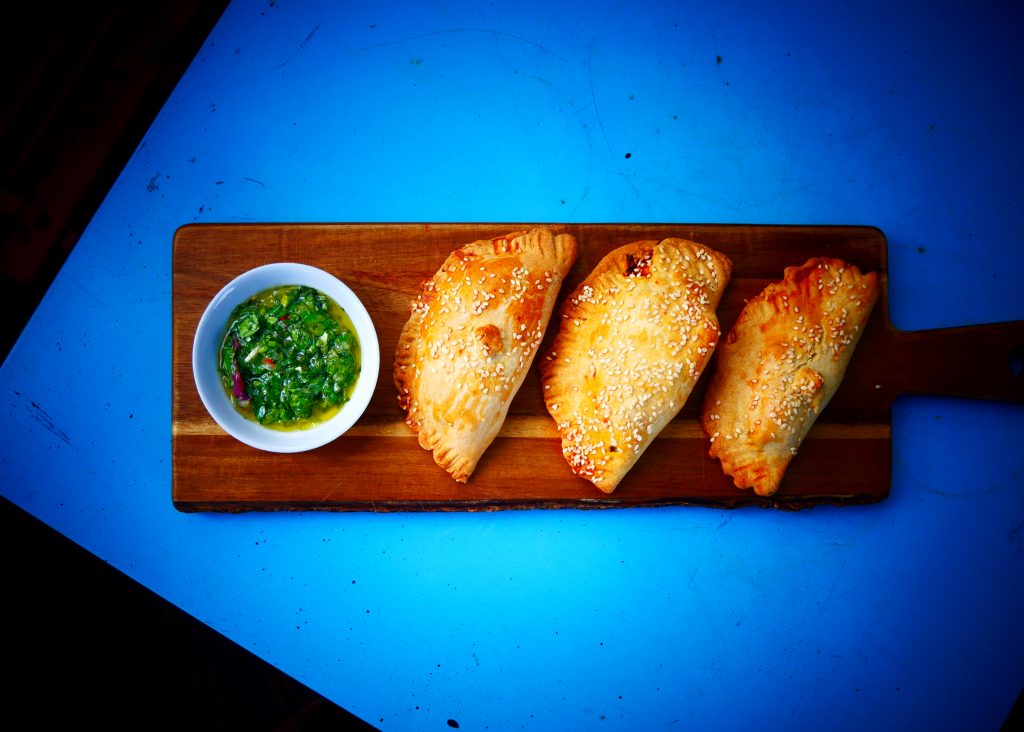 Verdict: Soft potato, caramelised garlicky onions and melted cheese in a short crusty case. Delicious. Especially with the pungent herby chimichurri.

If you prefer your empanadas fishy, try this Tuna and red pepper option.

Drink: Pilsner for him, red for her, fizzypop for child.

Entertainment: An unexpected twist at the end of the second episode of 'Bloodlands'