If you fancy two of your five-a-day smothered in cheese sauce then this is the recipe for you.
Preparation time: 10 minutes
Cooking time: 45 minutes
Skill level: easy
Serves: 2 as main, 4 as side dish
Ingredients
Cyprus potatoes – thinly sliced – 650g
1 medium onion – thinly sliced
4 garlic cloves – finely chopped
1 bunch of greens (spring, sprout tops, cavolo nero, chard, etc.) – coarsely chopped
extra-virgin olive oil – slug
butter – 80g
plain flour – 80g
milk – 800 ml
Provolone piccante (or some sort of fancy cheese) – 100g
Parmesan – finely grated – to gernerously scatter over the top
s & p
Preheat oven to 200C/gas mark 6.
Boil the sliced potatoes in salted water until tender, drain and layer in the bottom of a suitably sized (approx 22cm x 30cm) oven-proof dish.
Meanwhile, heat oil in a large saucepan, add the onion and garlic and sauté for a few minutes until the onion begins to transluce.
Add the greens, cover with a lid and cook for a further 3-4 minutes until the greens are wilted but still have a little bite.
Spread greens over the potatoes.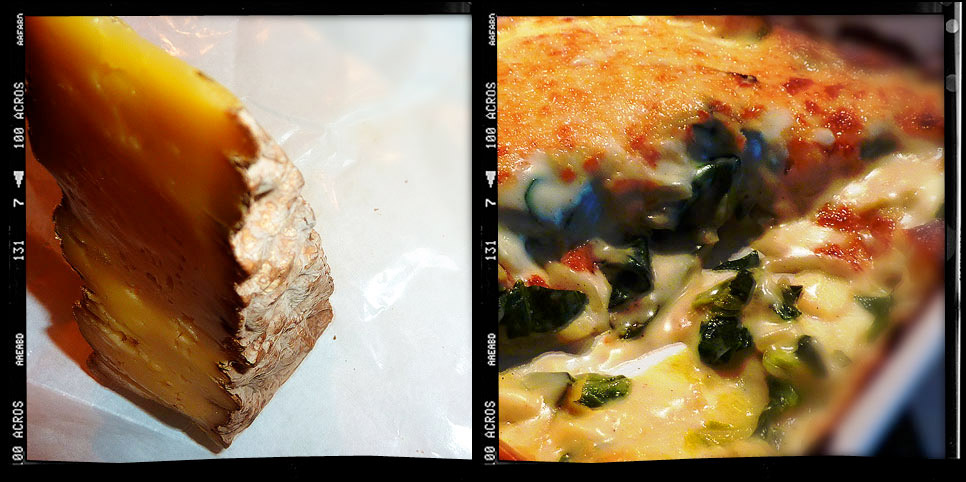 Meanwhile make the cheese sauce by melting the butter in a saucepan, adding the flour and cooking for a further 2 minutes until you have a sandy coloured roux.
Gradually add milk, whisking continuously.
Next add the Provolone piccante and stir until melted.
Spoon over wilted greens, and scatter with grated parmesan.
Bake until golden and bubbly (10-15 minutes).
Serve hot.
Verdict: Essentially cheesey mash, so how could this be anything other than delicious? The use of a cheese other than Cheddar gave this a very distinctive flavour.

Drink: A few cans of Polish followed by a bottle of red…oh and some dessert wine too.

Entertainment: Eurovision, with a surprisingly unironic nod to Jedward and their 'Pet Shop Boys meets Gilbert and George' outfits