Sorry Greece, we didn't forget you, just somewhere along the journey we forgot to write you up. And to add a dash of insult to injury, for authenticity we consulted that Athens-born Hellenic super chef, Jamie Oliver.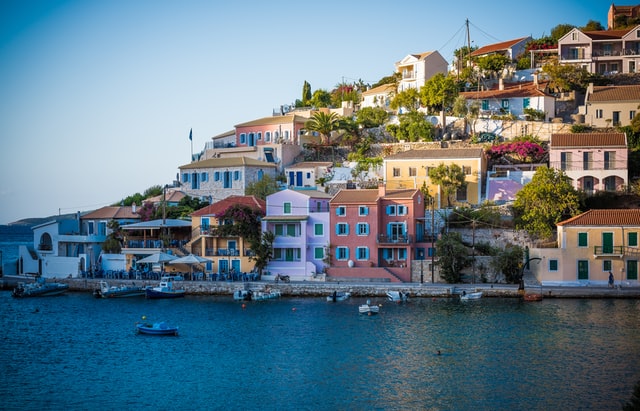 Asos, Greece.
Lentil keftedes & dill yoghurt
Preparation time: roughly 20 minutes
Cooking time: roughly 25 minutes plus extra if you are using dried lentils
Skill level: easy
Serves: 2 with a few leftover for lunch the next day.

Ingredients for the keftedes
brown lentils – 115g (equivalent to 400g tin of cooked lentils)
spinach – 200g
olive oil
2 large free-range eggs
a few sprigs of fresh flat-leaf parsley
feta cheese – 100 g
fresh breadcrumbs –75 g

Ingredients for the dill yoghurt
fresh dill – 15g
Greek yoghurt – 500g
1 small clove of garlic – finely grated
1 lemon
extra virgin olive oil – 1 tbsp

If you are using dry lentils, pre-cook them as per packet instructions and set aside to cool.

Next, the dill yoghurt.

Finely chop the dill and place half in a bowl with the yoghurt. Add the grated garlic, lemon juice (to taste) and season. Add one tablespoon of olive oil, stir and set aside.
Put the spinach in a saucepan over a low heat with one teaspoon of oil and cover with a lid. Cook for a few minutes until the spinach has wilted. Tip into a sieve and leave to drain.
Put the cooked drained lentils into a food processor and blitz until creamy. Add one of the eggs and blitz again. Spoon into a bowl and add the remaining dill and egg, and season.
Finely chop the parsley leaves and place in a bowl with the breadcrumbs, and crumbled feta. Squeeze out the excess liquid from the spinach, chop and add to the lentil mixture. Stir everything together.
Heat some oil in a large non-stick frying pan over a medium heat. Using a dessert spoon, scoop out portions of the keftedes mixture and spoon them into the hot oil, flattening them slightly.
Fry for about 4 minutes on each side, until golden and cooked through. You'll probably have to do this in batches, so keep cooked keftedes warm on kitchen towel.

Serve the keftedes hot, with the dill yoghurt and a green salad.


Verdict: Delicious earthy iron-packed patties with salty pockets of feta, nicely complemented by the dill rich acidic yoghurt. Tasty cold next day for lunch.

Drink: Probably a resin rich Retsina.

Entertainment: Much enjoying the delights of our recently purchased Google Chromecast … the best thirty quid we have spent in a long while.