Flammkuchen
And so to our spiritual home, Germany. A country that seems to get most things right in the same way we don't anymore.

In 2018 on a visit to Berlin we saw Scritti Politti at an event called 'Goodbye UK – and Thank You for the Music', a celebration paying 'homage to the extraordinary musical creativity that made the United Kingdom the world's leading pop nation, alongside the US, in terms of music as well as thought, fashion, style and other concepts.' Although a great gig on the roof terrace of a brilliant venue, it was a bitter sweet event tainted by a profound sadness at the pointless self-destructive stupidity of Brexit. Turns out Europe thought we were cool, pragmatic, trustworthy and politically stable. Not any more. Cheers for that Tories.

Anyway, Germany has the largest economy in Europe and the fourth-largest in the world. A global leader in several industrial, scientific and technological sectors, it is both the world's third-largest exporter and importer of goods. It offers social security and a universal health care system, environmental protections, and a tuition-free university education.

It also does great baked goods and undeniably the best beer in the world.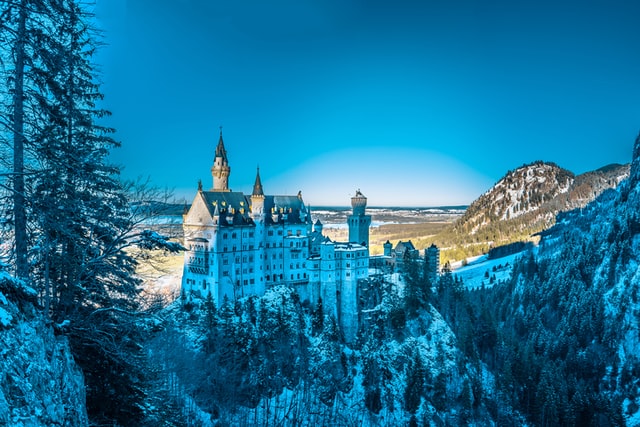 Neuschwanstein castle, Germany
Preparation time: 2 1/2 hours including proving
Cooking time: 8 minutes
Skill level: easy
Makes: 3

For the dough
dried yeast – 8g
plain flour – 280g
buttermilk – 112 ml (if you can't find buttermilk, add a 7 ml of lemon juice to 105 ml of milk – semi-skimmed or full fat – and leave for ten minutes, then ready to use)
salt
olive oil – 3 tbsp

For the topping
red onions – cut into rings – 35g
white onions – cut into rings – 50g
bacon (optional) – sliced thinly – 60g
emmental (optional) – grated – 50g
crème fraîche – 112g
sour cream – 150g
s & p
caraway seeds – ground – ¼ tsp

To make the dough

Put the flour in a large bowl, make a well in the middle and add the yeast and 50ml of water.

Give it a quick stir and add the buttermilk, 1 tsp of salt and the olive oil.

Knead for at least 3 minutes until the dough is smooth and pliable.

Shape into a ball, return to the bowl and cover with clingfilm.

Set aside somewhere warm for 2 hours.

Cut the baking paper into 3 pieces, each of the size of a baking sheet (40 x 30 cm).

Knead the risen dough vigorously, shape into a roll and divide into 3 equal pieces.

Place 1 piece of dough on a sheet of baking paper. Roll out the dough thinly until it contracts, it should then be nice and elastic, roll until the dough is approx 2 mm thin.

Cover the dough with cling film to prevent it from drying out.

Repeat this process with all pieces of dough.

Preheat the oven to 250 degrees for 20 minutes with the trays on the lowest level.

Slice the onions into very thin rings. Cut the bacon (if using) into fine strips. Grate the cheese (if using). Mix the crème fraîche with the sour cream, a little salt, pepper and caraway seeds.

Brush the dough pieces one after the other with a third of the crème fraîche mixture, sprinkle with a third of the bacon strips/cheese and onion rings.

Put the baking paper on the hot tray and bake in the preheated oven for 8 minutes. Serve sprinkled with pepper.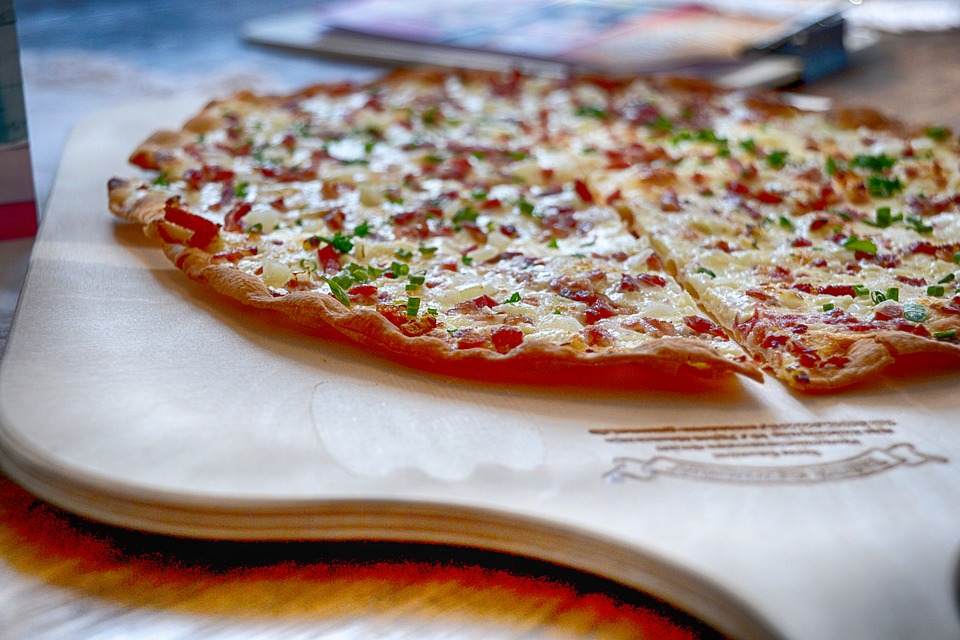 Verdict: Echoes of pizza with a thin satisfyingly crunchy base. So good, it was even enjoyed by the fussy child (bacon version).

Drink: Water for us, although the child improvised a disgusting cocktail from a distillation of marshmallows and dry spaghetti. See below.

Entertainment: Competition to see who could construct the tallest structure from marshmallows and spaghetti. Results: first – her, second – him, third – child.
Google+