Bags packed, we're off to Hungary for a bowl of noodled soup. For a relatively small country Hungary has many largest things: largest thermal water cave system and (second) largest thermal lake in the world, not forgetting the largest lake and largest natural grasslands in Europe.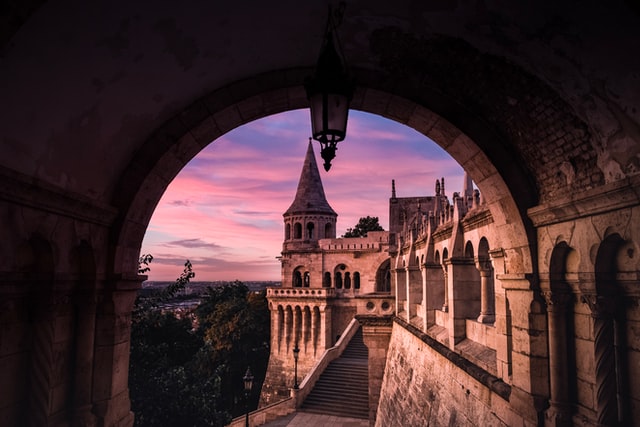 Budapest, Hungary
Hungarian mushroom soup (Magyaros gombaleves) with Pinched Noodles (Csipetke)
Preparation time: 10 minutes including 20 minutes resting for the noodles
Cooking time: 30 minutes
Skill level: easy
Serves: 2

Ingredients for the noodles
plain flour – 140g
2 large eggs
salt – ½ tsp plus more for boiling

Ingredients for the soup
half an onion – finely chopped
mushrooms (standard or chestnut) – sliced – 300g
1 carrot – peeled and sliced into 5mm rounds
1 small parsnip – peeled and diced into 5mm chunks
2 medium potatoes – peeled and diced into 10mm chunks
parsley – finely chopped
olive oil – splash for frying
sweet paprika – ½ tsp
plain flour – 1½ tbsp
sour cream – 1 tbsp plus more to serve
s & p
dill – finely chopped – to serve

To make the dough

Combine the flour, eggs and salt in a bowl and mix everything together.

Turn out onto a floured surface and knead for 10 minutes. You may need to add a little water or flour as the consistency depends on the size of the eggs.

Return to the bowl, cover with clingfilm and set aside for 20 minutes.

To make the soup

Heat some oil in a large heavy-bottomed saucepan, add the chopped onions and fry for a few minutes to soften.

Add the carrot, parsnip, potato, and sauté for 5 minutes, stirring occasionally. Season.

Making a roux

In a separate small pan add a little oil and the flour to form a roux. Gently cook for a couple of minutes and then add the paprika and sour cream. Cook for a further 2 minutes and then take off the heat.

Returning to the soup, add 600ml of water and bring to the boil. Add a generous amount of chopped parsley, taste and season. Simmer for 10 minutes or until the vegetables are soft.

Meanwhile, fill a large saucepan with salted water and bring to the boil.

Forming the noodles

Pinch out a small amount of the dough and roll into a ball about 10mm in diameter, squash a bit to flatten and place on a floured surface. Repeat until all the dough is used.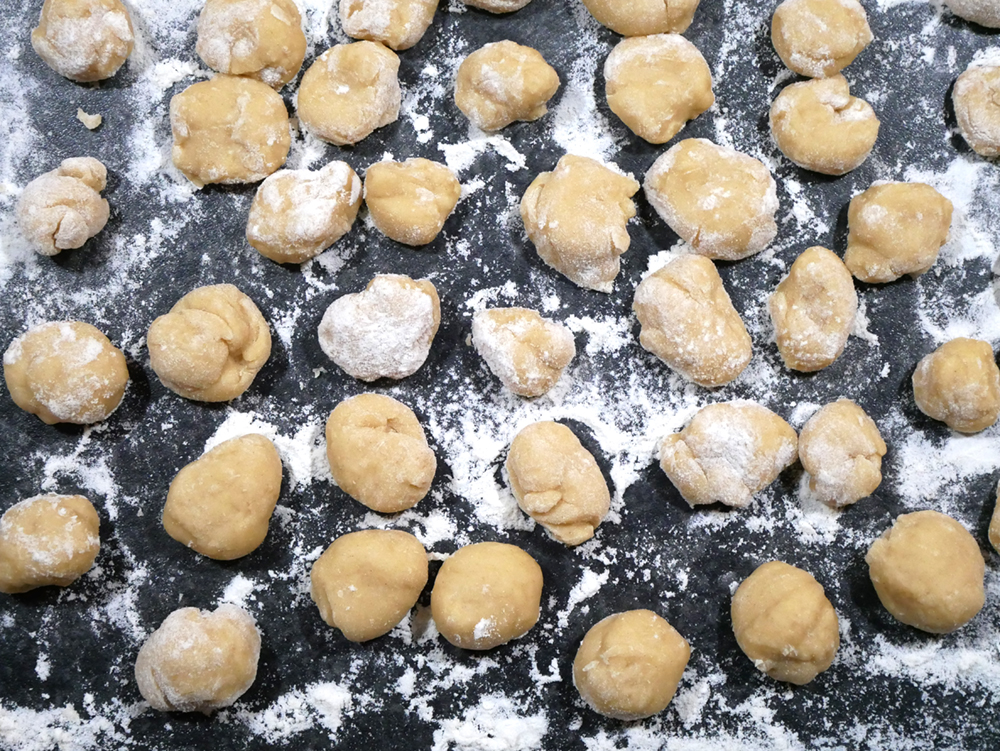 When the water is boiling, drop in the noodles a cook for 3 or 4 minutes until al dente.

Remove with a slotted spoon and add to the soup.

Loosen up the roux with some pasta water and add to the soup. Stir for a couple of minutes until thickened.

Serve in warmed bowls with a sprinkle of parsley or dill and extra sour cream.

Verdict: Mushroomy soup with veg and pleasing little gnocchi-esque noodles. A filling bowl of warmth.

Drink: One small beer from Camden for him. Chilled filtered tap for her.

Entertainment: The child has taken a liking to 'Grand Designs'; today we found a very early one from 1998 where a group of people built their own houses on land above Brighton, houses which they would not own, but were the property of a housing association from whom they rented. Interesting.