Banitsa
On the day Parliament voted through the Brexit deal with little or no scrutiny, shamefully aided by a whipped Labour Party, now is a good time to reflect that were you to have believed the spew of lies wretched up by the Leave campaign, our glorious Kingdom would now be overrun by Bulgarians, and Banitsa, no doubt garnished with chips and gravy, would be our national dish. (Three days in and you're already remoaning about Brexit. Get over it! – Ed.)
So today (obviously) we are off to Bulgaria – a Balkan nation with diverse terrain encompassing a Black Sea coastline, mountainous interior and many rivers including the Danube. A cultural melting pot of Greek, Slavic, Ottoman, and Persian influences, it has a rich heritage of dance, music, costume and crafts.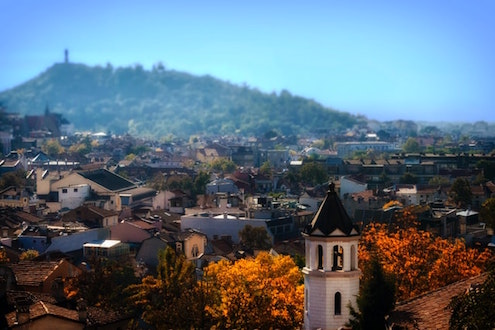 Plovdiv, Bulgaria.
Preparation time: 15 minutes
Cooking time: 25 minutes
Skill level: easy
Serves: 4

Ingredients
5 eggs
1 packet of filo pastry
plain yoghurt – 400g
white cheese (sirene) or if not available use feta – 400g
butter – 65g
bicarbonate of soda – 1 tsp
black pepper
Crack the eggs into a large bowl and whisk.

Add the yoghurt and whisk again.

Crumble in the cheese and mix everything together.

Add the bicarbonate of soda and mix.
Season with black pepper.

Preheat your oven to 180ºC.

Lay out a sheet of filo and spread over a thin layer of the cheese mixture.

Loosely roll into a long cigar.

Repeat until you have run out of mixture.

Butter a loose-bottomed tart tin.

Arrange the filo 'cigars' in a spiral from the outside to the centre.

Melt the last of the butter and brush the pie.

Bake for 25 minutes.

Serve (we paired with lightly nutmegged spinach).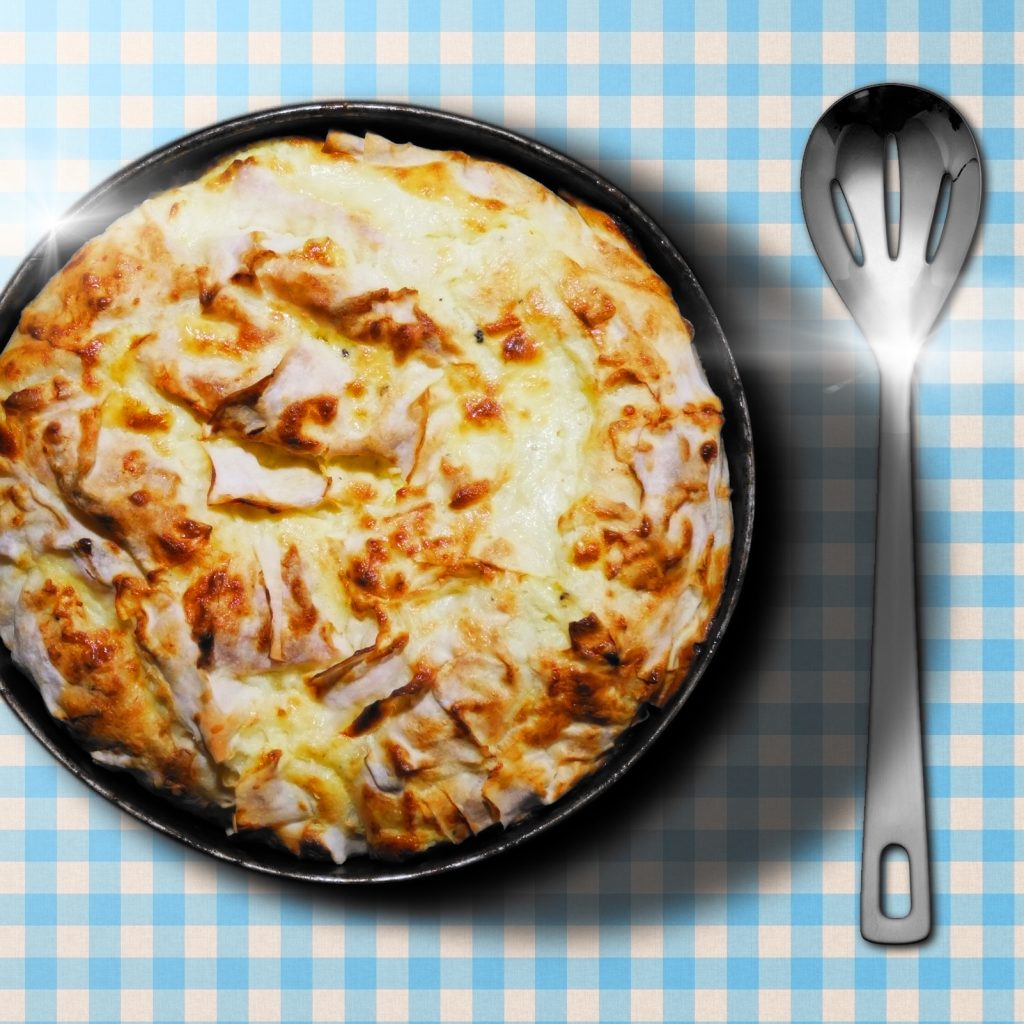 Delicious served hot or cold.
Verdict: The expectation of stodge was dispelled on first bite as this is surprisingly light, almost soufflé in texture. Smooth, creamy, with a salty cheesy tang similar to feta (or actually feta if that's what you're using).

Drink: British (Camden) Hells and Spanish red.

Entertainment: More 'Masterchef: The Professionals – a Festive Knockout'.
Google+