To go with our Škampi na buzaru we made these delicious flatbreads. Unlike many of their ilk, these are baked in the oven rather than cooked on a griddle and the resulting puffs of bread are most pleasing. It's an easy bread to make, imagine the joy of filling them with lunchtime morsels, ham and slaw, cheese and pickle, houmous, all the things. But on with the method.
Croatian lepinja

Ingredients
Strong white flour – 350g
water – 240ml
yeast – 3.5g
salt – 7g
Preparation time (including proving): 3 hours 10 minutes
Cooking time: 20–30 minutes
Skill level: easy
Makes: 8
Measure all the ingredients into a large bowl and mix together. Turn the dough out onto a floured surface and knead for 10 minutes. Return the dough to the bowl and cover.
Let it rest for 1 hour in a warm place then knead for a minute or so and return to the bowl to let it rise again, covered, for 1 hour.
Divide the dough into 8 pieces and form them into balls (they should weigh about 75g each). Flour and lay them on baking sheets lined with greaseproof paper. Cover with a tea towel and leave to rest for 15 minutes.
Next, flatten each ball (either by hand or with a rolling pin) into a disc about 1/2 cm thick . Leave to rest for 45 minutes and pre-heat the oven to 240 C (or as high as you can get it).
Put them in the oven and immediately reduce the heat to 200 C. Bake for 20–30 minutes, depending on the heat of your oven (ours went up to 270 C and the breads were ready in 17 minutes) until they are a light golden brown.

If eating straight away, beware the heat of the steam when cutting the breads open.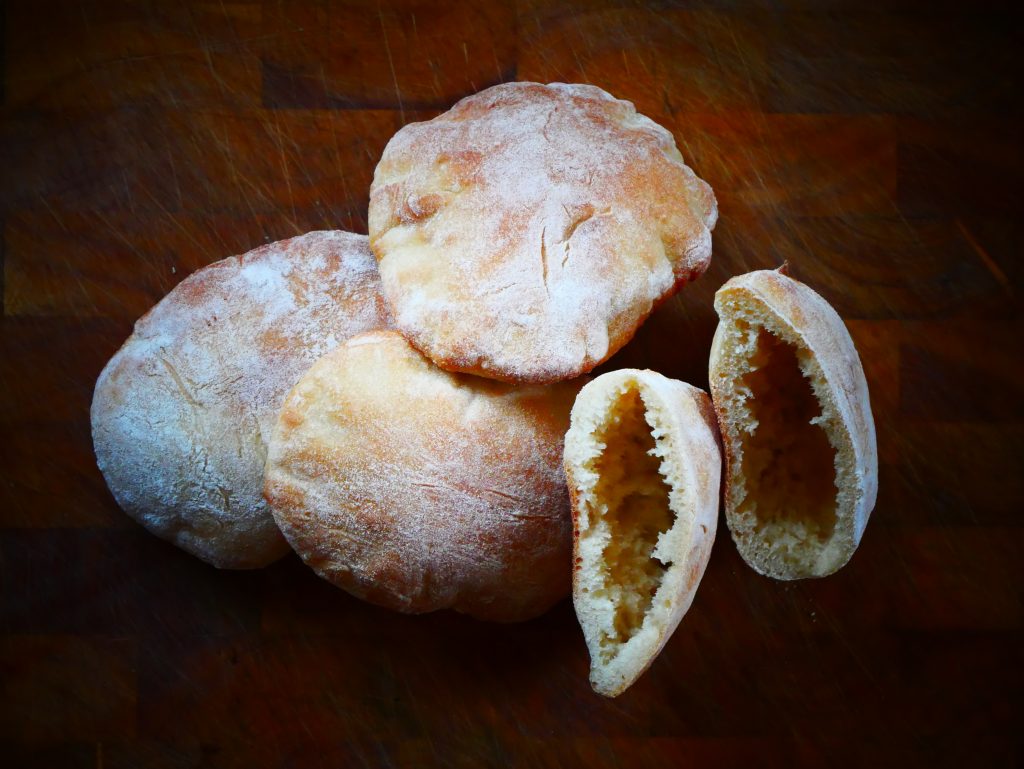 Verdict: Ooh delicious, I'm definitely making these again.

Drink: Champagne and red wine, depending on which stage of dinner.

Entertainment: The Sound of Music.