Unfortunately Andrew the Fishmonger was closed today so we were forced to resort to the Sainsbury's chiller cabinet of vacuum-packed disappointment. As I picked over the hermetically sealed packets of sweaty fillets I couldn't help but recall the magnificent fresh fish departments of Spanish supermarkets. Anything with a gill, tenticle, sucker or shell that had ever swum, slithered or drifted through the ocean displayed in tiers of crushed ice with pride and precision. Memories of the section dedicated entirely to crustaceans graded in size from shrimp to lobster faded as I tossed my pack of Nicaraguan farmed prawns into the basket and headed for the self-service checkout.

But we'll save Spain for sometime in January as today we are off to Belgium – one of the six founding countries of the European Union and ranked one of the safest and most peaceful countries in the world.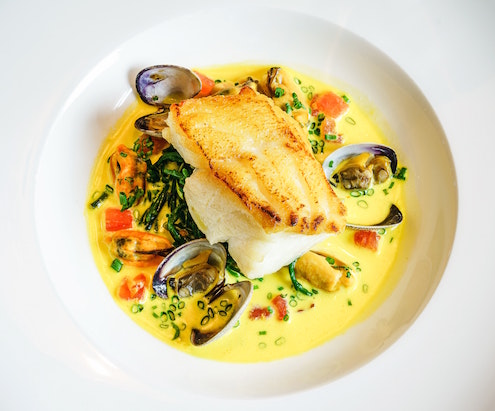 This is not the exact dish, but it is similar looking.
Waterzooi
Preparation time: 15 minutes
Cooking time: 30 minutes
Skill level: easy
Serves: 2

Ingredients
butter – 50g
2 shallots – finely chopped
carrots – 100g
turnip (we used swede as we had some left over from Christmas) – 100g
leek – white part – 100g
white fish fillets of your choice (cod, haddock, sole or monkfish) – 300g
seafood – prawns, clams or mussels – 100g
double cream – a generous tablespoon
fish stock or court-bouillon – 500ml
saffron – pinch (optional)
Finely chop the shallots and cut the turnip, carrot and leek into julienne.
Sweat the carrot and turnip in butter along with the chopped shallots. Season.
Meanwhile in a separate pan, sweat the leeks in butter.
Atomium, Brussels. More photos here.
Add the leek to the carrot, turnip and shallots and cook on a very low heat. You want them to retain a little crunch, so don't overcook.
Pour the stock into the pan you used for the leeks.
Cut the fish into regular pieces and prepare the seafood (we used cooked prawns so no preparation was needed).
Add the fish, seafood and saffron to the stock and simmer for a few minutes until just cooked.
Atomium (again), Brussels.
Divide the vegetables and seafood between two warm serving bowls and then put the fish on top.
Add the cream to the stock, taste, season and pour over the fish/vegetables.
Serve.
Verdict: Rich, creamy and indulgent yet still light. Warm with saffron, crunchy with vegetables and quick and easy to make.

Drink: Belgian Leffe and a Spanish Albariño.

Entertainment: Masterchef: The Professionals – a Festive Knockout. Three familiar faces, one long forgotten.