We thought we'd end the year and start the new with a celebration of the 28 27 members of the European Union. Each day we'll be serving a meal from a different EU member state, striving for the authentic and traditional and avoiding the cliched – and to make it unnecessarily complicated, doing it in alphabetical order.
Today we'll be heading to a landlocked East Alpine country in the southern part of Central Europe – Austria.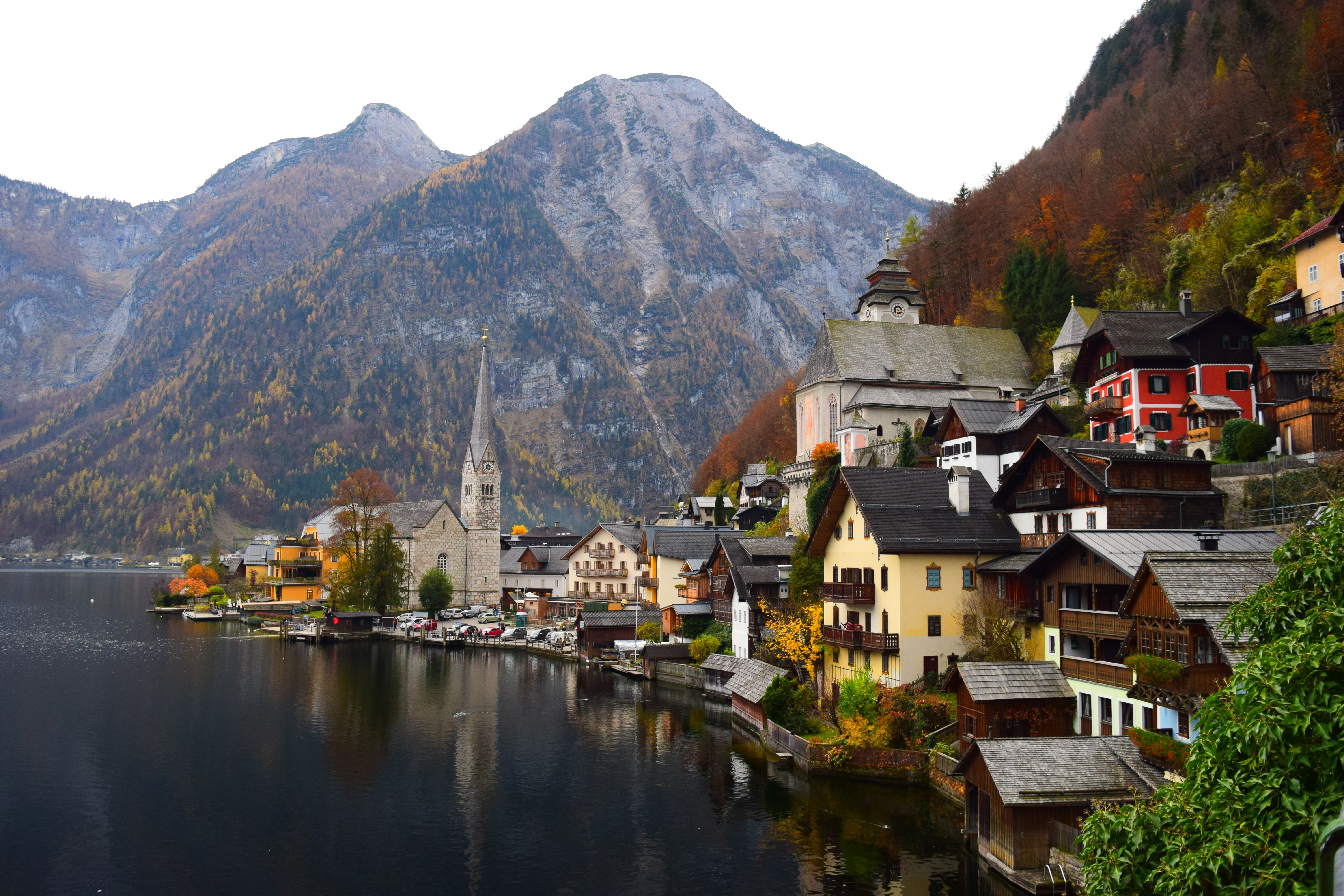 Hallstatt, Austria
Spätzle
Preparation time: 10 minutes
Cooking time: 30 minutes
Skill level: easy (although forming the Spätzle requires a little technique)
Serves: 2

Ingredients
butter – 2 tbsp
1 onion – peeled, halved and sliced into thin half-rounds
2 eggs
plain flour – 200g
sea salt – ¼ tsp
nutmeg – a good grating
water (preferably sparkling) – 75 ml
Emmental, Gruyère, or for authenticity Pongauer Bierkäse – 80g – finely grated
chives – finely chopped – for sprinkling
Heat the butter in a large frying pan, add the onions and cook over a low heat until they are soft and golden but not browned. When done, put aside.
Meanwhile, put a large pan of salted water on the hob and bring to the boil.
Now to make the batter.
Crack the eggs into a large bowl and whisk to a froth.
Whisk in the flour, salt and nutmeg and then gradually add the water until you have a thick batter. You'll have to use your judgement on the consistency, but if in doubt take a look on YouTube.
Making the Spätzle
Assuming that, like us, you don't have a bespoke Spätzle maker, you'll be using a colander.
Making sure the water is at a vigorous rolling boil, spoon some of the batter into the colander and, using a spatula, squeeze the batter through the holes into the boiling water.
Once the Spätzle have risen to the surface, spoon out into a bowl of cold water to halt the cooking process. This is actually a lot easier than it sounds.
Continue until all the batter is used up.
Finishing the dish
Return the onions to the heat, add the Spätzle and cheese and cook briefly until warmed through.
Serve with a sprinkling of chives and a green salad.
Verdict: Comforting, cheesy pasta stodge perfect for a cold wet UK winter evening.

Drink: Czech lager and Spanish red.

Entertainment: Tradition year ending viewing of 'The Worlds Strongest Man'. So far a disconnected bicep and a popped rib.