Along with the pretzel pre-injected with butter, the Laugeneck has been one of the more innovative baked-goods finds from our many visits to the bakeries of Berlin. This triangle of loveliness is essentially a cunning hybrid of croissant and pretzel, taking the chewy butteriness of the former and encasing it in the salty crunch of the latter.
Unusually for Yumblog, this recipe comes with a skill level warning of 'tricky', so as well as the method below, we have included a video tutorial found on YouTube.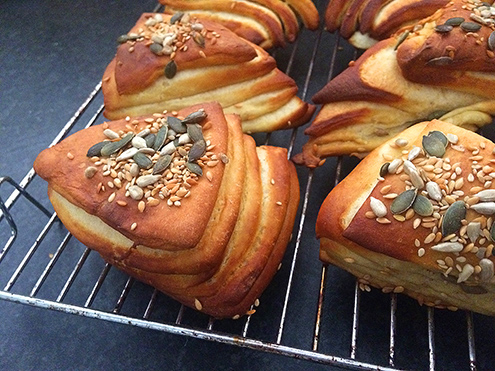 Preparation time: 45 minutes plus 20 minutes rising time
Cooking time: 15 minutes
Skill level: tricky
Makes: 6 (or one short of a baker's half dozen)

Ingredients
plain flour – 400g
plain yoghurt – 1½ tbsp
fine sea salt – 1½ tsp
1 large egg
lukewarm water – 80ml
lukewarm milk – 100ml
sugar – 1tsp
instant yeast – 7g
olive oil – 2 tbsp
butter – softened – 3 tbsp
coarse salt and/or mixed seeds for topping
Also
water – 1 litre
bicarbonate of soda – 50g
Before you start I suggest watching this video. It's in German and the recipe differs from above, but it will give a much clearer idea of the process: Laugenecken selber machen – Rezept für Laugengebäck
Add the yeast and sugar to the lukewarm milk and set aside for about 10 minutes until it becomes foamy as the yeast activates.
Meanwhile, combine the flour and salt in a bowl and make a hole in the middle for the liquid ingredients.
When the yeast has become foamy, beat the egg and combine with the lukewarm water and milk/yeast/sugar mixture.
Start kneading the dough until it comes together and then add the yoghurt and oil. Continue kneading for about 5 minutes until it forms a soft, smooth dough. Cover and let it rise for 20 minutes.
Tip the dough out onto a lightly-floured work surface and cut it into six equal parts.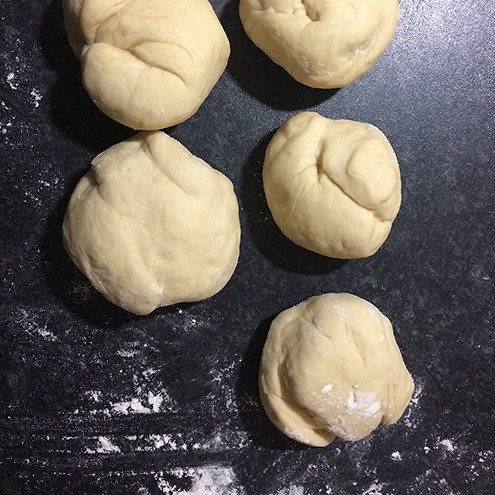 Roll the dough into six discs approximately 3mm thick. Try to make them the same size and shape, since later they will be stacked to form layers.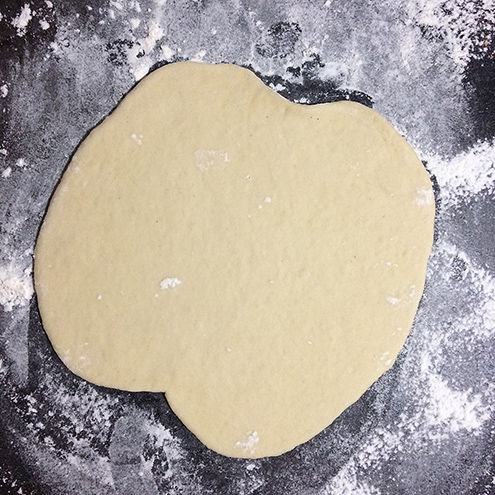 Spread approximately 1/5 of the butter onto one of the dough disks and then layer another on top. Continue alternating dough layers and butter. Do not butter the top of the last layer.
This process is quite tricky, so don't be downhearted if it doesn't look perfect.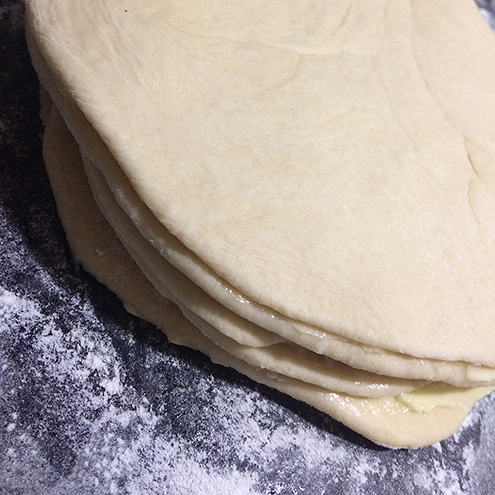 Slice the dough stack into 8 pieces (like a cake). Place the pieces on a baking tray, cover with a clean cloth, and leave to rise for 45 minutes.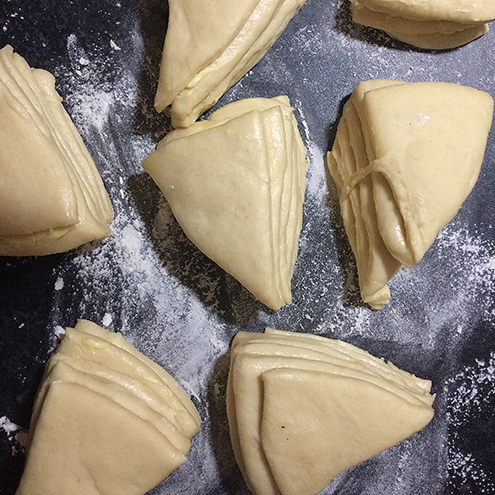 Preheat the oven to 200°C.
In a large saucepan, dissolve the bicarbonate of soda in the water and bring to the boil.
Using a slotted spoon, dip each piece in the boiling water for a few seconds. Alternatively, like the video, you can brush the solution onto the dough.
Place them on a baking tray lined with baking paper, top with coarse salt and/or mixed seeds, and bake for 15 minutes or until golden brown.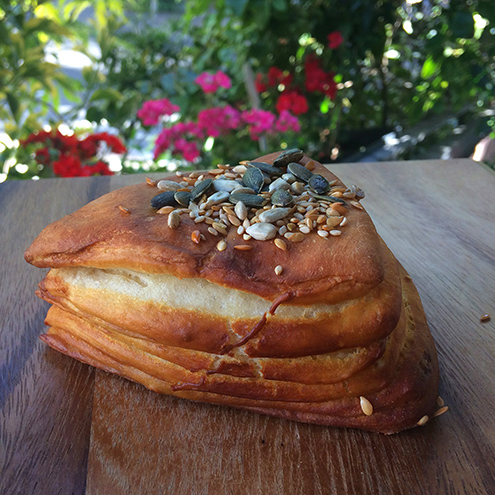 Cool on a wire rack and enjoy.
Verdict: A soft chewy croissant encased in a salty crunchy pretzel crust. Eat on its own, buttered, filled or dunked in coffee. Obviously not up to the standard of a professionally crafted shop-bought Laugeneck, however despite the faff, a lot less effort than a day trip to a Berlin Bäckerei.

And while we are in Germany you could savour the sweet potency of this 'Swimming pool', or heave at the instant wretchedness of 'Drei Deutsche Imbisse'.

Drink: Traditionally a coffee made with UHT milk, but would also probably make an agreeable salty accompaniment to a cold pilsner.

Entertainment: Slowly rewatching all the Taskmasters. Currently on the Alice Levine, Asim Chaudhry, Liza Tarbuck, Russell Howard and Tim Vine series.