Despite heroic efforts on our part, post-Christmas still found us with a substantial wedge of a 3 tonne wheel of Stilton left uneaten. This tart was one of several tasty ways we found to remedy the problem.
Preparation time: 20 minutes
Cooking time: 50 minutes
Skill level: medium
Serves: 4
Ingredients
For the pastry
plain flour – 200g
unsalted butter – 100g
s and p
water – 60 ml
For the tart
a good mature Blue Stilton – cut into small cubes – 115g
unsalted butter – 25g
a bunch of spring onions – trimmed and cut into 2cm lengths
frozen peas – 100g
4 medium (free range) eggs
single cream – 140ml
10 cherry tomatoes – halved
rocket – roughly chopped – 40g
s & p
For the pastry case
Sieve flour and a pinch of salt into a bowl. Add cubed butter and rub into the flour until the mixture resembles breadcrumbs. Sprinkle water into the mixture and stir until you have one large mass. On a lightly floured surface knead the pastry to remove the cracks and set aside for 20 minutes.
Preheat the oven to 200°C/gas mark 6.
Find yourself a 26cm diameter loose-bottomed* flan tin and lightly grease it with a knob** of butter.
Roll out the pastry to a circle of about 30cm.
Carefully line the flan tin with the pastry and trim off any excess.
Prick*** the base of the pastry with a fork, lay over some baking parchment and pour in baking beans.
Bake blind for 10 minutes.
Remove the paper and beans and cook the pastry case for another 5-10 minutes or until crisp.
Remove the pastry case from the oven and allow to cool a little
For the filling
Reduce the oven temperature to 180°C/gas mark 4.
Melt the butter in a shallow pan, add the onions and peas and stir over a gentle heat for a few seconds.
Cover with a lid and cook for 3-4 minutes until softened.
Remove from the heat and allow to cool.
Now find a bowl and mix together the eggs, cream, rocket and half of the Stilton. Season, add the onions and peas, and stir well.
Pour this mixture into the tart case and place on the tomato halves in an attractive manner.
Sprinkle the remaining Stilton over the top and bake for 30-35 minutes or until set and golden brown.
Serve warm or cold with a green salad of your choice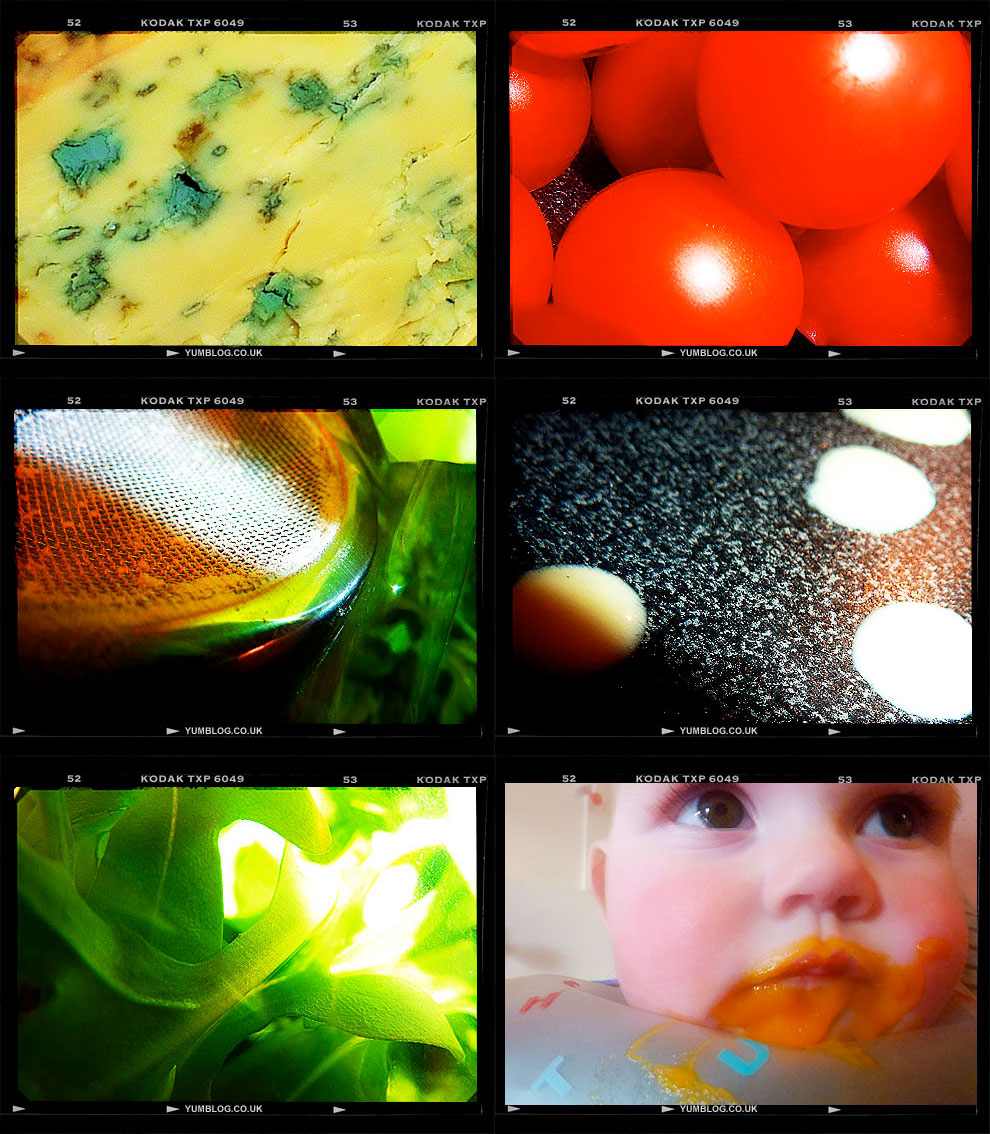 Verdict: Very nice indeed. Light shortcrust pastry, astringent tangy blue cheese, peppery rocket and sweet explosions of tomato. Good to see frozen peas being used as something other than a last minute accompaniment. Makes enough for an evening meal and a spot of lunch the next day.

Drink: Hoovering up the remnants of the Christmas booze.

Entertainment: Catching up on missed Christmas TV on the iPlayer (BT Broadband permitting)
* Fnarf, fnarf.
** Fnarf, fnarf.
*** Fnarf, fnarf.