Thought it would be safer to put 'falafels' in inverted commas as the absence of chickpeas and the inclusion of halloumi, would probably leave us open to criticism from 'The Guild of Master Falafel Makers' as well as purists, pedants, trolls, stupid people and no doubt the odd het up vegan. We here at Yumblog don't want any trouble, especially as at the time of writing, two frighteningly dumb men are edging us dangerously close to the abyss.
We live in interesting times … let's hope we survive them.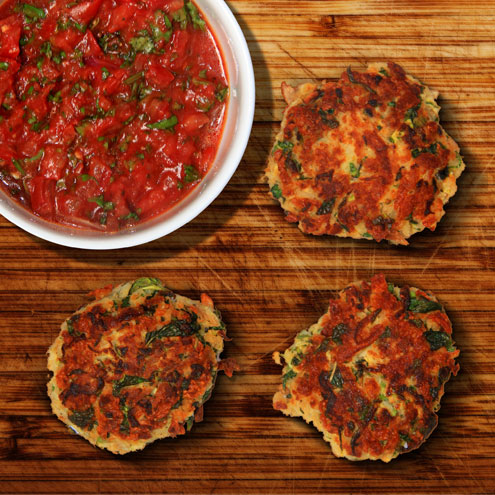 Preparation time: 10 minutes
Cooking time: 10-15 minutes
Skill level: easy

For the falafels
courgette – coarsely grated – 300g (about 2 medium courgettes)
halloumi – coarsely grated – 225g pack
breadcrumbs – 100g
fresh mint – finely chopped – very large handful (don't skimp on the mint)
1 lemon – squeeze of the juice, plus zest
good pinch of chilli powder (or finely chopped fresh chilli or splash of chilli oil)
ground cumin – ½ tsp
1 free range egg – beaten
olive oil – for shallow frying
sea salt and freshly ground pepper
For the salsa
1 medium red onion – coarsely grated
tomato puree – 100g
fresh ripe tomatoes – deseeded and finely chopped – 250g
large handful fresh coriander (or parsley or mint or any combo) – finely chopped
1 fresh chilli – finely chopped (more or less, to taste)
1 lemon – juice and zest
olive oil – glug
sea salt and freshly ground pepper
To make the falafels…
Place the grated courgette in a sieve along with a generous pinch of salt and pepper. Give it a good squeeze with your hand to remove as much of the water as you can.
Plop the courgette in a bowl and mix with the halloumi, breadcrumbs, mint, zest of the lemon and a squeeze of juice, chilli powder, ground cumin and the beaten egg.
Form the mix into falafel-sized falafels. If it's too wet, add a few more breadcrumbs, or if too dry, add a little more grated courgette or a splash of water.
If you have time, place the falafels in the fridge for half an hour to chill, if not don't worry.
Heat a little oil in a large non-stick frying pan. Drop in some falafels, squash down a little with a spatula, and fry until a dark golden brown on both sides. This only takes a minute or two each side, so stay with them.
Unless you have an enormous frying pan, you'll need to fry in batches, setting aside the cooked ones on kitchen roll.
To make the salsa…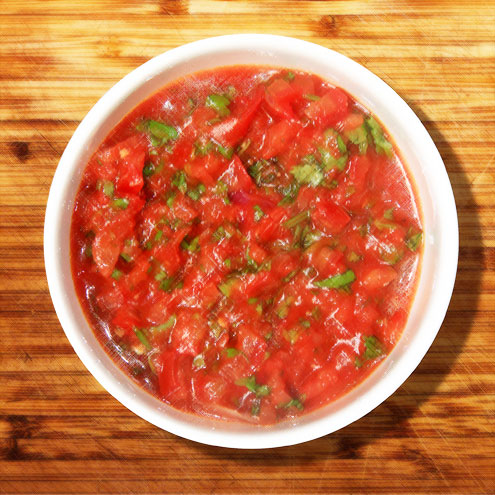 Simply put everything in a bowl and mix together.
This can be served immediately or left in the fridge for a few hours so the flavours mingle and get to know each other.
Verdict: Tasty nuggets of loveliness accompanied by a piquant bowl of loveliness. Loveliness all round.

If you are looking for another lovely way to combine halloumi and mint, try this 'Minted Chick Pea & Aubergine Salad with Griddled Halloumi'. Alternatively, if you're in the market for another variation on the falafel, you could travel back 10 years to 2007 and make this 'Falafel' Burger.

Drink: Could I suggest a chilled glass of piney Retsina?

Entertainment: A very belated first viewing of the excellent 'If' on Netflix. Despite being premiered in 1969, this satire on life in the British public school system is still fresh and gives a chilling insight into why your average Tory MP is such a damaged sociopathic bully. To pile satire upon satire, this is the claimed favourite film of David 'I love the Smiths too' Cameron.