Following Yumblog Junior's Christmas frenzy there is brief and welcome hiatus before the excitement builds once again in anticipation of The June Birthday. An excitement particularly heightened this year as it represented the enormous leap from the risible infancy of six to the long awaited and unimaginable maturity of seven.
There's so much for a child to do – lists of potential presents to be written and illustrated, party venues to be discussed, guests to invite, and most important of all, The Birthday Cake to research. For two long months recipes are pored over and bookmarked before eventually a short list of eight contenders is compiled and taken to school for a democratic poll of classmates. 'Wise Owl' wins by a vote, however, true to the spirit of the post-facts, alternative-truths world of which she is sadly a member, Yumblog Junior ignores the result and opts for 'Spooky Spell Book' instead – the cake she had wanted all along.
All of which is an aside, eagle-eyed readers will have noticed that this is not the cake we are writing up here. Instead, we give you these novelty 'ice creams' which formed the centrepiece of the much more selective and socially exclusive pre-birthday goûter in the park. Invitation only. No riff raff.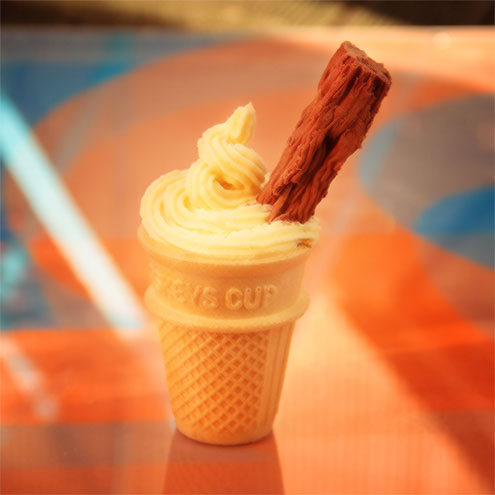 Preparation time: 20–30 minutes
Cooking time: 20–25 minutes
Skill level: easy
Makes: 12 (not 99)
For the cakes
unsalted butter (at room temperature) – 125g
caster sugar – 125g
2 large free range eggs – beaten
vanilla extract – 1 tsp
plain flour – 125g
baking powder – 1½ tsp
milk (also at room temperature) – 2 tbsp
12 ice cream cone cup cornets (with flat bottoms)
12 chocolate flakes
For the buttercream
unsalted butter (at room temperature) – 250g
icing sugar – sifted – 500g
vanilla extract – 1 tsp
You'll also need a 12 cup muffin (fairy cake) tray and a piping bag fitted with a star-shaped nozzle.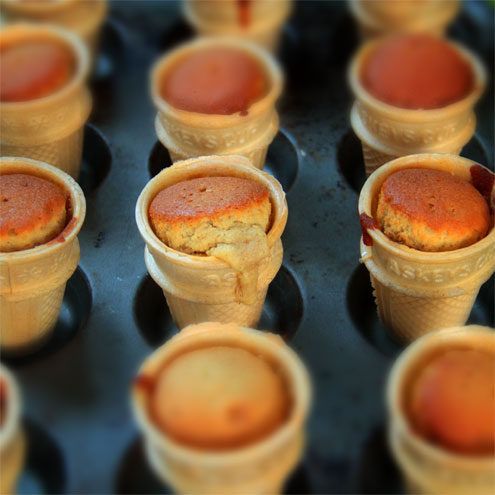 For the cakes:
Preheat your oven to 180°C/gas mark 4.
Stand the ice cream cones in the muffin (fairy cake) tray.
Cream the butter and sugar with an electric mixer until it is pale, light and fluffy.
Gradually add the eggs and mix together (use a spatula from time to time to scrape the mixture from the side of the bowl).
Stir in the vanilla extract.
Sift the flour and baking powder together and then fold into the creamed mixture.
Add the milk and stir until smooth.
Divide the mixture between the 12 cones and bake on the middle shelf of the oven for 20-25 minutes until golden brown. Use the skewer test to check the sponge is properly baked.
Don't panic, the cones are magically unaffected by the baking – they don't harden or burn or explode or shrivel or shatter or anything else you might have reasonably imagined, mainly because they are essentially cardboard.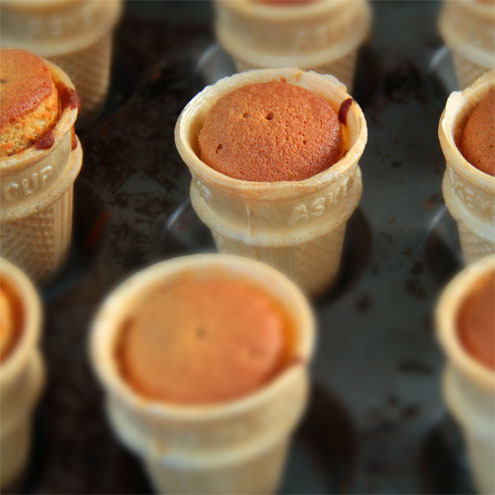 Leave the cakes to cool in the tray for 10 minutes, before transferring to a wire rack to cool completely.
For the buttercream:
Cream together the butter, sugar and vanilla extract using an electric mixer.
Spoon into a piping bag fitted with a star-shaped nozzle and pipe in a swirl on top of each cake.
Stick in a flake to finish off that authentic '99' look.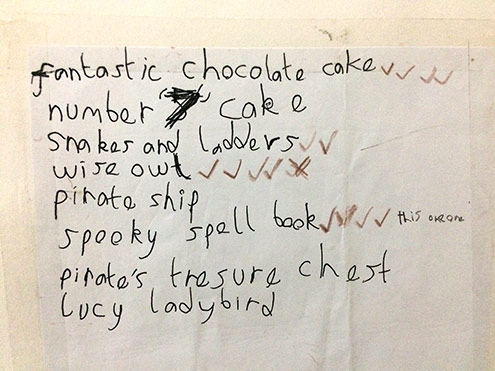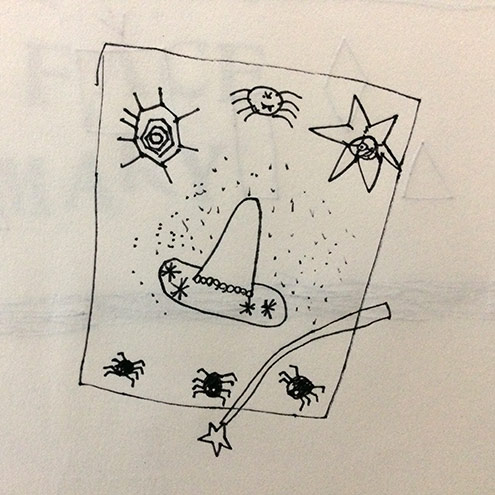 Verdict: Eaten with a gusto only believable if you've seen small children go at a cake topped by copious amounts of icing. Grown-ups sat and ate their cakes at a 'slightly' more leisurely pace.

Drink: Water, lots and then a bit more because it was hot.

Entertainment: The fountains at the Level, for it was hot (see above).
Save
Save