You know humanity is truly approaching the end of days when a flier from McDonnalds drops on the doormat and not only pronounces 'We deliver, McDelivery has arrived', but also proudly trumpets that this essential service is bought to you by UberEATS. A partnership forged in the fat-clogged sewers of neoliberal hell. It could only be worse if your Happy Meal was delivered in an oversized Sports Direct mug accompanied by a signed photo of Sir Philip Green wiping his corpulent backside with the money stole from the BHS pension fund.
So dear reader(s) delete that UberEATS app, dock the iPhone and come into the kitchen and help cook this exceptionally tasty traditional *Greek dish. Food tastes better when it is free from corporate exploitation.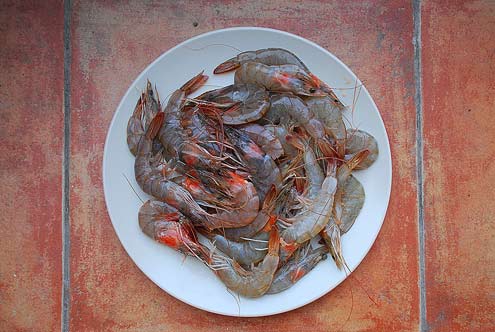 Preparation time: 30 minutes (the prawns take a while to peel)
Cooking time: 20–25 minutes
Serves: 2 as a main, or 4 as a starter
Skill level: easy
Recipe: The Guardian – The 20 best Mediterranean recipes
Ingredients
20 large raw prawns
4 large ripe tomatoes
olive oil – a good glug
small onion or banana shallot – finely chopped
garlic – 2 cloves – finely chopped
Aleppo pepper or chilli powder – a pinch
salt and pepper
ouzo (although we used pastis) or dry white wine – 70ml
feta – 200g pack – crumbled
fresh basil – ¼ bunch – chopped
fresh oregano – 10 leaves – chopped
Peel the prawns, removing both head and tail, and de-vein.
Using the coarse side of a cheese grater, grate the flesh of the tomatoes into a bowl, discarding the skins. Transfer to a sieve and set aside to drain.
Heat some oil in a heavy-bottomed pan and saute the onion/shallot until it becomes translucent.
Stir in the chopped garlic and cook for a further minute or two.
Add the chopped tomatoes, bring to the boil, cover and simmer for 5–10 minutes until the sauce has thickened and all the water has evaporated.
Season with salt and pepper, taste, and set aside.
Next preheat the oven to 220C/gas mark 7.
Season the prawns with salt.
Assuming you don't own a saganaki which is the tradition Greek pan used for this dish, heat some oil in a large oven proof frying pan (we used a paella dish) over a medium heat and add the prawns. Sauté for a minute on either side.
Add the ouzo/pastis/wine and continue cooking until most of the booze has evaporated.
Pour the tomato sauce over the prawns and give them a good shake to ensure they are evenly covered.
Crumble over the feta cheese and place in the oven for 5 minutes until the feta starts to soften.
Remove from the oven and sprinkle with the basil and oregano.
Serve immediately with a good crusty baguette.
Verdict: Yep, this is a good one. Plump juicy prawns in a herby, sweet, aniseed, boozy sauce, topped with salty bursts of feta. This will be made again (and again).

Other feta enhanced dishes you could try are this 'Grilled aubergines with olive oil, garlic, parsley and feta' or from a distant world (just) before parenthood, this 'Feta & Leek Borek'

Drink: It would be needlessly temperate not to have a smallish glass of the pastis whilst cooking.

Entertainment: Lack of anything on any channel, ever, has led to a rewatching of House of Fools on dvd.
* A heartwarming tale from Greece