Smoked salmon scotch (quail) egg
You can tell you're at the Ocado end of the middle-class spectrum when your 2.5 year old asks for smoked salmon and quails eggs for breakfast. Soon she'll be insisting on Jo Malone bum wipes. Anyway, if you manage to wrestle the ingredients away from your toddler why not make these lush smoked salmon scotch (quail) eggs?
Preparation time: 30 minutes plus 45 minutes chilling
Cooking time: roughly 25 minutes
Makes: 12
Skill level: medium
Ingredients
For the eggs
12 quail eggs
smoked salmon (nothing fancy – trimmings will do) – finely chopped – 180g
cooked skinless and boneless salmon – 180g
parsley – finely chopped – about 2 tbsp
horseradish sauce – 2 tsp
cayenne – generous pinch
s and p
For the coating
plain flour
2 (chicken) eggs
bread crumbs – the bright orange packet variety
vegetable oil for frying
Bring a saucepan of water to the boil.
Drop in the quail eggs and cook for EXACTLY 1 minute. Remove and plunge into iced water. Very carefully peel – this can be tricky as the shell plus membrane is fairly stubborn and the eggs very delicate … be patient. Well finished set aside in the fridge to chill.
Place all the ingredients (apart from the quail eggs…) in a food processor and blitz to a rough paste. Chill for 30 minutes.
Divide the salmon mixture into 12. Roll into balls and then then flatten into a disc wide enough to wrap the eggs.
Place the egg in the centre, gently wrap the mix around and press to seal the join… again be patient as this can be tricky.
Line up 3 plates containing flour, beaten eggs and bread crumbs respectively.
Carefully roll your naked scotch eggs first in the flour, then the beaten egg and finally the breadcrumbs.
Chill for 15 minutes then repeat the process.
Pour some oil deep enough to cover the eggs into a large saucepan and heat until it bubbles when you drop in a small piece of the salmon mixture (you'll probably have some sticking to the side of the food processor)
Fry (in batches) until golden brown and crisp.
Drain on kitchen towel.
Serve.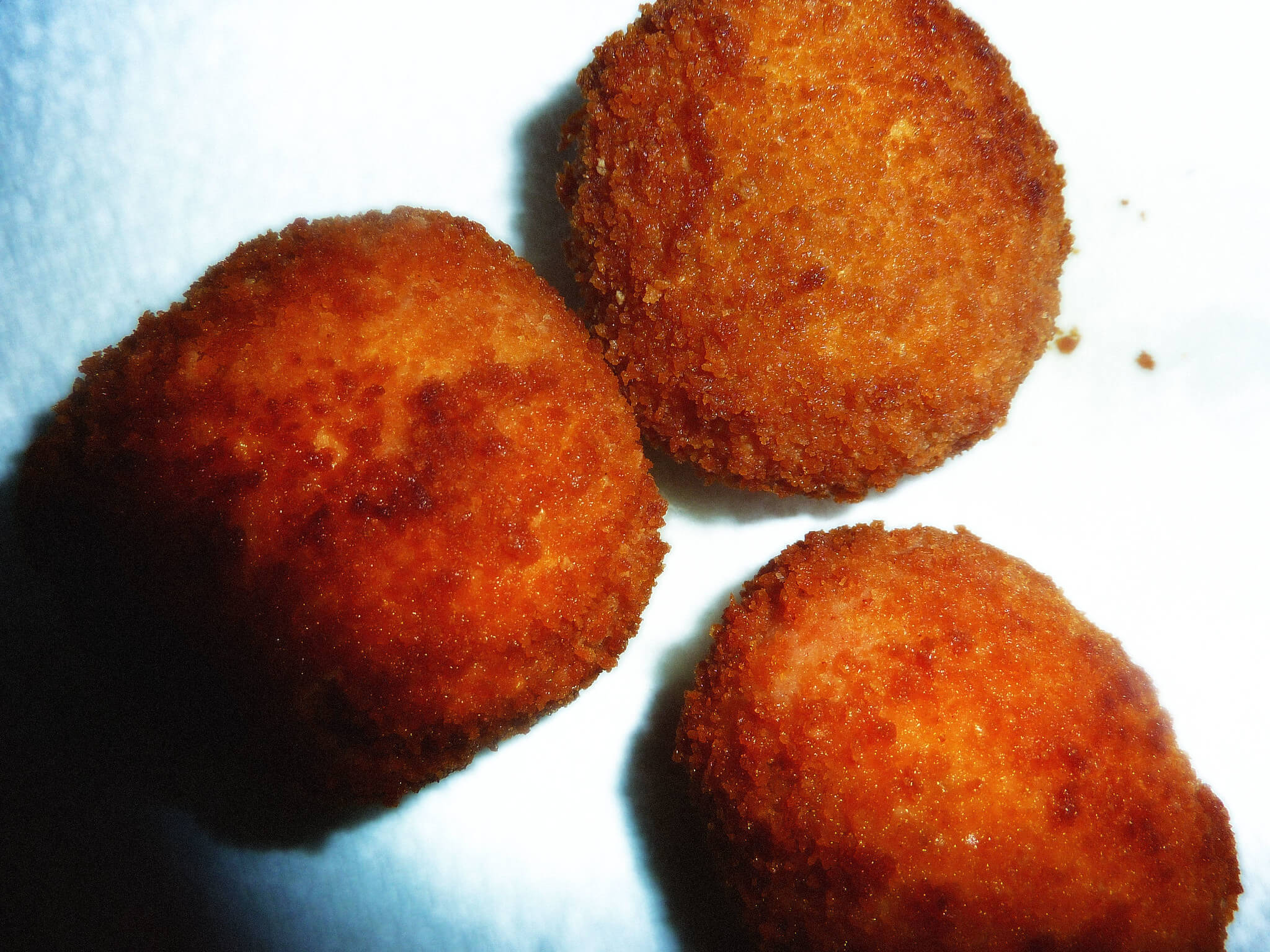 Verdict: A (big) bitesize treat. Crispy coating on the outside, runny yolk on the inside and rich salty salmon betwixt. We had ours on new year's eve with pan fried plaice, baked new potatoes in a creamy Parmesan sauce, crispy thymed cabbage and Scrabble crackers.

Drink: It was new year's eve, so we went through most of them.

Entertainment: Scrabble and the 6 Music Groove Armada DJ special super duper mix.