Living as we do at the very epicentre of the rhubarb triangle – the mysterious 30-square-mile area formed between the three cities of Leeds, Wakefield and Bradford famous for early forced rhubarb and the unexplained disappearance of countless ships, planes and whippets – it seems only appropriate that we should make more use of this local delicacy. Coming up soon will be a potent rhubarb vodka, but in the meantime why not try this deliciously splendid upside-down cake?
Preparation time: 15 minutes
Cooking time: 60 minutes
Recipe: variation on a Dan Lepard
Skill level: easy
Ingredients
rhubarb – 400g
unsalted butter – 50g
caster sugar – 75g
juice of ½ lemon
dark muscovado sugar – 100g
black treacle – 50g
honey – 150g
ground ginger – 5 tsp
sour cream – 150g
1 medium egg
wholemeal flour – 200g
½ tsp bicarbonate of soda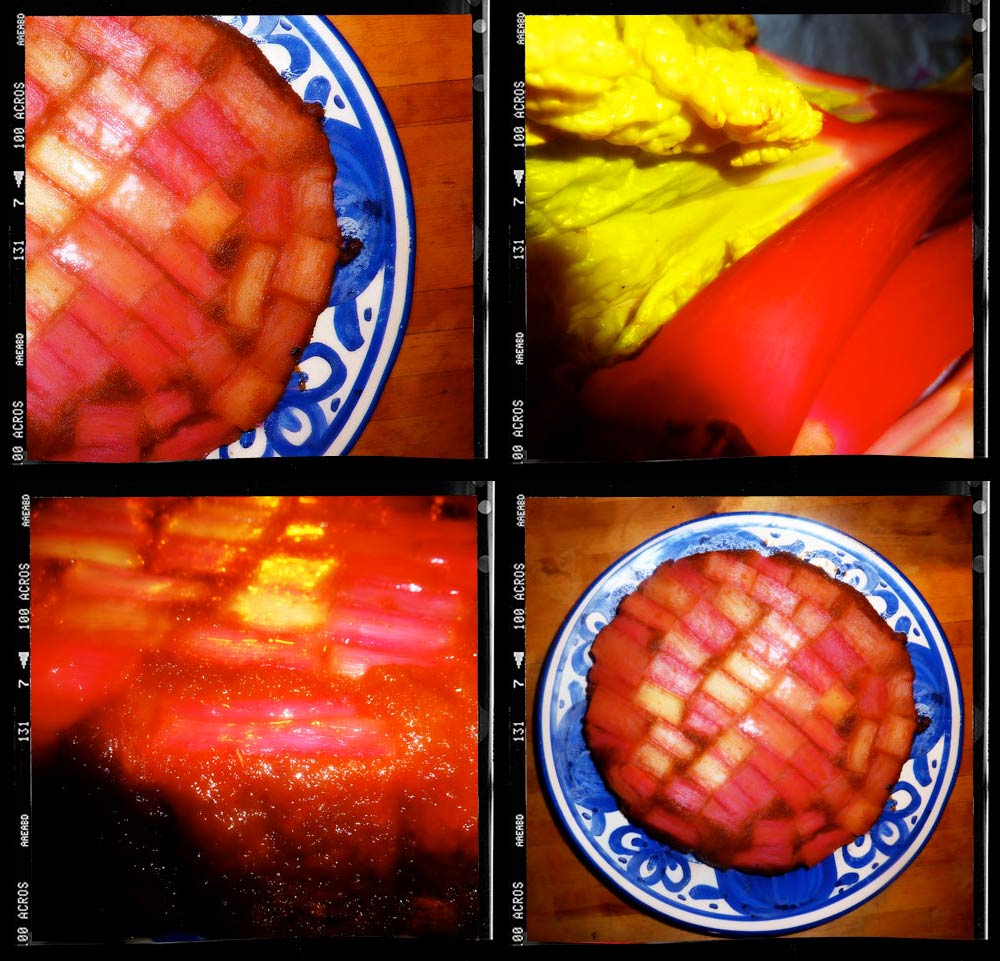 Preheat your oven to 180C/gas mark 4
Line a 20cm round springform cake tin with a single sheet of buttered foil, pressed carefully into the base and up the sides.
Cut the rhubarb into 3-4cm pieces and lay in tight rows across the base of the tin. Sprinkle with the caster sugar and lemon juice.
Put the muscovado in a saucepan with the treacle, honey and ginger, and bring to a boil.
Remove from the heat and pour into a mixing bowl with the butter and sour cream. Stir to combine.
Beat in the egg and then stir in the flour and bicarb.
Bake in the oven for about an hour.
Leave to cool a little before upturning carefully and lifting off the foil.
Verdict: Sweet, tart and gingery. A dollop of cream or a cascade of custard and suddenly it's pudding.

Drink: Equally good with a mug of tea or a glass of wine.

Entertainment: Point Blank

We decide to get away And have some fun Book a room and catch a flight For two weeks in the sun She says, "Hawaii's too expensive." I say, "Barbados isn't bad." She says, "I'd love to see Yorkshire" And I say, "Woman, are you mad!" Rhubarb Triangle It makes whippets disappear Rhubarb Triangle Don't go too near But she doesn't see my angle And she thinks I'm being dumb So Rhubarb Triangle Here we come! (That's enough – Ed)