Our recent enthusiasm for cooking with mushrooms is appropriate as at the moment we seem to be cultivating several interesting varieties of our own on the increasingly damp internal walls here at Yumblog Cottage. The damp man* who came round to investigate told us we can eradicate 70% of the problem by simply keeping the windows open and the heating on, twenty-four hours a day, for the next four months. All donations towards our winter gas bill will be much appreciated.
Preparation time: 10 minutes plus 30 minutes soaking
Cooking time: 35 minutes
Skill level: easy
Serves: 2
Ingredients
mushrooms (we used portabello from our bargain box) – roughly chopped – 800g
dried porcini – reconstituted (retain the soaking water) – small handful
2 large shallots (or 1 posh onion) – finely chopped
2 cloves of garlic – finely chopped
butter – 50g
vegetable stock – 800ml
milk – 400ml
olive oil
s and p
double cream, crème fraiche or yoghurt – to serve
juice and zest of half a lemon – to serve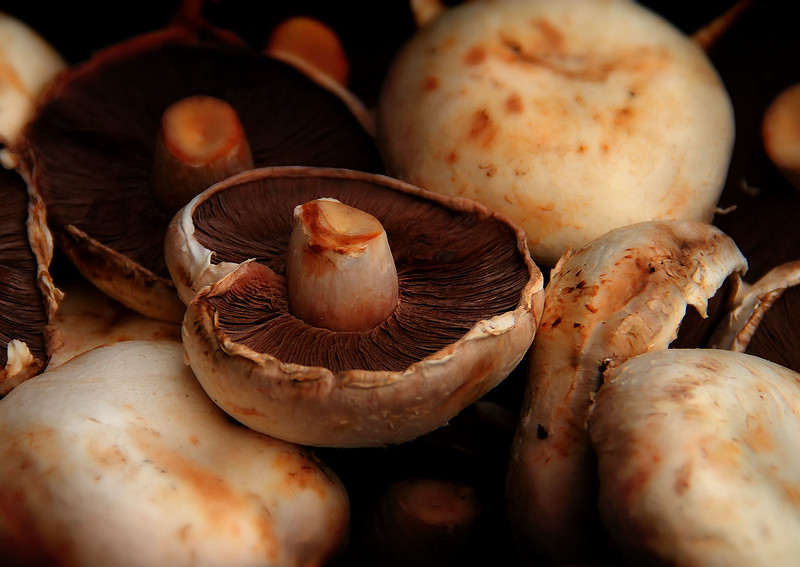 Start by soaking your porcini in just warm water for at least 30 minutes. Strain the soaking water through a sieve lined with kitchen paper and set aside. Roughly chop the porcini and also set aside.
In a large heavy-bottomed pan, sweat the shallots (or onion) and garlic in the butter until soft (but not coloured).
Add the chopped mushrooms and continue to sweat down until they are soft.
Add the porcini, soaking water, stock and milk and simmer uncovered for about 20 minutes.
Here at Yumblog we pride ourselves on offering you, dear reader, choice. So at this stage you have three options depending on your fancy. You can either liquidise half the soup and return it to the pan for a rough texture, liquidise all of the soup for a smoother texture, or liquidise all the soup and then pass through a sieve for a texture smoother than Smooth Jack McSmooth lounging in a velvet smoking jacket.
Which ever you choose, return the soup to the pan, bring back up to heat, taste and season with salt and black pepper.
Finally, mix together the lemon juice and zest with a sprinkling of salt and a twist of pepper.
Serve the soup with a blob of cream (or crème fraiche or yoghurt) and a splash of the lemon mixture.
* Damp was his profession, not his demeanour.
Verdict: This, like most mushroom-heavy recipes, is necessarily brown and therefore not particularly pretty, and so is probably a dish to cook for yourself rather than serve up to guests (or Michelle Roux Jr) as the centre-piece of a swanky dinner party. However, don't be put off by its tawny appearance, as this is a very tasty soup indeed.

Drink: A strong mug of lunchtime tea. It must be something to do with the water but tea definitely brews stronger up north.

Entertainment: Watching the constant parade of dogs (and their walkers) outside our window.