The inverted commas are there because this loaf contains no yeast and is actually more of a savoury cake than a bread. This has the added advantage that as well as being pleasantly toothsome, it can also manifest from a wishful inkling to an incontrovertible plateful in just under an hour and a half. That's quicker than it takes to boil an egg*.
Preparation time: 30 minutes
Cooking time: 50-55 minutes
Skill level: easy
Makes: 1 medium loaf
Ingredients
butter – 100g (plus a little extra to grease the tin)
self-raising flour – 300g
goat's cheese (you could use feta also) – diced – 175g
cherry tomatoes – halved – 175g
fresh basil – 15g
milk – 100ml
3 eggs
salt – ½ tsp
black pepper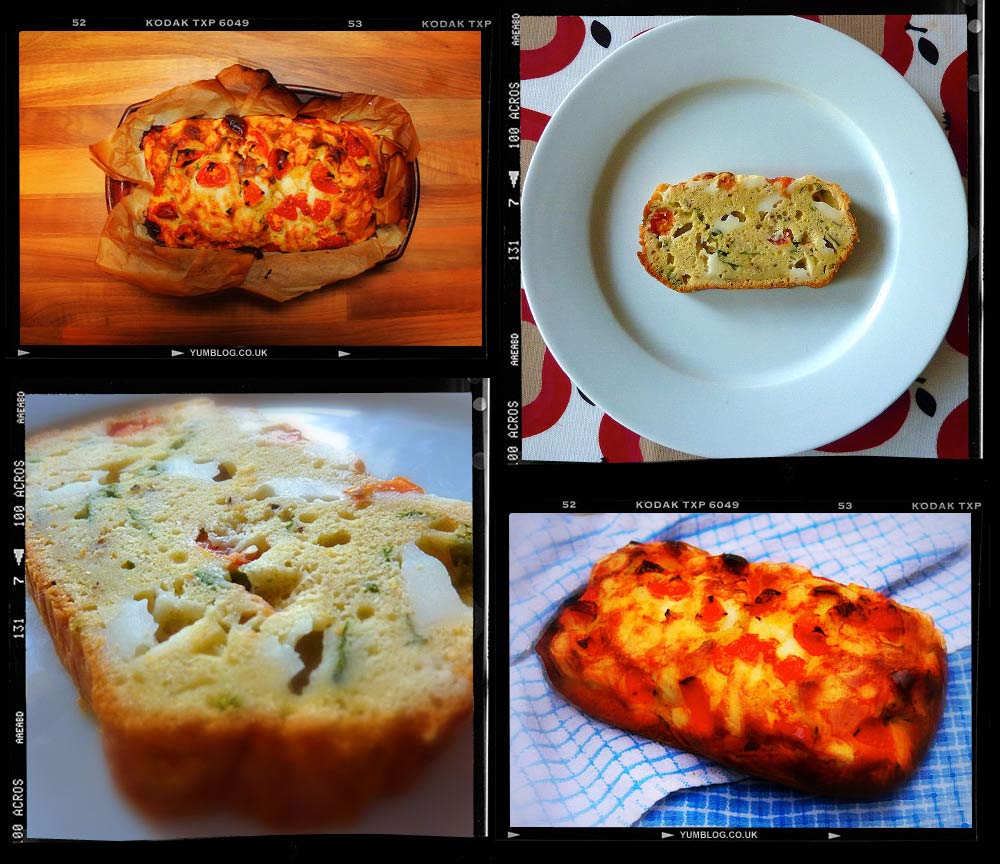 Pre-heat your oven to 180C (gas mark 4)
Butter and line a 900g loaf tin with baking parchment.
Tip the flour and salt into a large mixing bowl and twist in a generous amount of black pepper.
Rub in the butter.
Add 100g each of the cheese and tomatoes, plus all the basil leaves (roughly torn)
Beat the milk and eggs together and quickly add to the flour mixture.
Pour into the lined tin, smooth down the top and sprinkle over the remaining cheese and tomatoes.
Bake for 50-55 minutes until golden brown. Check that it is cooked by inserting and removing a skewer – if the skewer comes out clean then the bread is ready – be careful to ensure that you haven't hit a pocket of melted cheese rather than undercooked mixture.
Turn out onto a wire rack to cool.
Slice and serve as is or toasted.
Store in the fridge for up to two days.
Verdict: Oh my gosh Roberta, this is pretty darn good. A rich soft 'cakey' texture containing little explosions of goaty saltiness and tomato sweetness. We served ours up in a variety of ways – a topping of scrambled eggs and smoked salmon proved to be a taste sensation. Like the rest of us, probably at its best when lightly toasted.

Drink: Tea by the bucketful. Aka a Tonyload of tea.

Entertainment: Trying to dissuade Yumblog Junior from sticking her fist into the Marmite jar.
* Assuming the egg is 3 metres in diameter and at an altitude of 27,000 feet.