…or potato pancakes with toasted goat's cheese. Or indeed rosti with toasted goat's cheese. But another Alsatian dish anyway.
Preparation time: 5 minutes plus 20 minutes set aside
Cooking time: 20 – 30 minutes
Skill level: easy
Serves: 2 (we ended up with 7 rostis)
Ingredients
waxy potatoes – 500g
2 spring onions – finely chopped
parsley – finely chopped – 2 tbsp
1 free range egg – beaten
plain flour – ½ tbsp
1 small goat's cheese
olive oil
s and p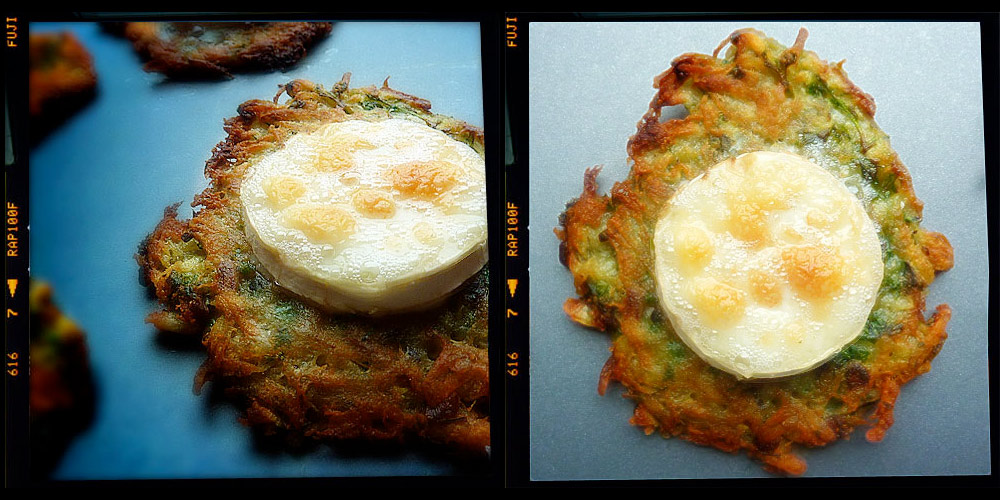 Peel and grate the potatoes.
Place in a bowl and season with salt and pepper.
Mix together the egg, flour, onion and parsley, add to the potato mixture and set aside for 20 minutes.
Pour a little oil into a large heavy-bottomed (and very non-stick) frying pan and place over a high heat.
Spoon 1 tbsp of the mixture into the frying pan and squash down with the back of a fish slice to form the pancake and remove some of the liquid. Repeat as many times as you have room in the frying pan – 3-4 probably.
Cook until dark golden on both sides (obviously you'll need to flip them over).
Place on kitchen roll and repeat until you have used up all your mixture (you should have 6-8)
Preheat your grill to high.
Slice the goat's cheese into discs and place on top of your pancakes/rostis.
Put under the grill for a few minutes until the cheese has melted.
Serve on a bed of leaves (and a dollop of Oxford Sauce).
Verdict: A most enjoyable Sunday brunch. Nice 'flavour combinations – © Gregg Wallace 2011' of earthy almost sweet potato with the acidity of the goat's cheese. The rostis were more 'stodgy and Teutonic' than the ones we made a while back.

Drink: K4E with UHT.

Entertainment: Watching Yumblog Junior turn a simple meal into a scene from 'Dawn of the Dead'.