For lovers of puds and alliteration this is a tasty toothsome treat…
Preparation time: 15 minutes
Cooking time: 45 minutes
Skill level: medium
Serves: 2 – 4
Ingredients
For the rice
risotto rice – 150g
2 egg yolks
caster sugar – 40g
milk – 500ml
butter – 10g
dessert wine – 40ml
vanilla essence – 2 tsp (or as instructed on the label)
For the rhubarb
rhubarb – cut into 3cm chunks
caster sugar – 100g
1 lemon – thinly peeled rind and juice
2 oranges – juice only
To serve
For the poached rhubarb, combine sugar, juices and peel with 500ml water in a saucepan and place over a medium heat.
Stir until the sugar dissolves, increase the heat to high and bring to the boil.
Reduce heat to low, add the rhubarb and cook until tender (5 minutes).
Remove from the heat and set aside.
Meanwhile, whisk the egg yolks and sugar in a bowl until thick and pale (3-4 minutes). Set aside until required.
Combine the milk and vanilla essence in a large saucepan and bring just to the boil. Remove from heat but keep warm.
Melt the butter in a separate saucepan over medium heat, add the rice and stir to coat (1-2 minutes).
Add wine and stir continuously until wine evaporates (1-2 minutes).
Add hot milk mixture, a ladle at a time, stirring continuously until milk is absorbed before adding more.
When rice is al dente (25-30 minutes), stir in egg yolk mixture and cook until thick (1-2 minutes).
Remove from the heat, divide among bowls, spoon over rhubarb and serve immediately with a generous blob of Greek yoghurt.
Verdict: Good. The rice is rich, creamy and vanillary with a little bite in the centre. Nicely complemented by the sharp citrus of the rhubarb. The yoghurt works well too. Give it a go.

Drink: Well the recipe required 40ml of dessert wine, so obviously we had to tidy up the remaining 710ml.

Entertainment: Watching Yumblog Junior sleep.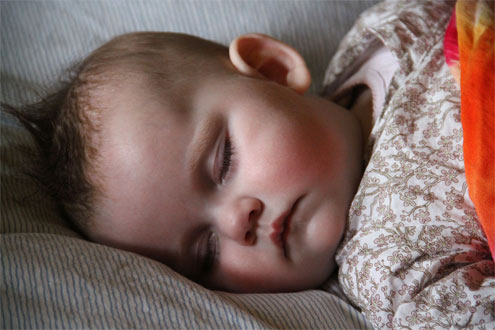 zzzzzzzzzzzzzzzzzzzzzzzzzzzzzzzzzzz