With the weekend Guardian scattered over floor and table, Adam and Joe on 6Music and Yumblog Junior playing happily and noisily within the Tachyon beam containment field, few meals are more eagerly anticipated here at at Yumblog Towers than Saturday brunch… and few dishes have endorsed that anticipation with more spicy gusto than this delicious tomato and cumin 'soup'.
The inverted commas are there because as you can see from the photo, it is more of a schlem than a soup.
Preparation time: 15 minutes

Cooking time: 1 hour 15 minutes

Skill level: easy

Serves: 2
Ingredients
1 small onion – chopped
1 red pepper – deseeded – finely sliced
2 garlic cloves – thinly sliced
1 chilli – finely chopped
1 tin of quality chopped tomatoes – 400g
water – tap – 350ml
caster sugar – 1tsp
extra-virgin olive oil – a good slug (about 25 ml)
smoked sweet paprika – 1tsp
cumin – ½ tsp
fresh parsley – finely chopped – 2 tbsp
2 free range eggs
s & p
Pour the oil into a saucepan and place over a medium heat.
Add the onion and a pinch of salt and sauté until soft and translucent (5-7 minutes).
Add the pepper, chilli and garlic, reduce the heat, cover and cook, stirring frequently, until the mixture has the consistency of jam (35-40 minutes).
Stir in the tomato and water and simmer until mixture has a thick soup consistency (20-25 minutes).
Add sugar, cumin, paprika.
Mix together, taste and season with salt and pepper.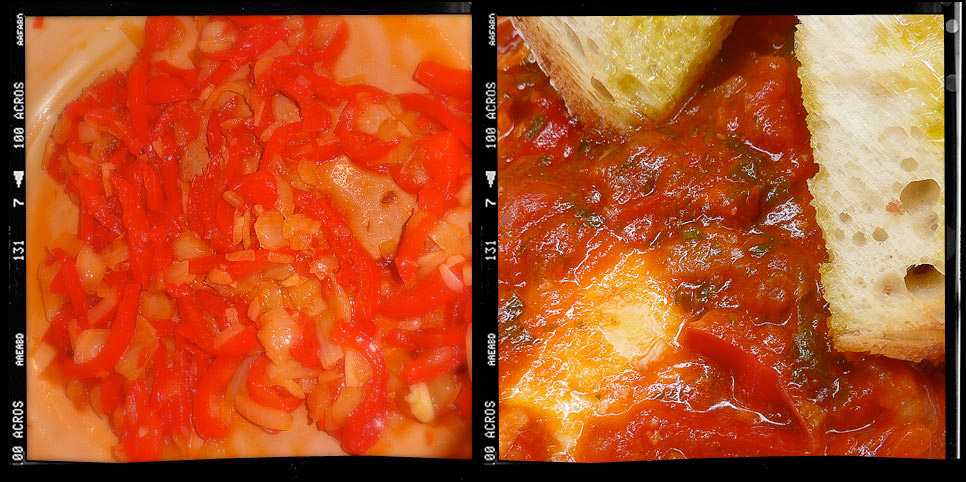 Crack the eggs, one at a time, onto a saucer and gently slide into the tomato mixture.
Cover and simmer gently until cooked to your liking (3 minutes for soft yolks, or 5-6 minutes for well-done).
Ladle into warm bowls and sprinkle with a little extra paprika (optional).
Serve with crusty bread.
Verdict: A tasty and spicy start to the weekend. It's all about the slow cooking, so make sure you get up in time.

Drink: A strong K4e with condensed milk.

Entertainment: Planning the rest of the weekend meals.