A few weekends back the Yumblog family boarding a cramped Virgin train and sped uncomfortably northwards to West Yorkshire in what could be referred to as Phase Two of their cunning plan for a bright and exciting new future. A few days later they returned to Yumblog Towers refreshed and excited and carrying a modest cache of local beers, hand-crafted tasties* and Yorkshire cheeses – such as the East Lee from Todmorden used in this recipe.
Preparation time: 10 minutes
Cooking time: 20 minutes
Skill level: easy
Serves: 2 – 4
Ingredients
For the salad
puy lentils – 200g
1 bay leaf
½ an onion – peeled
1 garlic clove – peeled and halved
A generous bunch of parsley – leaves only – roughly chopped
½ red onion – very thinly sliced
a soft cheese of your choice (we opted for an East Lee which we bought on a recent recce to Todmorden)
For the dressing
capers – drained, rinsed and finely chopped – 1 tbsp
olive oil – 3 tbsp
cider vinegar – 2 tsp
English mustard – 1 tsp
caster sugar – 1 tsp
s & p
Rinse the lentils and put in a pan along with the bay leaf, onion half and garlic.
Add enough cold water to cover by about 1cm.
Place on the hob and bring to the boil.
Reduce the heat and simmer until the lentils are just cooked but still have a little bite – about 20 minutes.
Drain, and dump the bay leaf, onion and garlic.
Meanwhile make the dressing by combining the chopped capers, olive oil, vinegar, mustard and sugar (easily done by shaking in a jam jar). Taste, and season if necessary.
Warm the cheese in a moderate oven/atop a radiator/on a sunny windowsill/etc.
Mix the warm lentils with the dressing and then lightly toss in the chopped parsley.
Cut the cheese into bite-size pieces and add to the salad along with the sliced red onion.
Give the seasoning one final check and serve.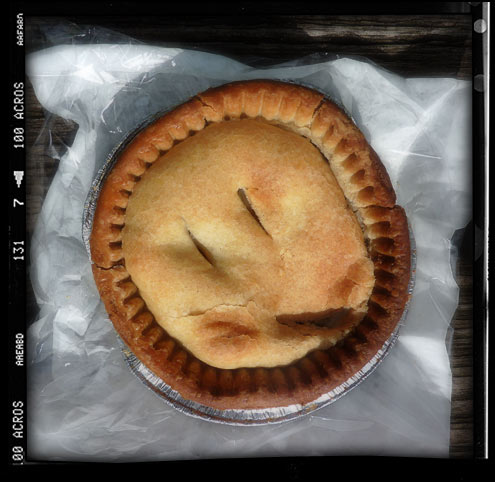 * A Lancashire Butter Pie – 100% vegetarian (apart from the lard)
Verdict: A substantial, earthy and very tasty salad which has become a regular here at Yumblog Towers. Experiment with different cheeses such as halloumi or possibly even flaked fish.

Drink: A cheeky monday evening bottle of white.

Entertainment: Taking turns to contain a very much more mobile Yumblog Junior … and 'Raymond Blanc's Kitchen Secrets' – the Pistou soup looked good.
Yumblog Junior peers over the top of her Containment Box ™